Covid Delayed Awards Presented in Wallington
By Ron Jeffers, New Jersey Editor | November 01, 2020 | NEW JERSEY
Story No. 092720114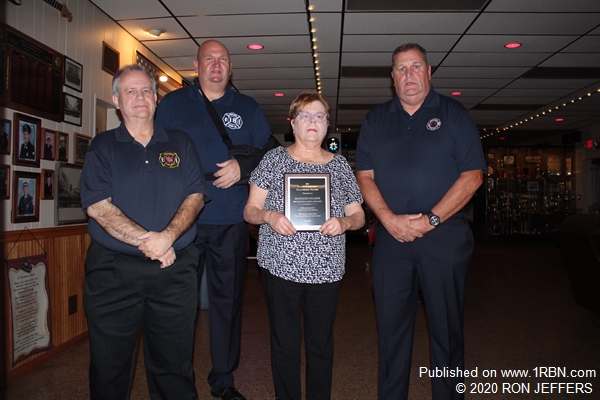 Photo by RON JEFFERSThe NJ & NY Volunteer Firemen's Association's Ladies Auxiliary Leadership Award was presented to Wallington Auxiliary member Mary Ann Palmer, 3rd from left, by, L-R, 2nd Vice President Bryan Hennig, 1st Vice President Roy De Young Jr. and President Peter De Vries.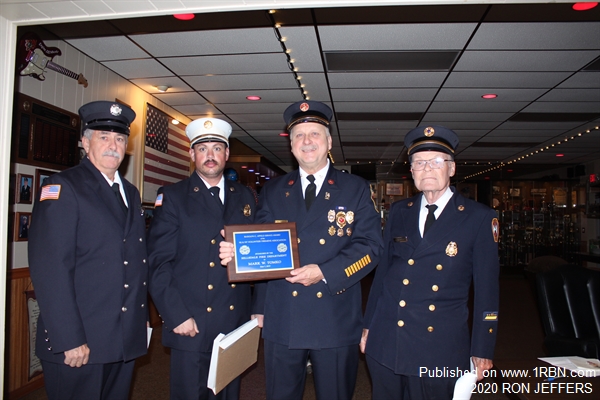 Photo by RON JEFFERSWallington Ex-Chief Mark Tomko, 3rd from left, received the NJ & NY VFA's Service Award, sponsored by the Hillsdale F.D. Making the presentation were, L-R, Hillsdale President Peter Hard, Fire Chief Tom Kelley and Ex-Chief Frank Glucker.
Due to several emergency delays, and COVID-19, several 2019 awards issued by members of the New Jersey & New York Volunteer Firemen's Association were presented at Wallington Engine Co. 202's firehouse on the evening of September 21st.

In addition to these awards, the Wallington Fire Department recognized members Richard Kapusta, Kenneth Doviak and Joseph Ivanicki Sr. for 50-years of dedicated service.

Mary Ann Palmer, of Hose Co. 3 Ladies Auxiliary, received the New Jersey & New York Volunteer Firemen's Association 2019 Ladies' Auxiliary Leadership Award.

For nearly half a century, Palmer has served her community and supported her firefighting family. Over the years, her husband, ex-Chief Charles Palmer, has served with the fire departments of Wallington, Rutherfod and Lyndhurst. Their three sons are also part of the fire service.

Palmer has served as trustee, vice president and president, as well as the auxiliary's treasurer for the last 40-years. She has been involved in fundraisers, Christmas fares and dinners. In addition, Palmer has led the auxiliary in efforts for the company's memorial services, anniversaries, parades and wet downs. All of this, plus the auxiliary's duties of providing refreshments at fires to "her firefighters."

Mark Tomko received the NJ & NY VFA's Rudy Appeld Service Award, sponsored by the Hillsdale Fire Department. Tomko has service credentials as long as your arm. This includes serving as fire chief in 1989, councilman on three separate occasions, and becoming mayor of the borough in 2015. In addition, he has been appointed fire commissions 18 different years since 1982.

It all started out when Tomko became a charter member of the Wallington Junior Fire Department in 1972. He became a member of Park Row Hose Co. 3 in 1975. Tomko has served in all line ranks as well as company president, treasurer, engineer, secretary, and he has been department chaplain since 1980.

Tomko is an honorary member of Engine Co. 202 and the Emergency Squad.

This article is a direct street report from our correspondent and has not been edited by the 1st Responder newsroom.