89 Engine, 50 Truck
October 01, 2015 | NEW YORK
Larry Woodcock, Correspondent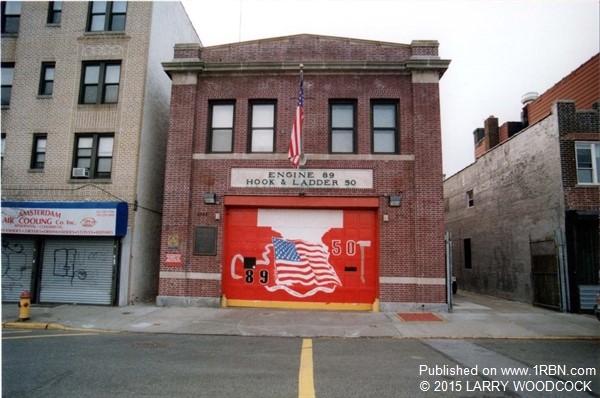 Photo by LARRY WOODCOCK
This article is a direct street report from our correspondent and has not been edited by the 1st Responder newsroom.
The Bronx, like the other boroughs, has many different personalities and distinctive areas. One of the best neighborhoods is Pelham Bay, also known as Middletown or Schuylerville, which most old timers still refer to when speaking of the neighborhood.

This is one of the top places in the Bronx to live and raise a family with well-kept homes and plenty of shopping along Tremont and Westchester Avenues. These make this a very desirable place to live along with easy access to the New England Thruway and the Cross Bronx.

Originally settled in 1643 by the Dutch and later purchased by Englishman Thomas Pell, the area served as a land buffer during the American Revolutionary War.

Along the Bruckner Expressway just off of Tremont Avenue is the Cookoo's Nest, home to 89 Engine and 50 Truck. Theories abound about this firehouse and how it got its name, but the most plausible goes back to the early 70's.

Apparently, a particular captain, who was rather eccentric, had his men do some odd things. One task involved washing the rigs. He made the members clean all of the moldings and trim with a toothbrush. This along with his peculiar ways led to other companies and further interesting details dubbing this house the Cookoo's Nest.

Italian and Irish populated the neighborhood for years, but the area has seen a shift in nationalities in recent years.

For those not familiar with this part of the Bronx, one of the borough's best kept secrets, not sure if it is so secret, is Louie and Ernie's Pizzeria on Crosby Avenue at the corner of Waterbury Avenue. It is easily one of the best pizzerias in all five boroughs. It is hard to get a pizza to taste this good when it is not a coal oven. Slices are sold, but I highly recommend getting a whole pie. With it's thin crust and great, taste you will want to take some home with you.

Another secret is Pelham Bay Park, which is situated at the tip of the neighborhood and extends into Westchester County. The park is three times the size of Central Park and was created in 1888. This park holds many interesting sites including the Battle of Pell's Point, which was a skirmish fought between British and American troops in October of 177.

Interestingly, parts of the park fluctuate between being walkable and underwater due to daily and rapid tidal changes in the marshes and the shoreline of Orchard Beach. In addition, several islands are now connected to the mainland by a landfill.

Another place of interest is the city owned Bartow-Pell Mansion, which is a museum and a U.S. National Historic Landmark. Built in 1836, the house was passed between the Bartow and Pell families until it was sold to the City of New York in 1889 by descendants of the Bartow family.

It opened as a museum in 1946 and was also added to the National Register of Historic Places in 1974.

Bronx born actor Jack McGee, a Cardinal Hayes High School graduate who appeared in over one hundred films and television series, worked as a firefighter in 89 and 50 in 1977 to 1980. He left the FDNY to become an actor. Ironically, his first major role was in the 1985 film about a firefighter, Turk-182. He is best known for playing Chief Jerry Reilly on the television series Rescue Me, which starred Dennis Leary. Leary is also a staunch supporter of firefighters across the country.

I made many stops at 89 and 50 over the years and a shout out goes to my friend, Pat Stranzl, who has spent his whole 20 year career in the truck. Good meals and good laughs are the norm.

89 Engine was organized on May 15, 1926 along with 50 Truck. That same year, they moved into the their completed firehouse at 2924 Bruckner Boulevard off of Tremont Avenue.

There have been two line of duty deaths in their history, one from the engine and one from the truck.