October 2023 UPS, page 2
October 01, 2023 | NEW JERSEY
Ron Jeffers, New Jersey Editor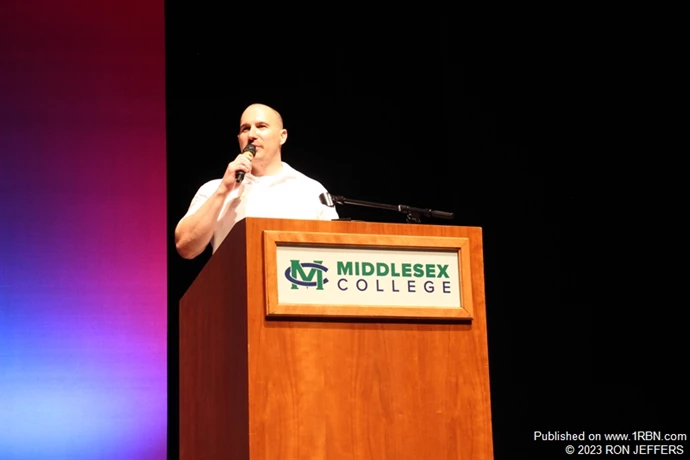 Photo by RON JEFFERSPerth Amboy Chief of Department Edward Mullen has been named Chief of the Year by the NJ State Fire Chief's Association. In April, he welcomed guests to the first NJ Fire & EMS Institute Firefighter Health, Safety & tactics Seminar, at Middlesex College. The chief, and his team, were instrumental in setting up the successful seminar.
This article is a direct street report from our correspondent and has not been edited by the 1st Responder newsroom.
DOWNS: Firefighters battled a 4-alarm fire at the Deliverance New Covenant Church in Vineland, Aug. 7th. Investigators said the fire caused severe damage to the church and displaced residents living in a unit at the back of the property. 
UPS: Recently, Bayonne Fire Chief Keith Weaver received a letter from 4th grader Faith Halsey. She wrote about her interest in fire prevention in the city. Chief Weaver was so impressed with Faith's interest in Bayonne fire prevention, that he invited her to fire headquarters and made her an honorary firefighter, according to the city's OEM Facebook page. 
DOWNS: A multiple-alarm fire raced through the Grace Presbyterian Church on Grove St., Montclair, Aug. 15th. The fire began in the basement and spread to the sanctuary and flames burned through the roof, according to WABC-TV. Several firefighters suffered minor injuries. No one was in the church at the time of the fire. 
UPS: On August 26th, the Saddle Brook Fire Department, mayor and township council, recognized Firefighter George Miller, of H & L Co. 1, for his 50-years of service to the community.          
DOWNS: Hundreds of pounds of explosives, used for making fireworks, were present at the site of an August home explosion in Buena, according to News 12. The explosion killed four people, including two minors. 
UPS: Recently, John Pecoraro was honored by Paramus officials for his 50-years of service to the community as a volunteer with the borough's Rescue Squad. June 27th was declared "John Pecoraro Day." In addition, Pecoraro is an instructor at the Bergen County Emergency Medical Services Training Center, in Paramus. 
DOWNS: Three firefighters were treated and released from a local hospital after they were injured battling a 4-alarm fire involving three Cherry St. dwellings in Mount Holly, Aug. 13th, according to 6 Action News. 
UPS: Matteo Pittenger, 15, working to earn the rank of Eagle Scout, presented the Avenel firehouse with a drying rack for the members turnout gear. Matteo, of Fords Boy Scout Troop #53, presented the drying rack to firefighters and local officials on Aug. 29th, according to the Woodbridge Patch. 
DOWNS: A wildfire at the Atco Dragway in the Wharton State Forest impacted about 1,778 acres of land, according a News 12 report. It was reported 100% contained, Aug. 23rd. 
UPS: The Spotswood V.F.D. celebrated its 125th anniversary with a parade, Aug. 19th, followed by activities at Immaculate Conception Church. 
DOWNS: A mother and her adult son were killed in an early-morning fire in a Burlington Twp. apartment complex, Aug. 25th. According to NJ.com, firefighters pulled the pair out of the apartment. First responders attempted to treat both, but the two were pronounced dead at the scene.
UPS: Newark firefighters executed a daring rescue of an uninjured man from an upper floor window during a 2-alarm dwelling fire on 15th Ave., Aug. 29th, according to RLS media. There were no reported injuries, but twelve adults and two children were displaced.  
DOWNS: An arsonist started back-to-back fires in Evesham, in August, according to a NJ.com report. Colin DeLuca was arrested, Aug. 23rd, after police found him near the fires while they were investigating. Police said resident's surveillance footage aided in the search for the arsonist. 
UPS: Motaz Elnaggar is Harrison's new probationary firefighter.
DOWNS: A small plane crashed into a wooded area of Lacey Township, September 2nd, killing the pilot, according to NJ.com. The crash of the Cirrus SR22 appeared to be linked to a wildfire near the Ocean County Airport that grew to some 831 acres. The NJFFS reported that the fire was fully contained, September 5th, according to News 12. 
UPS: Perth Amboy Fire Chief Edward A. Mullen has been named Chief of the Year by the NJ State Fire Chief's Association.