Slow Cooker Season is Here…
October 01, 2019 | NATIONAL
AJ FUSCO, Correspondent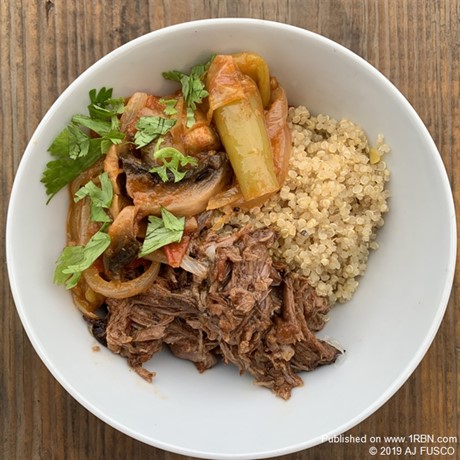 Photo by AJ FUSCOSlow Cooker Beef - Quinoa Taco Bowl
This article is a direct street report from our correspondent and has not been edited by the 1st Responder newsroom.
Time to brush the dust off the ol' slow cooker! It's a shame that they get "type casted" as the perfect cool weather kitchen tool, but in all reality that's exactly what they are. Some may even scoff at the notion of using one because it basically does all the hard work for you. But why? In every other aspect of our life we look to technology to make our lives a little easier. Yet when it comes to cooking, some look at slow cookers as "cheating". I call B.S.! We live in a crazy, hectic society which demands a lot of our time. This is also true in the fire service where we are called upon to respond to many types of emergencies, building inspections, training, etc. So with busier shifts, cooking can sometimes be put on the back burner, pun intended. Why shouldn't we use a tool that will help us put something homemade and delicious on the table for our crew? The answer is simple; we should be!

Slow cookers, a.k.a Crock Pots, should be in every firehouse kitchen. But before you go ahead and tell me the only thing they are good for is chili, let me explain. The technique called braising involves cooking an ingredient, usually meat, submerged about halfway in a liquid. It's almost always used on tougher, fattier cuts of meat as they need time to break down. The connective tissue, fat and collagen all need time to render into a delicious, moist, tender piece of meat. Braising is traditionally done in a dutch oven or other heavy bottomed pot. Good news!! A slow cooker can help you achieve the same results!!

This recipe for Beef Cacciatore with Quinoa is the perfect example of using a slow cooker for something other than chili. By browning the beef in a pan first, we are able to brown the outside, creating more flavor. If time is truly of the essence you can skip this step. Cacciatore is traditionally made with chicken or rabbit, but the flavors and acidity of tomatoes cut through the fattiness of the beef perfectly. And to make this dish a little healthier we are serving it with quinoa, an ancient grain that is full of protein, fiber, vitamins and is also gluten-free. And remember, chili isn't the only thing a slow cooker is good for!

Slow Cooker Beef - Quinoa Taco Bowl
Serves 4

INGREDIENTS:

For the Beef:
2.5 lb. Beef Chuck Roast
32 oz. Can Crushed Tomatoes
½ Onion, chopped
2 Whole Garlic Cloves
1 Tbs. Dried Oregano
Salt, to taste
Fresh Cracked Black Pepper, to taste
EVOO

For the Bowl:

1 Cup Dry Quinoa, cooked according to package
1 Ear of Corn, cooked/kernels cut off (substitute with sauteed frozen corn)
1 Avocado, sliced
¼ Onion, chopped
2 Tomatoes, chopped
Cilantro
Refried Beans: Recipe to follow
1 - 15 oz. Can Pinto Beans, drained
¼ Onion, chopped fine
1 Garlic Clove, chopped
EVOO
Salt, to taste

Procedure:

-Season the beef on all sides with plenty of salt and black pepper.

-Heat up a pan over medium heat, add a few glugs of EVOO. When the oil simmers, pat dry the beef and carefully add to the pan. Brown on all sides, set aside in slow cooker.

-Lower heat to low. Add the onions, sauté until translucent. Add garlic and oregano and sauté until the garlic starts to brown. Add the tomato sauce, deglaze the browned bits with a wooden spoon. Add the tomato mixture to the slow cooker with the beef.

-Cook on low for 6-8 hours or high for 4 hours. Remove the beef to a plate to cool slightly and then shred, set aside.

-Arrange all the toppings so that everyone can make their own taco bowl.

Refried Beans:

-In a medium skillet over medium heat, add enough olive oil to coat the bottom of the pan. When the oil is simmering, add the onion and cook until translucent. Add the garlic and cook until they just start to brown.

-Carefully add the drained beans, stir to combine. Add a little bit of water to loosen the mixture up. Bring to a simmer and cook, stirring frequently. When the beans start to soften, about 3-5 minutes, smash about ½ of the beans using the back of a fork.

-If needed, add more water to get the consistency you are looking for. Taste and adjust seasoning.