Say it with me now...KEEN Wah!
October 01, 2020 | NEW YORK
AJ Fusco, Correspondent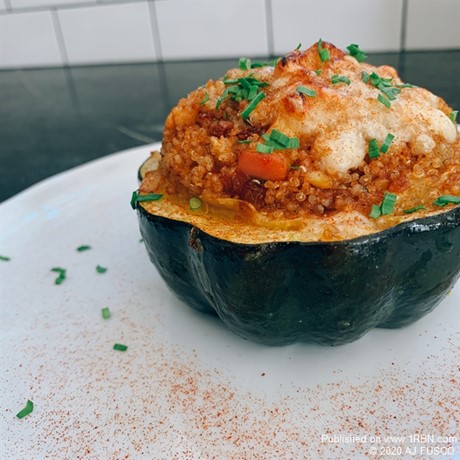 Photo by AJ FUSCO
This article is a direct street report from our correspondent and has not been edited by the 1st Responder newsroom.
So in case you missed it or didn't know, quinoa is pronounced KEEN-wah. If you have been living under a rock, you wouldn't know that this ancient "grain"/superfood has become extremely popular over the last few years. And while its popularity is in its infancy here in the United States, historical evidence puts its domestication for human consumption 3-4 thousand years ago in Peru and Bolivia. But perhaps its biggest misconception is that it isn't actually a grain at all. In fact, quinoa is the seed from a flowering plant in the amaranth family. It is more closely related to spinach than say rice. Because of this, it is a gluten-free food, which makes it perfect for those with gluten allergies. Many recipes that contain grains such as wheat, rice and barley can easily be substituted with quinoa. They even make quinoa flour for baking!

So now that we have the pronunciation down, let's talk about cooking with quinoa. In the firehouse, I have found that it's hit or miss when it comes to putting out a successful meal using this delicious ingredient. Those who haven't tried it are often reluctant just based on the name alone. And some just don't like the texture, like when one of my partners said it felt like he was eating sand, which I find to be a little bit of an exaggeration. The great thing about quinoa is that while it certainly has its own flavor, it is mild enough to "play well in the sandbox" with other flavors, sort of like rice. It is delicious on its own, cooked in some chicken stock or seasoned water, but using it in other ways is where I find it to be more accessible to others who may have not tried it. I have used it successfully in casseroles and stir-frys, but one of my favorite applications is to use it as a stuffing, like in this recipe for stuffed acorn squash. And it is seasonally versatile as well. While this acorn squash recipe is perfect for the fall, a cold quinoa salad with cucumber and tomato is delicious for the summer. Maybe use it in a Spring quinoa bowl with peas, lemon and mint. Or how about using it as a base for beef stew in the winter?! Seriously though, you get the idea. And besides its versatility, it is extremely healthy. In fact, a 2017 study in the Journal of Nutraceuticals and Food Science found that when compared to other cereals like wheat, corn and barley, quinoa has more protein and a greater balance of essential amino acids. Not only is it a good source of protein and fiber, it is full of vitamins, minerals and antioxidants. It is no wonder this crop was so important to the Incan people!

Quinoa-Chicken Sausage stuffed Acorn Squash
Serves 2-4

Ingredients:

2 Acorn Squash, cut in half horizontally, seeds and stringy flesh scooped out.
½ lb. Chicken Sausage, casing removed
½ Apple, seeded and chopped
½ Onion, chopped
1 Garlic Clove, diced
4 Sage Leaves, diced
1 tsp. Paprika
1 tsp. Ground Cumin
3/4 Cup Dry Quinoa, cooked according to package
3/4 Cup Shredded White Cheddar Cheese, reserve half for garnish
Salt, to taste
EVOO
Optional: Finely chopped chives for garnish

Procedure:

• Preheat oven to 400* F

• Trim both ends of the acorn squash off. Cut the squash in half horizontally and scoop out the seeds and stringy flesh. Drizzle with EVOO and a pinch of salt.

• Place squash on a foil lined sheet pan, cut side down. Roast for 25 minutes or until soft. Remove from the oven.

• While the squash is baking, cook the quinoa according to the package and brown the sausage in a drizzle of EVOO in a medium saute pan. Using a slotted spoon, remove cooked sausage and set aside in a bowl.

• In the same pan, add the onions and saute until lightly browned. Add the apples and saute until the apples start to soften.

• Add the garlic, sage and spices to the pan and cook until fragrant. Remove the onion-apple mixture and add it to the cooked sausage.

• Add the cooked quinoa to the sausage mixture and stir to combine. Taste and adjust seasoning.

• Add half of the shredded cheddar to the mix and stir. Place the cooked squash on the same sheet pan cut side up. Stuff with quinoa-sausage mix, top with more cheese and bake for another 15 minutes or until the cheese is browned.

• Garnish with chives and serve.