Don't Turn Off Those Grills Just Yet!
September 01, 2019 | NATIONAL
AJ FUSCO, Correspondent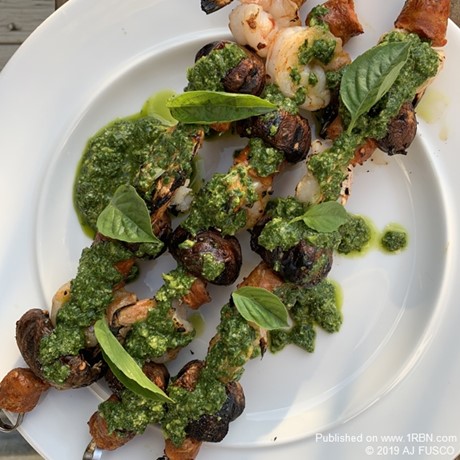 Photo by AJ FUSCOShrimp-Chicken Sausage Kabobs with Pesto
This article is a direct street report from our correspondent and has not been edited by the 1st Responder newsroom.
If you're like me, you hold on dearly to the long days and warm sun of the summer. Grills fired up for months, without even a chance to catch their breaths. And then September comes, and everyone throws the cover on and puts them away till next year. Why?!?! In my opinion this may be the best time of year to grill because it's usually not too hot out and we are still getting some summer produce coming in, like tomatoes, zucchini and basil. Instead of turning off the propane or packing away the charcoal, we should be embracing this beautiful weather and the ingredients still available.

Kabobs are the quintessential food for the grill, and rightfully so. All of your ingredients for the meal, on one convenient skewer. But it's not quite that simple. When preparing kabobs you need to take into consideration cooking times for the various ingredients being used. They should all cook at the same rate. And if an ingredient may take a little longer to cook than the others, cut it into smaller pieces to compensate for the cooking times. Many popular kabob ingredients are grown in the spring and summer, such as zucchini, mushrooms, tomatoes and onions. These are all relatively fast cooking which is perfect for the high heat of a grill. The same idea applies to the protein/s we choose.

In the case of these Shrimp Kabobs, the chicken sausage should be fully cooked before skewering. It would take much longer than the shrimp if it were to be cooked from raw. So we have our ingredients sorted out, the kabobs are skewered and ready to hit the grill, but we are missing one key component...a sauce! Kabobs are great and all, but sometimes I find they lack a punch of flavor. And nothing packs more flavor than a great pesto. The earthy, herbal flavor of the basil, pungent heat of garlic and savory, nutty notes of Parmiggiano Reggiano cheese come together to make magic. Basil is still sticking around in September, so why not use all it has left to give. Pesto is a simple recipe that comes together in no time, a perfect pair to kabobs.

So if the cover is on the grill, go take it off and give this recipe a try before the summer is really over!

Shrimp-Chicken Sausage Kabobs with Pesto
Serves 4-6

Ingredients:

For Kabobs:
1 lb. Shrimp, peeled and deveined
1 lb. Chicken Sausage, fully cooked/cut into ½" pieces
8 oz. Button Mushrooms, cleaned
EVOO
Kosher Salt
Fresh Cracked Pepper
Skewers, if using wood soak for at least 30 minutes
Lemon, optional for garnish

For Pesto:
Big Handful Fresh Basil, reserve a few leaves for garnish
2 Cloves Garlic, rough chopped
¼ Cup Parmigiano Reggiano, grated
¼ Cup Pistachio, chopped (substitute walnuts, pine nuts or leave them out altogether)
EVOO
Salt
Chile Flakes, optional

Procedure:

-In a food processor, combine the basil, garlic, cheese and pistachio. Pulse to start forming a paste. With the food processor running start drizzling in the EVOO until a paste starts to form and all the ingredients are buzzing together. Taste and season with salt if needed and chile flakes if using. Set aside.

-In a large bowl, toss the shrimp with ½ of the pesto, reserving the other ½ for garnish. Set aside for 10 minutes. While the shrimp marinate, preheat grill to high heat.

-To make the kabobs, alternate shrimp, mushrooms and sausage. Oil the grill grates and grill the skewers for a few minutes per side, or until the shrimp just starts to turn pink. Serve with more pesto and garnish with basil leaves and lemon.