Welcome to the club, club sandwich that is!
September 01, 2021 | NATIONAL
AJ Fusco, Correspondent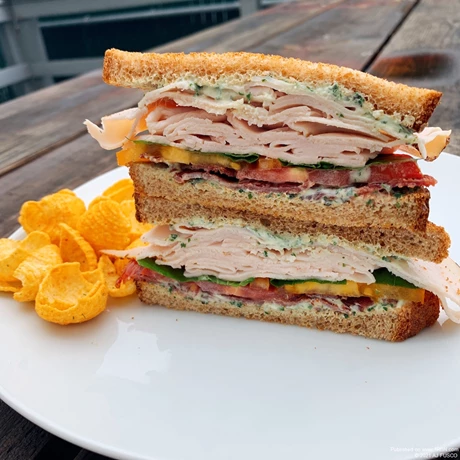 Photo by AJ FUSCOTurkey Club with Yogurt Pesto
This article is a direct street report from our correspondent and has not been edited by the 1st Responder newsroom.
There is no denying a sandwich is the perfect meal. I can honestly say I do not know anyone who doesn't love a well constructed, tasty sandwich. But the question of what exactly is a sandwich could probably spark some debate, so for the sake of this article and recipe, I will refer to anything stuffed between slices of some sort of bread as a sandwich.

In more recent times, there seems to be no limit on what can actually be put into a sandwich. Anything that can be sliced, fried or cured is finding it's way sandwiched between slices of white bread, buttery brioche buns or tangy sourdoughs. It is a beautiful thing quite frankly. It allows chefs, cooks and everyone in between to get creative and experiment with textures and flavors. But sometimes, it's the simple sandwich we crave. The ones we grew up on. Who can resist the perfect PB&J?!?! With peanut butter on BOTH slices of course. How else do you plan on keeping that jelly from getting the bread all soggy? And let's not forget the humble ham and cheese. It doesn't need much than maybe some mustard or mayo. Chicken cutlet, LTM needs no introduction. But when we start adding more than a couple ingredients, and need a little extra to help fill us up, nothing compares to the "Club".

Traditionally a double decker and made with 3 slices of bread, this beast of a sandwich can really fill you up. But I think the star of the show is the bacon. Because bacon makes everything better! So when I needed to come up with a Turkey Club sandwich recipe, I wanted to lighten up the traditional sandwich. The first step for that was to take away the middle slice of bread. Does this make this not a true "Club", maybe not, but please don't call the sandwich police on me. Too much bread takes away from the rest of the ingredients, at least in my opinion. Next I wanted to come up with a healthier spread to substitute for mayo. Plain Greek yogurt was the obvious choice, and the addition of pesto ingredients added another layer of flavor. And finally, we use turkey bacon, which helps us cut back on the calories without sacrificing flavor. So sure, it may not be the classic you were looking for, but it still packs a ton of flavor!

Turkey Club with Yogurt Pesto
Serves 4 

Ingredients:

1 lb. Low-Sodium Turkey
8 Slices Whole Wheat Bread, toasted
½ lb. Turkey Bacon, cooked
1 Tomato, sliced thin
1 Head of Bibb Lettuce, leaves separated

Yogurt Pesto:
1 Bunch Basil Leaves, rough chopped
1 Clove Garlic, chopped
½ Lemon, juice and zest
½ Cup Low-Fat Plain Greek Yogurt
Salt, to taste
EVOO

Pesto Procedure:

-Combine basil, garlic, lemon, pinch of salt and yogurt in a food processor. Pulse to combine. With motor running, slowly add EVOO just until the pesto comes together. Taste and adjust seasoning.

-Assemble sandwiches by smearing pesto on both pieces of toast. Place turkey bacon on bottom, followed by tomato, lettuce and turkey.