WE SAY GOODBYE TO TWO HEROES
September 01, 2023 | NEW JERSEY
Ron Jeffers, New Jersey Editor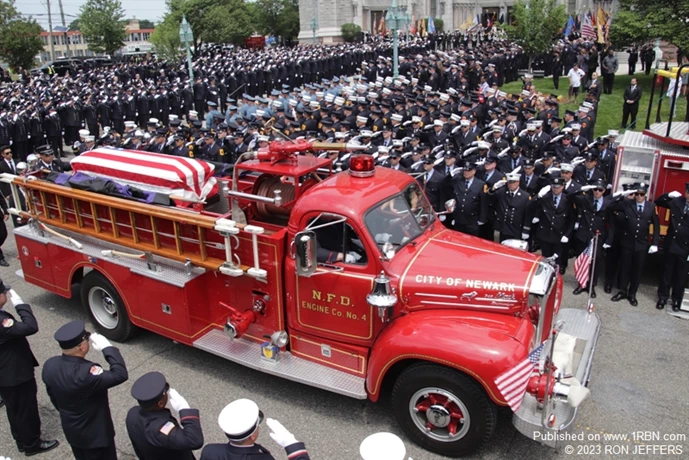 Photo by RON JEFFERSFirst responders offer a final salute to Newark Captain Augusto "Augie" Acabou as the funeral procession leaves Cathedral Basilica of the Sacred Heart Church, July 13th.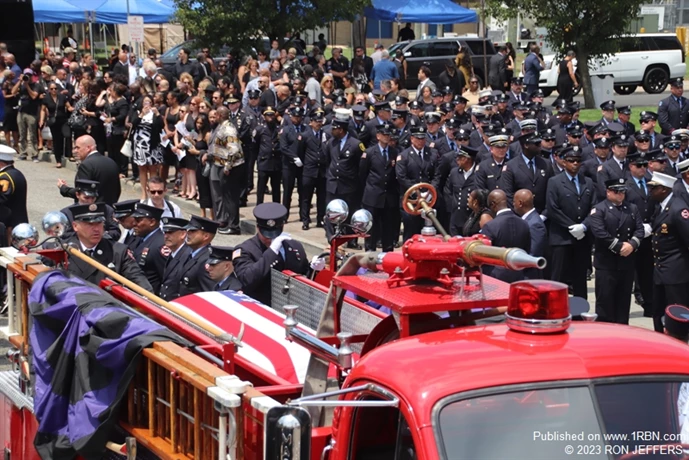 Photo by RON JEFFERSMembers of Newark Captain Wayne "Bear" Brooks, Jr.'s company prepare to say goodbye to their Brother on July 14th.
This article is a direct street report from our correspondent and has not been edited by the 1st Responder newsroom.
They did what they always did. Jump on the rig, answer calls, help people. Fire: Locate, Confine, Extinguish. That's what they did when fire companies in Newark's 5th Battalion turned-out to a fire onboard a ship in Port Newark. The large Italian-owned cargo ship was equal to 12-stories tall.
There were cars burning on the top deck, or a 12th story. Top deck: "water on the fire." Smoke discovered on decks 10 and 11. More cars burning. Go below on this humid July 5th evening, into the darkness along narrow stairwells. Find the seat of the fire in restricted space, jammed packed with vehicles. Thick-acrid smoke, gasoline vapors, gasoline tanks and rubber tires exploding. In addition, you are wearing about 50-pounds of turn-out gear, including SCBA.   
The vessel might be equal to 12-stories, but it's not like a high-rise building. No windows, no ventilation, just a steel "tank." The ship's fire suppression consisted of one-inch diameter hose and threads that did not meet the NFD standard. Drag you own hose and establish a water supply. 
Firefighter Augusto "Augi" Acabou (Engine Co. 16) and Firefighter Wayne "Bear" Brooks (Ladder Co. 4) entered the darkness with fellow firefighters, but they would not return under their own power. They were doing their job. 
Their fellow firefighters, including members of the NJ UASI Task Force, began a search and rescue operation. Task Force units rolled in from at least six counties, plus units from the FDNY. Numerous EMS and police emergency units respond in, as well. They came to get their Brothers out, and some of those first responders were injured in their attempts. 
Firefighters Acabou and Brooks gave their lives in the line-of-duty. 
On July 13th, over a thousand responders assembled at Cathedral Basilica of the Sacred Heart to say "goodbye" to Firefighter Acabou. Firefighters donned their dress uniforms and stood at attention on a humid, 90-degree summer day. Many police motorcycles, and police helicopters overhead. 
Outside of the church, you could hear the announcement that Firefighter Acabou was posthumously promoted to the rank of captain. There were cheers in an otherwise somber house of worship. 
Mutual aid fire companies covered all city firehouses during the funerals. As firefighters lined-up at the completion of Captain Acabou's church services, sirens were heard in this, the 3rd Battalion, area. Mutual aid units respond to, and operated at, a Signal 11 (all-hands fire) on Mt. Pleasant Avenue. The beat goes on.
On the morning of July 14th, first responders assembled at the church to say "goodbye" to Firefighter Brooks. It was very dark and overcast at 0800-hours, as firefighters, rehab units, police, etc., were setting up. Then the thunder and lighting, followed by heavy rain. It didn't last long. All of a sudden, the clouds parted and the sky turned blue. Like a gift from Heaven! 
For the second day, active and retired members of the FDNY, who honor the term "Brother," took over a city street and set up shop, preparing breakfast and lunch meals for participants. This was thanks in part to the FDNY Ceremonial Unit and the Tunnel to Towers Foundation. Frank Siller, of T2T, has committed to paying off Captain Brook's mortgage and assist Captain Acabou's family. 
God Bless Frank Siller and his foundation for what they do for first responders and military families. And, of course, thank you to the Newark Bell & Siren Club, Jersey City Gong Club, Bayonne Fire Canteen and the Red Cross for their rehab stations. 
First responders lined up on another humid day, in dress uniforms. Unfortunately, a few needed assistance from on duty first responders, due to the heat. Hey, it's not supposed to be that way when you are on the job. You don't receive assistance, you provide assistance. 
Again, the Fire Service family showed up. Shoulder patches represented fire departments from places like France (yes, France), Boston, Baltimore city and county, Washington, D.C., New Haven, San Antonio, Kansas City, Cranston, Scarsdale, and many more.  
During the funeral, it was heard over the loud speakers that FF Brooks was posthumously promoted to the rank of captain. Once again, cheers came from a quiet church. 
As Captain Brook's funeral was coming to a close, mutual aid fire companies responded to, and operated at, a Signal 11-plus fire on 14th Avenue. Again, the beat goes on. 
On a Facebook page, retired Newark Fire Captain Neal Stoffers referred to firefighters as the "quiet guardians." A funeral is held, politicians praise first responders, and the cameras leave. Praise them when our "quiet guardians," of our respective communities, ask for proper NFPA standards, for manpower, for equipment, etc. 
Never forget Captain's Acabou and Brook's sacrifice.