Chief Dyl Takes A Break After 35-Plus Years Of Service
By Ron Jeffers, New Jersey Editor | August 01, 2020 | NEW JERSEY
Story No. 070120105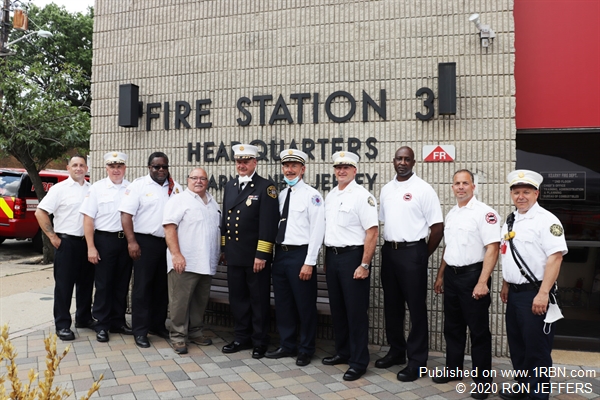 Photo by RON JEFFERSChief Steve Dyl, 5th from left, with fellow fire chiefs from around the state that attended his retirement celebration on June 30th.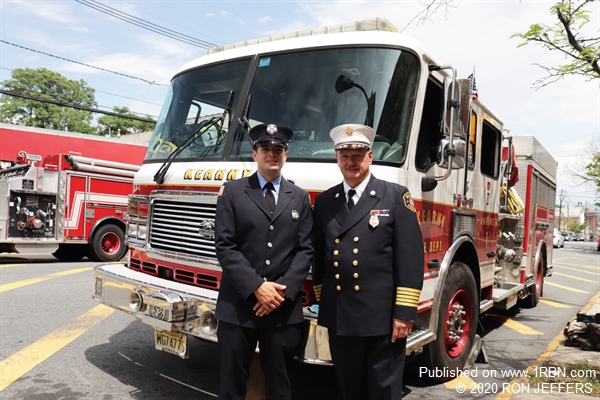 Photo by RON JEFFERSChief Dyl, right, with his son Steve, who is also a Kearny firefighter.
In the 1970's, Steve Dyl and three other classmates met regularly with late Mayor Henry Hill, in Kearny, discussing the formation of an EMS rescue squad for the town. That squad is still in existence today, and that young man interested in community service retired on June 30th, after 35 years and 9 months as a member of the Kearny Fire Department. He served as the chief of the 102 member department since 2007.

On the last day in June, firefighters, fire chiefs from numerous departments, family and friends assembled at Fire Headquarters to wish the chief well in his future endeavors.

There were some hard times for the department due to the recession and there were changes in firefighter's retirement benefits, etc. Mayor Alberto Santos pointed out that within several weeks there were numerous retirements and some 400-years of experience lost. He added that under Chief Dyl, a "full compliment" of firefighters was restored with the help of SAVER grants and tax money.

Mayor Santos praised Chief Dyl for his hard work which included full manning, establishing a marine unit and saving a firehouse building. He referred to the department's many water rescues in 2012 as the result of Superstorm Sandy, overseeing repairs to the Davis Avenue firehouse in 2017, numerous fire and haz-mat incidents, and the pandemic handled by the KFD.

Fire Committee Chairperson Eileen Eckel, an educator, said she was educated by Chief Dyl and town firefighters in just how demanding it was to be a firefighter, including personally participating in a burn drill.

During his time as chief, Dyl noted that modern plans were developed, updated policies and procedures, met training goals and acquired the best equipment available. He praised having the best people working with him.

Chief Dyl spoke of getting the job done and described the fire department as a "community" and a "savior". As fire units returned to headquarters after a run, Chef Dyl said, "The guys in the back row, getting off the rigs, now, made that happen".

The chief also pointed out the members that "never saw this day". The KFD members who died in the line of duty. "Celebrate those guys too, and keep them in our hearts," he added.

The chief thanked the mayor and council for their commitment to hire firefighters. He also said he worked with a "great group" of county chiefs "working together". "A brotherhood, not just for me but the Kearny Fire Department".

In his conclusion he added, "This is what's it's all about. This was not a job, but a way of life".

This article is a direct street report from our correspondent and has not been edited by the 1st Responder newsroom.