Just a few
August 01, 2021 | NATIONAL
AJ Fusco, Correspondent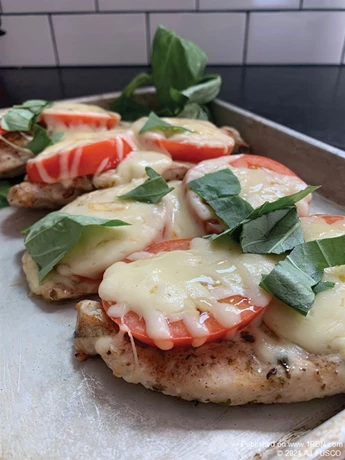 Photo by AJ FUSCOGrilled Chicken Caprese
This article is a direct street report from our correspondent and has not been edited by the 1st Responder newsroom.
Recipes don't have to be complicated to be good. Many times, the best meals are the simplest. A good recipe does not have to read like a dictionary of ingredients. Sometimes all it takes is three quality ingredients, simple execution and a confident cook. 

Why three ingredients you ask? After three, a recipe can start to get muddled down, resembling more of a hodgepodge of flavor and textures. Keeping the amount of components to a minimum does a few things. First and foremost it allows the ingredients to shine. This is why choosing quality is of the utmost importance. Organic, fresh produce is best, especially if in season. I highly suggest going to your local farmers markets for fruits and vegetables. It is a great way to learn what grows in your area, which is what usually will taste best. Buy the best meat you can that is within your budget, such as grass-fed beef, pasture raised pork and free-range chicken. Quality meat can make a huge difference when you are cooking it simply with a few other ingredients. You could also shop the local farmers market for this as well. Using only a few items also helps in keeping costs down, which is always a good thing, especially in the firehouse. It will also allow your budget to be spent on those quality ingredients we just spoke about. And lastly, it helps simplify a recipe, which is important, especially for the new cooks out there. Some recipes can seem daunting with too many steps, which can be discouraging to some. Keeping it simple builds confidence in the kitchen with basic cooking techniques, which will only make you a better cook.

This recipe for Grilled Chicken Caprese uses only a few ingredients, making it a quick and easy meal that's also delicious, especially in the summer!

Grilled Chicken Caprese
Serves 4

Ingredients:

2 Boneless/Skinless Chicken Breast, halved (or 4 thin cutlets)
2 Ripe Tomatoes, sliced about ½" thick
2 Cups Shredded Mozzarella 
Sea Salt, to taste
Black Pepper, to taste
1 tsp. Dried Oregano
EVOO
1 Bunch Fresh Basil

Procedure:

-Preheat the grill to medium-high heat. Spray with a non-stick or oil grates.

-Drizzle EVOO over chicken breasts. Season with salt, pepper and oregano.

-Place chicken on the grill and cook for 3-4 minutes. Flip and top with tomato slices and shredded cheese. Cover the grill and cook for an additional 3-4 minutes or until cooked through to 165° internal temp.

-Remove from the grill and drizzle with EVOO. Tear basil leaves on top and serve.