Aug. 2022 UPS, page 2
August 01, 2022 | NEW JERSEY
Ron Jeffers, New Jersey Editor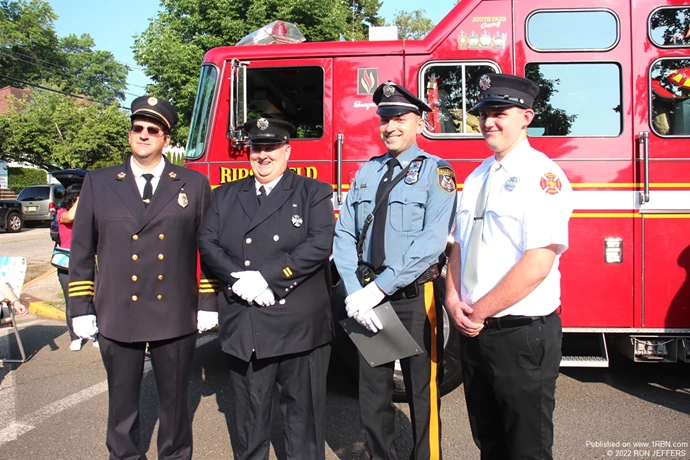 Photo by RON JEFFERSRidgefield Park Fire Lt. Brian Nevins, second from left, was recently named New Jersey & New York Volunteer Firemen's Association "Fireman of the Year". He is seen at the RPFD's inspection and awards ceremony, July, 2021.
This article is a direct street report from our correspondent and has not been edited by the 1st Responder newsroom.
DOWNS: Five people were injured as the result of a MVA involving a dump truck, car and East Orange Engine 1, June 7th. The Main Street incident saw the apparatus careening into a building after the initial collision. Three firefighters, the truck driver and drivers of two other vehicles were taken to the hospital, according to Eyewitness News.

UPS: Three swimmers were caught in a riptide and in distress at a Stone Harbor beach, June 6th, officials said. The Stone Harbor FD was dispatched to 96th St. and the beach for a surf rescue. The Avalon FD was also dispatched as part of Stone Harbor's mutual aid for surf rescues. Marine 13 was deployed. Firefighters entered the water as swimmers. The wave runner crew made three trips to return the victims and swimmers to shore, officials said. One victim was treated by Avalon EMS.

DOWNS: One person died as the result of a fire at a senior living community in Ridgewood, June 11th. The fire was confined to the victim's apartment. Some elderly residents were taken to The Valley Hospital for evaluation. None appeared seriously injured, according to The Daily Voice.

UPS: Wallington F.D. volunteer Lt. Richard Ray and Robert Ventura were sworn in as borough police officers in June.

DOWNS: Two people died as the result of an early morning fire that consumed a dwelling on Agar Pl. in South Hackensack, June 10th. Part of the house's roof and floor collapsed during the fire, the Daily Voice reported.

UPS: Ocean Gate received $978,000 to acquire a new piece of fire apparatus equipped with an aerial ladder. The funding came through the US Department of Agriculture's (USDA) Community Facilities Loans & Grants Program, officials said. Many structures have been lifted after Superstorm Sandy to meet flood elevation requirements.

DOWNS: Eight residents of homes on Logan Ave., Jersey City, were displaced after a 3-alarm fire that began in a vacant building that was being renovated, May 25th. The fire spread from 102 Logan Avenue to occupied dwellings at 100 and 104, separated by narrow alleys. The fire's origin was considered suspicious, according to a city spokeswoman.

UPS: New firefighters in Springfield are Justin French and Robert Scaniello.

DOWNS: A fire quickly consumed a Village Ct. 2.5 story dwelling in Paramus on the morning of June 17th. The fire apparently ignited on a rear deck and spread to the home, according to the Daily Voice. A couple and their two young daughters escaped the flames.

UPS: Joseph Birchtold has been promoted to fire chief in Teaneck. Joseph Zbierski was promoted to deputy chief and Christopher Robins to battalion chief, in June. Paul O'Connor was promoted to captain and Jason Weimann and Brendan Sterinsky are the new lieutenants.

DOWNS: A tractor-trailer driver was killed in a crash when his truck struck the concrete divider that separates toll lanes at the NJ Turnpike toll booth plaza in Carney's Point, June 14th. The truck then caught fire and the driver was trapped in the vehicle, a NJSP spokesman reported.

UPS: Mark Russo has been promoted to fire captain in Springfield.

DOWNS: An employee at Loving Pets food manufacturer was impaled by a rotating bar at the top of a machine when she was clearing material from same in South Brunswick, in June. A rotating bar moved and she was impaled through her forearm, officials said. Firefighters worked for 45 minutes to dissemble the section where the victim's arm was trapped; and, then they had to use several power cutters to remove the bar from the machine. She was taken to Robert Wood Johnson University Hospital to have the bar removed from her arm.

UPS: Tim Griffin has been promoted to fire lieutenant in Long Branch. Newly appointed firefighters are Jake Danishinsky, Dave Jones, Joe Paulson, Andrew Clay, Nick Cioffi, Doug Saffioti and Tyler Schick.

DOWNS: In June, a wildfire at Wharton State Forest in Burlington County, labeled the Mollica River Fire, consumed over 13,500-acres in size, officials said. At that point, it was labeled as the largest wildfire in the state since 2007. "We have essentially ruled out natural causes and so we'll continue to investigate the fire," according to Gregory McLaughlin, chief and state fire warden for the NJ Forest Fire Service.

UPS: Ridgefield Park Fire Lt. Brian Nevins was named the New Jersey & New York Volunteer Firemen's Association "Fireman of the Year".