New Jersey Chief Receives Firehouse Magazine Honor
August 01, 2022 | NEW JERSEY
Ron Jeffers, New Jersey Editor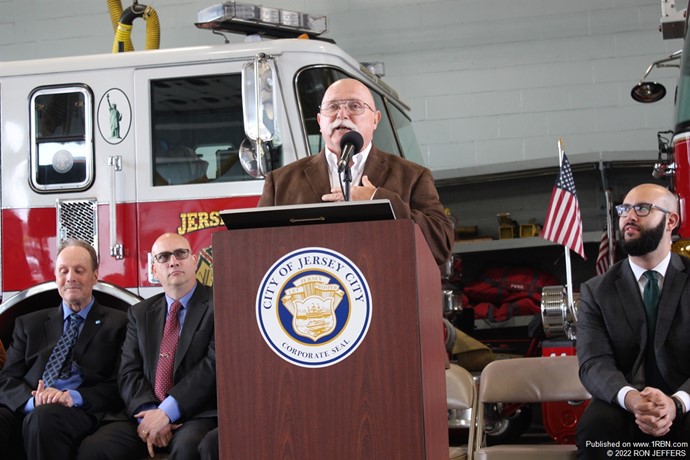 Photo by RON JEFFERSRetired Jersey City Deputy Fire Chief Robert Cobb, attending the FDJC ISO Class 1 classification ceremony in May, will be inducted into the Firehouse Magazine's Hall of Fame, in September.
This article is a direct street report from our correspondent and has not been edited by the 1st Responder newsroom.
Robert "Butch" Cobb will be inducted into the Firehouse Hall of Fame at the Firehouse Expo in Columbus, Ohio, September 28th.

Robert Cobb has served the fire service in many ways over the years. From volunteer firefighter and chief, to career firefighter and chief. He was part of the Jersey City Fire Department for 34-years, retiring with the rank of deputy chief.

"Butch has played a role in Firehouse's mission to educate and train the fire service for more than three decades in numerous capacities," said Firehouse Editor-in-Chief Peter Matthews.

His volunteer service includes serving with the Dumont Fire Department from 1969-1979, serving as Chief of Department in 1978. He was also a member of West Milford Company 4 from 1982-1990, serving as chief in 1989.

Cobb's career duty began with the Weehawken Fire Department in 1972. In 1975, he was appointed to the Jersey City Fire Department. There, he was assigned to some of the busiest companies during, what was known as, "The War Years". This included Engine Co.'s 20, 22, Truck 5 and Rescue 1. As battalion chief, he was assigned to the busy 2nd Battalion.

In the deputy chief's position, he had numerous responsibilities. This included serving as chief of operations overseeing daily field duty, chief of training, citywide tour commander and deputy coordinator of the Office of Emergency Management and Homeland Security.

On 9/11, he responded with Jersey City resources to the World Trade Center on the opposite side of the Holland Tunnel.

In 2004, Cobb retired and joined the Insurance Services Office (ISO) as director of Community Hazard Mitigation. He was their key spokesman to the nation's fire service. Cobb was later promoted to national director, responsible for guiding the ISO's public fire protection information gathering and analysis process, including all field operations. During his tenure, he met with many states fire chief's associations, etc., inquiring on recommendations for improving the ISO grading process.

"I learned through many years of experience that training, especially hands-on training, saves lives," Cobb said. "Throughout my career, I encouraged all firefighters to continue training from day one to your last day on the job. Train like your life depends on it."

Cobb began sharing his training experiences with other firefighters through articles and speaking on conducting hands-on training at Firehouse conferences. He was a member of the Firehouse Heroism and Valor Awards Selection Committee for many years.

After Cobb had retired from the ISO, he was contacted by Jersey City Chief of Department Steve McGill for advice. The chief wanted to know what was needed to accomplish a national Class 1 rating. Improvements and upgrades were accomplished.

"He was on a mission," Cobb said. He "made it happen". "Everybody was doing more of something."

Cobb was very proud that his former department, now the largest in the state, received the Class 1 recognition. He traveled from his home in Arizona to be a guest speaker at the FDJC's Verisk ISO Class 1 ceremony, in May.

"Butch's ability to share his experiences from firefighting to fire safety to ISO grading via Firehouse has undoubtedly saved countless lives and improved fire departments," Peter Matthews said.