Keep the kitchen cool!!
July 01, 2020 | NATIONAL
AJ Fusco, Correspondent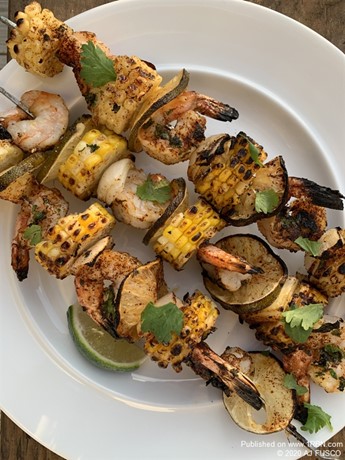 Photo by AJ FUSCOMexican Shrimp and Corn Kabobs
This article is a direct street report from our correspondent and has not been edited by the 1st Responder newsroom.
It's July and the last thing we want to do is turn on the oven, so let's fire up those grills! When we are in the dead of summer, I try to use my grill as much as possible, whether at home or the firehouse. Most recipes that are ideal for cooking on the grill are fast cooking, making them perfect for those days that are just too hot to do anything. But instead of throwing a steak on and calling it a day, I try to keep it interesting and play with flavors, textures and techniques. Kabobs are ubiquitous with grilling but often fall short in the creativity department, you know the ones I am talking about…protein, pepper, onion, repeat. But that is just way too boring for me, after all most kabobs sold pre-packed in the supermarket come exactly that way. Kabobs are the perfect vehicle for trying out new marinades and ingredients, so think outside the box!

Kabobs require two things, the first being ingredient selection. Make sure to use proteins that cook fast like chicken, lean cuts of beef, lamb and even seafood. Chicken breast is great but I prefer boneless skinless thighs as they offer more flavor and are more forgiving when it comes to overcooking. They also take on marinades well. Beef can be tricky so I tend to use sirloin steak rather than something expensive like filet mignon. Pork tenderloin is fantastic because it cooks fast and the same goes for seafood, particularly shrimp. You must also think about the other ingredients you will be using. Things like peppers, onions, tomatoes, zucchini, eggplant all work well because they do not need extensive cooking times. With the recipe here I use corn, something not often used on kabobs, but the key here is to "par-cook" it on the grill before skewering to make sure it cooks through. Besides ingredient selection, you also need to consider how you will cut your ingredients before putting them on the skewer, this ensures ingredients will cook through. Think about how fast each ingredient cooks and cut them accordingly. Leave quicker cooking ingredients bigger and slower cooking ingredients a little smaller.

Kabobs are great for feeding crowds and this recipe for Mexican Shrimp and Corn Kabobs will certainly be a hit at your next BBQ!

Mexican Shrimp Kabobs

Serves 4-6

Ingredients:

For Kabobs:
1 lb. Shrimp, peeled and deveined
2 Ears of Fresh Corn
2 Limes, 1 sliced thin / 1 cut into wedges
Handful of Fresh Cilantro, rough chopped
EVOO
Kosher Salt
Fresh Cracked Pepper
Chili Powder
Skewers, if using wood soak for at least 30 minutes

Procedure:

-Preheat grill to high.

-Grill the corn with husk on for about 10 minutes, turning frequently. Remove and let
cool. When cool to the touch, peel husk and cut into 2" pieces.

-To make the kabobs, alternate shrimp, lime slices and corn. Brush kabobs with olive oil,
season with salt, pepper and chile powder. Oil the grill grates and grill the skewers for a
few minutes per side, or until the shrimp just starts to turn pink. Garnish with cilantro
and lime wedges.