Not all barbecue sauces are created equal!
July 01, 2021 | NATIONAL
AJ Fusco, Correspondent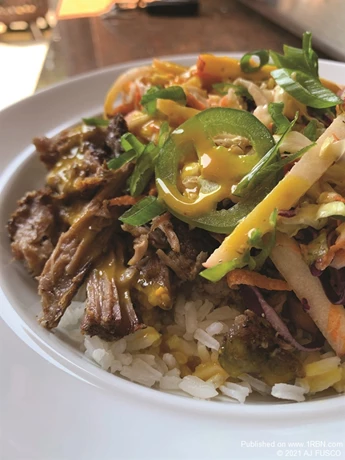 Photo by AJ FUSCOMaple-Mustard BBQ Sauce
This article is a direct street report from our correspondent and has not been edited by the 1st Responder newsroom.
To lump all barbecue into one category would be doing it an extreme disservice. It is by far one of the most complex cuisines in the world. Its origins can be debated and dissected ten times over without ever fully understanding it. But rather than focusing on all aspects of it, let's talk sauce. What makes BBQ taste so good is not one thing. It is a combination of quality meat, spices a.k.a rubs, smoke and sauce. And it is sauce that can arguably make the most noticeable difference between recipes.

The most popular of all barbecue sauces is the tomato-based kind, particularly Kansas City style. It is sweet, tangy and loaded with spices such as garlic and onion powder. Thick, almost syrup-like, from molasses and brown sugar, this type is the one found in most restaurants that serve anything "BBQ". Most tomato-based sauces start with ketchup and then branch off in many directions with the addition of unique ingredients, particular to a region or style. Some other examples are Texas and St. Louis style, which tend to leave out molasses. These are thinner and less sweet than the Kansas City sauce. The ketchup-based sauces compliment most types of BBQ, whether it is beef, pork or chicken. When you get into North Carolina, which is predominantly hog, that is when vinegar-based sauces start to become popular. This is actually my favorite style because I tend to like the way these sharp, spicy sauces cut through the fattiness of pork.

By now you are probably thinking there couldn't possibly be anymore styles of BBQ sauce. What if I were to tell you that South Carolina is known for a mustard base sauce? Yup, mustard. Traced back to the 18th century and the German settlers in the area, this type of sauce is perfect for pork. Typically it contains just a hint of ketchup, but the yellow mustard is the star if the show. In this recipe I wanted to make it a touch healthier by replacing the molasses and brown sugar often used with maple syrup. The result is just enough sweetness to balance out the acidity and spice from the mustard. Give this one a shot the next time you fire up the smoker!

Maple-Mustard BBQ Sauce
Yields 1 pint

Ingredients:
¾ Cup Yellow Mustard
¼ Cup Apple Cider Vinegar
1 tsp. Salt
2 Tbsp. Ketchup
1 tsp. Hot Sauce
¾ Cup Maple Syrup

-Combine all ingredients well, taste and adjust seasoning. Set aside in the fridge.