PARTING WITH AN OLD FRIEND-A FIRE TRUCK
July 01, 2023 | NEW JERSEY
Ron Jeffers, New Jersey Editor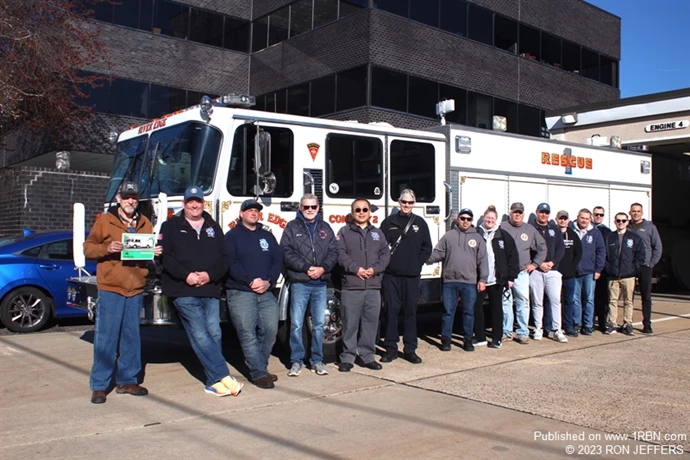 Photo by RON JEFFERSRick Deardorff, left, holds a Saulsbury Fire Apparatus flyer featuring River Edge Rescue 1's rig, when it was new, that was given to him by local firefighters. The members of River Edge Company 2 assembled at the firehouse to give the veteran rescue truck a proper send off to its new home in Pennsylvania.
This article is a direct street report from our correspondent and has not been edited by the 1st Responder newsroom.
Some of us hate to sell our old car. You get attached to it. Many years, many memories. Same with a piece of fire apparatus. It's your office and you are work partners for many years at many incidents. You take care of your "office," as it may one day take care, or save, you.
Such was the case on the morning of April 8th at River Edge Company 2. The company was ending Rescue 1's duties and replacing the rig with a rescue-pumper, to run as Squad 4. That apparatus has been ordered with Pierce. It was time to part with the rescue truck-a 1990 Spartan/Saulsbury apparatus. The rescue unit was part of Company 2 since 1969, starting with a 1969 Ford/H&H vehicle.
The rescue truck was being purchased by Rick Deardorff, of North Central Pennsylvania, to support local volunteer firefighters.
Anyone can see how much of a family the members of Company 2 are by just paying them a visit at their home away from home. They are a close-knit bunch, and their apparatus is part of the family. They keep their apparatus in top shape and their pride and joy is the company's refurbished 1962 Seagrave 1250-gpm pumper and antique piece.  
On that April 8th Saturday morning, members of the company gather to meet Rick Deardorff and give Rescue 1 a good send off. Life Member and Ex-Chief George O'Connor, Jr., drove the rig on its first run 33-years ago. On this day, he drove Rescue 1 out on the apron for the last time. 
Rick Deardorff was a civil engineer before he and his wife started their transportation company and ultimately a mission critical systems development firm working in various vertical markets (transportation, retail, construction and others) throughout the U.S. and Canada. Rick has been involved in the restoration, fabrication and custom design of land vehicles of all types. His love of trucks and cars, and basically anything with an engine, led him into mechanics and restoration and customization of vehicles and vessels. 
"With the fire apparatus vertical market, we have been customizing an older walk-up rescue truck and a 1952 Willy which was originally used as a fire support vehicle," Deardorff said.
Rick's home base is located in a mountainous area of Central Pennsylvania where he says the response time for the closest fire company is about 20 minutes. He would like to improve that response time for everyone's safety. 
Rick stated, "We shared our vision with sales representative Jeremy McCoy of Brindlee Mountain Fire Apparatus," in the search for a used piece of fire apparatus. "It was apparent that this (River Edge) was the correct truck for us."
"Upon review of the truck with Chief Gregg Cariddi, it was evident that they treated their trucks like we do; they become part of the family and deserve the respect due them," Rick said.
Rick added, "We have an extensive list of potential uses serving communities, organizations and corporations in many unique ways. Over the next year, with the help of many individuals, it is our goal to play a part at reducing the response time to rural mountainous areas." 
Rick is also shopping for a pumper to supplement the rescue truck.
Chief Cariddi, Deputy Chief Dave Stucke, and other members of the company made sure that Rick had equipment and the proper information on the rig before they left for Pennsylvania. Oh, there was one member who was hugging the front end of Rescue 1, and he later tried to fit into a compartment to go with the rig, but he was calmed down. There was coffee and donuts!