53 Engine and 43 Truck
June 01, 2015 | NEW YORK
Larry Woodcock, Correspondent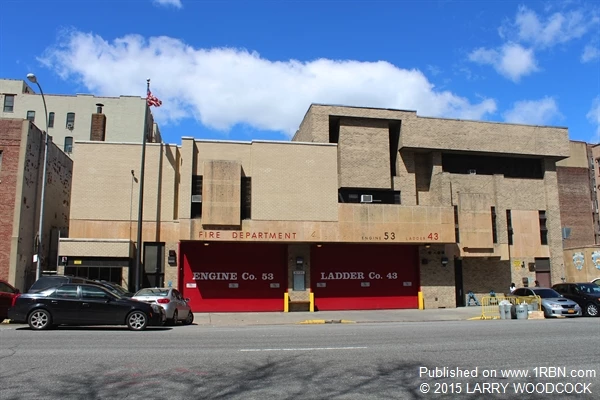 Photo by LARRY WOODCOCK
This article is a direct street report from our correspondent and has not been edited by the 1st Responder newsroom.
Spanish Harlem also known as "El Barrio" is an area of Manhattan known for its salsa and hip-hop music. It's history dates back to the 1860's, when a large influx of Eastern European immigrants flooded the neighborhood. This included Irish, German, and Jewish, who became laborers for the Lexington Avenue subway and the many apartment buildings now populating the neighborhood.
Later on in the early 1900's, Italian immigrants settled in East Harlem, as it was referred to back then. And by the 1920's, so may Italians would call East Harlem home that it became New York City's first "Little Italy". It later became the home base for the Italian American mafia, including the Genovese crime family.
The first Italian feast celebrated in New York City took place on Pleasant Avenue and 114th Street, sponsored by Our Lady of Mount Carmel Church. The year was 1881.
Built in 1884, it is still celebrated every year on Pleasant Avenue mainly from 114th to 118th Streets.
Most of the Italian population is gone, but the few who remain are clustered around the church and still put on a good feast every August. I attend on a regular basis.
By the 1960's, the Puerto Rican population became the main population and the neighborhood staple became bodegas, which thrive throughout all the boroughs to this day.
Guardian of Spanish Harlem is, "El barrios" bravest Engine-53 and Ladder-43. Both companies recently celebrated their 125th and 100th anniversaries respectively.
Covering an area along with several other companies from above 96th Street to 125th Street and the East River over to 5th Avenue makes up the boundaries of Spanish Harlem.
Many award recipients have been given to 53 and 43 in a history that is 129 years and counting.
Prior to moving into their firehouse on 2nd Avenue, 53-Engine was solo and located at 104th Street between 3rd and Lexington Avenues. 43-Truck was in with 91-Engine on 111th Street.
The new firehouse built in 1974 was very different from any firehouse in the city with a modern contemporary look that more resembled a civic building then a firehouse.
Both companies are at or near the top in runs every year frequently surpassing 4,000 in a neighborhood that has a wide variety of structures from brownstones to tenements to public housing projects that are prevalent along Second and Third Avenues.
Its main drag, as it is referred to, is 116th Street because of its two-way direction. It includes houses, many retail shops and markets, and is a short walk to the elevated train on Park Avenue and a short walk up to 125th Street and the heart of Harlem.
Perhaps the neighborhoods most well known establishment is Patsy's Pizzeria on 1st Avenue at 117th street. Opened in 1933, it is one of New York City's best pizzerias, famous for its thin crust and traditional ingredients. It is a must have for pizza lovers. It's walk up window is great for a slice on the run or its large dining room with beautiful exposed brick next door is perfect for a sit down meal.
Italian Harlem in the 1920's was represented in Congress by Fiorello La Guardia, who later went on to be Mayor of New York City from 1934 to 1945.
The "Little Flower," as he was called and beloved by many, was credited with restoring public faith by reorganizing city hall from the depths of corruption and is acclaimed as one of the greatest mayors in American History.
Engine Company 53 was organized in January of 1885 and Ladder Company 43 was organized in November of 1913.
Together they have become known as "El Barrios Bravest" throughout the department and the community in which they serve.