FIREFIGHTER HEALTH, SAFETY AND TACTICS SEMINAR A SUCCESS
June 01, 2023 | NEW JERSEY
Ron Jeffers, New Jersey Editor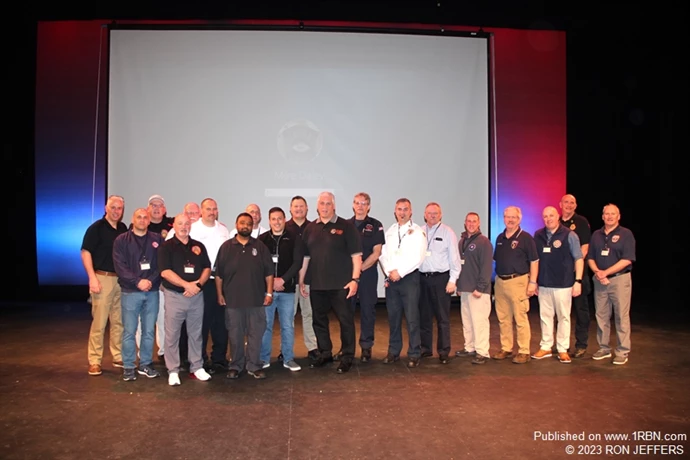 Photo by RON JEFFERSThe NJ Fire Safety Institute held its first Firefighter Health, Safety and Tactics Seminar at Middlesex College on April 22nd.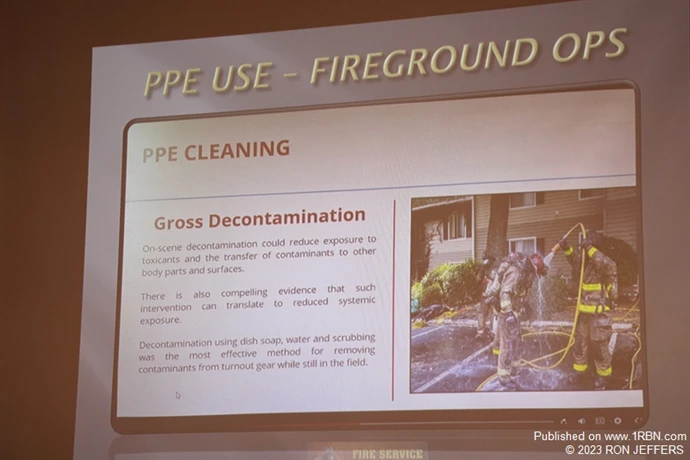 Photo by RON JEFFERS
This article is a direct street report from our correspondent and has not been edited by the 1st Responder newsroom.
The New Jersey Fire & EMS Safety Institute held its first Firefighter Health, Safety and Tactics Seminar on Saturday, April 22nd. It was coordinated with the Fire Science Program at Middlesex College in Edison. The seminar was held at the Performing Arts Center Theater.
The NJ Fire & EMS Institute was reinstated in the fall of 2022 by members of the NJ State Fire Chiefs Association, NJ Career Chiefs Association, NJ Deputy & Battalion Chefs Association, NJ Volunteer Chiefs Association and the International Association of Fire Chiefs Eastern Division. During the seminar, this group was more commonly referred to as "the five families". Hey, we're from Jersey!
Topics covered on this Saturday were: (1) Cancer awareness and what is necessary to reduce the risk of cancer. This was presented by the President and C.E.O. of the Firefighter Cancer Support Group, Bryan Frieders, a retired California fire chief. (2) NFPA 1700 Rules of Engagement, by Monroe Fire Captain Mike Daley, a professor at Middlesex College. (3) Lithium-ion Battery Hazards & Fires by Firefighter/EMT Michael Abraham, P.E. from the Bureau of Alcohol, Tobacco, Firearms & Explosions national response team.   
Vendors were lined up outside of the theater with displays of their first responder equipment. Outside, in the parking lot, were new pieces of fire apparatus placed on display by local apparatus dealers. In addition, breakfast was served in a nearby hall, with plenty of refreshments for the breaks.
This year's seminar was put together and hosted by Perth Amboy Chief of Department Ed Mullen and Middlesex College Fire Science Program Coordinator Carl Heitmeyer, a retired Elizabeth deputy chief. Over 225 first responders were in attendance to make part of their weekend educational for themselves, and obtain safety lessons, to bring home to fellow first responders.
Some of the lessons learned during the seminar included occupational cancer information, provided by Bryan Frieders. He stated there are 265 known carcinogens in ordinary house fires. He added that 85% of carcinogens can be removed by scrubbing gear after a fire with soap and water. In addition, wipe your face. Frieders' presentation was very powerful and a real attention grabber. Cancer hits home to all. 
In reference to cancer, Captain Daley added that crew rotation at fires, and even in training, should be adopted. At burn drills, instructors should rotate their personnel during the training day. 
In addition to being a fire science professor, Captain Daley has 36-years on the job. He stressed that this is not the same job as it was 30-years ago. Keep updating yourself, read books (even after you get promoted), find the time to train. He added that fire behavior hasn't changed-fire dynamics have changed.
Some quotes of the day included: "The most important tool on the fire scene-'Brain'."; "Clean is the new salty.";  "Tradition is peer pressure by dead people."
This important day for first responders was a labor of love to organize by Chief Mullen and Deputy Chief Heitmeyer. Plans call for an even bigger and better seminar in April, 2024.