The spice blend you never knew you needed....
June 01, 2020 | NATIONAL
AJ Fusco, Correspondent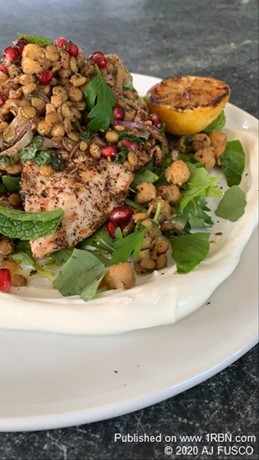 Photo by AJ FUSCOZa'atar Grilled Chicken w/Lentil-Garbanzo Salad
This article is a direct street report from our correspondent and has not been edited by the 1st Responder newsroom.
Let's be honest, grilled chicken gets played out and quite frankly sucks a lot of the time. Chicken breast, while healthy, often falls short when it comes to flavor. Here is the good news, it doesn't have to! Spices are your friend when it comes to cooking, and this goes beyond just salt and pepper. Looking in the spice section of the supermarket, you can find pretty much anything from turmeric to smoked sea salt, and everything in between. This is a tremendous asset to us when we get in the kitchen because it allows us to take something as simple as a piece of grilled chicken and change its flavor each and every time we cook.

Ok, so now you are in the supermarket, looking for that spice blend to make your grilled chicken not suck. But every bottle you pick up is loaded with salt and a bunch of other crap you can't pronounce. Sure there are a few companies out there making great rubs, blends, etc. using good ingredients, but they are few and far between. And while I do find myself reaching for these when I am in a pinch and short on time, they do not compare to a homemade spice blend or rub. Making your own is not only healthier but it allows you to tailor it to your own liking, adjusting heat, salt, spice, etc. Often I find myself making more than I need just so I have it on hand. And one spice I absolutely love having around is actually a blend of various spices called Za'atar. It originates from the Middle East and is used in a variety of ways such as a vegetable and meat seasoning, mixed with olive oil to serve as a dip, blended with Labneh (a strained, thick Arab yogurt) or sprinkled on to hummus. Needless to say it is one of the more versatile spices in the kitchen. Traditionally it is made with a dried herb called Za'atar, which is hard to get in the United States, so common substitutes are dried oregano, savory, thyme and my favorite, marjoram. There is also salt, sesame seeds and most important, sumac. Sumac is a dried berry which is ground up to make a tart, almost lemon like powder and can now be found in most supermarkets. It is key in Za'atar so don't skip it! All of these spices when blended together add an earthy, salty, sour flavor that is hard to beat. It can take any bland, mundane ingredient and make it shine. Aside from using it in this recipe, if you put your leftovers in a plastic bag in the fridge it will stay fresh for a couple of weeks, perfect for the summer! This stuff is fantastic on grilled fish, shrimp and vegetables too, so having some around will certainly make your grilling season much more enjoyable.

This recipe for Grilled Chicken with Lentil-Chickpea Salad is the perfect compliment to Za'atar and a great way to start using this spice blend. The yogurt adds a delicious tang while adding the much needed "fat" element to the dish. Pomegranate seeds provide a nice, tart crunch. And the lentil-garbanzo salad packs a ton of protein and fiber. So get the fires lit and spice up your life with some Za'atar! Pun intended!

Za'atar Grilled Chicken w/ Lentil-Garbanzo Salad
Serves 4

Ingredients:

4 Boneless Skinless Chicken Breasts, thinly sliced in half
2 Lemons, halved
EVOO
Salt, to taste
Za'atar Seasoning, recipe to follow
1 Cup Lentils, cooked according to package
15 oz. Can of Garbanzo Beans
1 Red Onion, thinly sliced
½ Cup Pomegranate Seeds
½ Cup Fresh Herbs, chopped (Basil, Mint, Parsley or any combination of)
4 Cups of Arugula
1 Cup Plain Greek Yogurt

Za'atar Spice: yields ¼ cup
1 Tbsp. Sumac
1 Tbsp. Cumin, ground
1 Tbsp. Sesame Seed, ground
1 Tbsp. Dried Marjoram, ground - sub. dried thyme or oregano
1 tsp. Sea Salt
1 tsp. Fresh Cracked Black Pepper
Zest of 1 Lemon (optional)

Procedure:

-Place the chicken breasts in a deep container or bowl. Drizzle with EVOO, juice of ½ of a lemon and a healthy pinch of Za'atar seasoning. Marinate for 30 minutes up to 2 hours in the fridge.

-While the chicken is marinating, cook the lentils according to package and drain.

-In a medium bowl, add the cooked lentils, garbanzo beans, red onion, a pinch of fresh herbs and a pinch of za'atar seasoning as well as the juice from the other ½ of lemon. Stir, taste and adjust seasoning.

-Preheat grill to high heat.

-Grill chicken for 6-8 minutes or until internal temperature is 165°F.

-While the chicken is grilling, combine yogurt, a drizzle of EVOO, pinch of salt and squeeze of lemon in a bowl. Stir, taste and adjust seasoning.

-Assemble the salad: Smear the yogurt on the bottom of the plate, top with arugula, followed by the grilled chicken. Top with lentil - garbanzo salad, a drizzle of EVOO. Scatter the fresh herbs and pomegranate seeds. Top with more za'atar seasoning. Serve.