When in doubt, keep it simple and put it in a taco!
June 01, 2021 | NATIONAL
AJ Fusco, Correspondent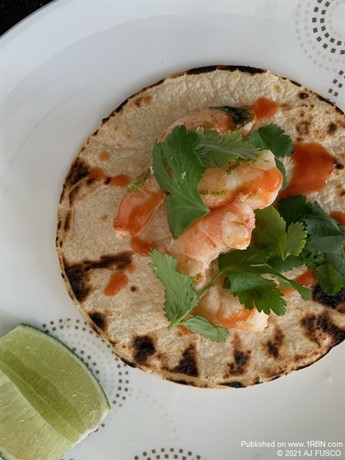 Photo by AJ FUSCOCilantro Lime Shrimp Tacos
This article is a direct street report from our correspondent and has not been edited by the 1st Responder newsroom.
One of the most popular foods both in the firehouse and my own house is tacos. I mean, if you get a day of the week named after you, you know you've made it big. Taco Tuesdays are featured on Fork and Hose Co. almost every week. And rightfully so! They are easily customizable depending on what's in the fridge, what is on sale or just what you feel like eating. A taco can be as complex or as simple as you want it to be. But the reason I love them so much is because a simple taco is almost always better than one with too many ingredients. Keeping it to a few ingredients will let each flavor shine through. Usually I like to stick to a protein, such as chicken, shrimp, pork or steak. Then maybe 2-3 toppings and that's it; anymore than that and you will have a mess on your hands, literally. Another reason I love tacos, is that they can be a relatively quick dish to make. And in this case, shrimp cooks up faster than any other proteins, so the food hits the table in no time. You could also braise tougher cuts like pork shoulder or beef chuck ahead of time if need be. But with these shrimp tacos we keep it simple with the classic taco ingredients of lime, garlic and cilantro. And no taco would be complete without hot sauce!

So the next time you are not sure what to make and have to feed the crew quickly, think of these tasty shrimp tacos. You won't be disappointed!

Cilantro Lime Shrimp Tacos
Yields 8 Tacos

Ingredients:
1 lb. Shrimp, peeled/deveined/tails removed
1 Lime, zest and juice
Handful of fresh cilantro, picked and chopped
1 Garlic clove, chopped
Salt, to taste
EVOO
8 Corn Tortillas

Garnish: Chopped Cilantro, lime wedges and hot sauce

Procedure:

-In a bowl, combine the shrimp, lime zest and juice, drizzle of EVOO, pinch of salt, chopped garlic and cilantro. Marinate for 15 minutes.

-While shrimp marinates, toast tortillas over open flame or in a dry pan until brown in spots.  Remove and cover with a paper towel.

-In a medium pan over medium-high heat, add a drizzle of EVOO followed by the shrimp. Cook until starting to turn pink, flip and cook until fully pink.

-Remove and assemble tacos with garnishes.