A bowl full of flavor…
May 01, 2021 | NATIONAL
AJ Fusco, Correspondent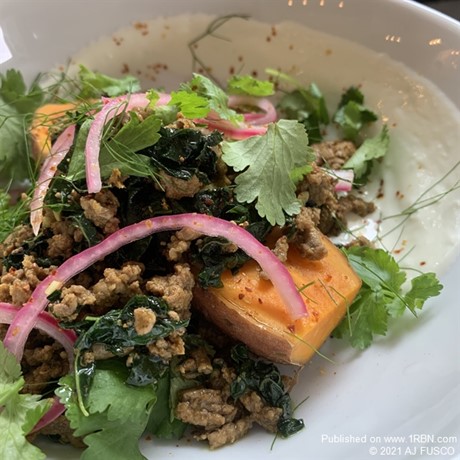 Photo by AJ FUSCOCurry-spiced Lamb with Sweet Potato, Garlic-Lemon Yogurt and Pickled Red Onion
This article is a direct street report from our correspondent and has not been edited by the 1st Responder newsroom.
One of my favorite things to cook and eat are "bowls", which you may see on menus all over these days. Typically made with grains and topped with proteins and vegetables, they have become more popular in recent years with the explosion in health conscious eaters. The beauty of them is that they are not only usually healthy, but also convenient at that. With our seemingly never ending busy schedules, the "bowl" is the perfect "on the go" meal. There are no rules when it comes to these, so use your imagination, whatever you have in the fridge and get creative.

Lamb is a protein that I don't eat often but when I do, I like to use assertive flavors because lamb can stand up to it. The most popular cuts are certainly chops and leg, but ground lamb is extremely versatile as well. Many supermarkets carry it, although it may take some searching for. It makes a great burger, but in this case cooks up perfectly for this Curry-spiced Lamb Bowl with Sweet Potato. Cooking the meat until it just starts to brown and then breaking it up with a spoon helps keep some texture, getting little crispy bits which we all love. And like I said earlier about assertive flavor, you can't get more assertive than curry.

The big misconception is that curry is one type of stew or sauce, when in fact it is neither. The term has so many meanings it's almost meaningless! Different cuisines use various ingredients in their curry, depending on if the curry is in paste, powder or sauce form. Most easily accessible in most supermarkets is the powder, where it is usually found in the "International" aisle. A typical curry powder has turmeric, which lends a yellow color, chile powder, ground ginger and coriander, black pepper and cumin. All of these flavors pair really well with lamb, so it's perfect for this dish. The addition of the Garlic-Lemon Yogurt adds some extra fat to the lean lamb and the acidity of the pickled onions cuts through the lamb's richness. It's a well balanced meal with the addition of sweet potato, which adds fiber and a touch of sweetness, to counter the heat of the curry.

If you are not afraid of flavor, definitely give this one a shot! And if lamb isn't your thing, substitute with ground pork or even chicken.

Curry-spiced Lamb with Sweet Potato, Garlic-Lemon Yogurt and Pickled Red Onion

Serves 2-4

Ingredients:

1lb. Ground Lamb
2 tsp. Curry Powder
Salt, to taste
2 Cups Kale, chopped
1 Clove Garlic, chopped
2 Sweet Potato, halved
Optional:Chili Powder and Fresh Herbs for garnish (Cilantro, dill and/or parsley)
EVOO

Yogurt:
½ Cup Plain Greek Yogurt
1 Clove Garlic
1 Lemon
Salt, to taste
EVOO

Pickled Onions:
1/2 Red Onion, thin sliced
1.5 Cups White Vinegar
2 tsp. Salt
¼ Cup Sugar

Procedure:

-For the onions: place the sliced onions in a small bowl. Put the vinegar in a small pot over medium-high heat. When it starts to simmer, add the salt and sugar, stir to dissolve. Pour the vinegar over the onions and set aside to cool. 

-For the yogurt: combine the yogurt, juice of lemon and microplaned/minced garlic in a small bowl. Add a pinch of salt and drizzle of EVOO, stir to combine. Taste and adjust seasoning. Set aside.

-For the sweet potato: place a steamer basket or colander in a large pot. Add water until it reaches 1 inch below the bottom of the basket. Put the sweet potatoes in the steamer basket and bring the water to a boil. Once the water is boiling, cover the pot, reduce the heat to medium and allow the potatoes to steam until you can insert a paring knife without resistance, about 20 minutes.

-For the lamb: Heat a medium sauté pan over medium-high heat, add a drizzle of EVOO.  Stir in the garlic and kale, sauté for a couple of minutes until the kale is wilted. Remove to a bowl and set aside.

-In the same pan over medium-high heat, add a drizzle of EVOO. When the oil is shimmering add the ground lamb and press down with a spatula. Cook for 2-3 minutes, untouched or until the lamb starts to brown. Sprinkle it with curry powder and a pinch of salt. Break up the lamb with the spatula and add the kale back to the pan. Sauté until lamb is just cooked through, another minute or 2.

-Assemble the bowl: spoon the yogurt in the bowl, set the sweet potato on top and sprinkle with salt. Top with the lamb and pickled onions. Garnish with chili powder and herbs.