83 Engine and 29 Truck
May 01, 2015 | NEW YORK
Larry Woodcock, Correspondent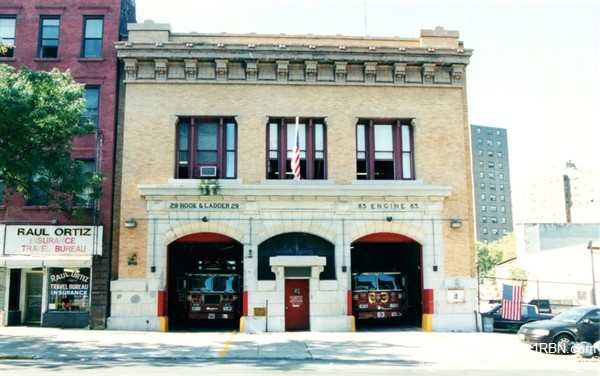 Photo by LARRY WOODCOCK
This article is a direct street report from our correspondent and has not been edited by the 1st Responder newsroom.
The South Bronx has always been synonymous with mean streets and urban decay. Mention the South Bronx and right away people remember buildings and blocks on fire and crime on such a grand scale that police officers didn't even want to work there.
Thankfully, times have changed and places have improved. So too has the area known as Mott Haven.
Originally owned by the Morris family, it is also known as Port Morris with a population of over 50,000 within a square mile today. It is dominated by tenements and large public housing projects.
From the end of the 1800's through the 1940's, the neighborhood was quickly developed and at the same time became an upper middle class residential area marked by elaborate brownstones and became known as Doctors Row and the Irish Fifth Avenue.
With its large German and Irish population made possible by public transportation, it supported the construction of tenement buildings.
One of the city's largest parades took place here every year on Easter Sunday in the 1940's and 1950's, marching down Willis Avenue to 138th Street. Saint Ann's church, which was built in 1840, is the oldest church in the Bronx and is located on Saint Ann's Avenue. It was added to the Register of Historic Places in 1980 and includes a graveyard that dates back to the early 1700's.
Mott Haven is also home to Da'Bums on Da'Hill, 83 and 29. The nickname goes back to the 1930's, when surrounding companies would refer to them as such.
Rivalries were much bigger then as competition was fierce.
This firehouse was built in 1905 and opened in 1906 to incorporate two new companies.
On January 31, 1906, 83 Engine was organized and on February 1, 1906 so too was 29 Truck.
At the time, Mott Haven had become a major shopping district for the Bronx (along 138th Street) and the need for more adequate fire protection was becoming apparent.
The early days of firemen back in those days were typical of the times, ten days on followed by one day off and four hours a day for meals.
As the neighborhood grew, so did the call volume and in the mid to late 1960's as in so many urban areas, it changed overnight-first with civil unrest then in the 1970's it was stricken by social and physical decline.
That was followed by drugs, crime, and the neglect by the city during its fiscal crisis. Building abandonment and arson swept through like a plague.
Both company's runs jumped from less then 300 runs per year in 1966 to over 5,000 in 1968. It even topped 6,000 in 1973. The trend continued until the early 1980's.
Combined, the companies received over thirty unit citations and fourteen individual medals of valor.
Two members were killed in the line of duty.
Fighting fires one after the other and multiple fires burning simultaneously became the norm until virtually nothing was left to burn.
Some neighborhoods lost as many as 90 percent of their buildings and with 83 and 29, theirs was no different.
With so many notable fires in the city's history, one very memorable fire occurred with 83 and 29 first due.
On December 29, 1989 at 1:10 p.m., a backhoe accidentally ruptured a high-pressure gas main at 132nd Street and Locust
The enormous explosion was felt in quarters as well as ten miles away. Ensuing was a fireball, 100 feet in the air and visible for blocks.
First responding 83 and 29 did all they could to evacuate nearby buildings, as five alarms were transmitted.
One worker was killed immediately and a civilian was blown into the East River, dieing later that night.
The blast created a 25-foot deep crater and the heat from the fire melted cars and buses right down to their frames.
No structures were lost due to the quick and decisive actions of the firefighters and just plain luck.
Along with 83 and 29, Satellite 2 responded out of this house when it was organized on October 1, 1965.
Members of the engine would take it on second alarms or greater, until the satellite relocated to 72 Engine in July of 1975.