April, 2023, UPS, page 2
April 01, 2023 | NEW JERSEY
Ron Jeffers, New Jersey Editor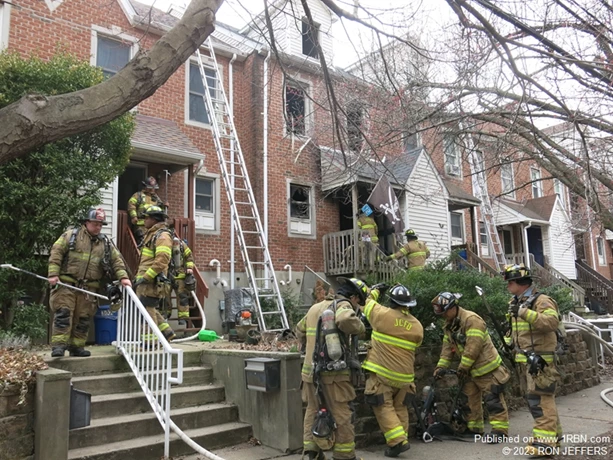 Photo by RON JEFFERSJersey City firefighters prepare to wrap things up after quickly knocking down a fire involving a Tenth Street dwelling, February 19th. The building's occupant and pet dog died as a result of the fire.
This article is a direct street report from our correspondent and has not been edited by the 1st Responder newsroom.
DOWNS: A fire destroyed two homes on Wren Way in Howell Township, Feb. 7th. The fire wall prevented the fire from spreading to other units, according to officials. 
UPS: Two residents of a Summer St. dwelling, trapped by flames, were rescued by Paterson firefighters on Feb. 11th. According to Tap into Paterson, arriving units observed two victims at a third-floor window as the fire burned on the other side of the home, also on the third-floor. A ladder was raised to the victims who were removed to safety. They were treated at St. Joseph's U.M.C. for smoke inhalation. 
DOWNS: A person was taken into custody after a Gloucester County brush fire, Feb. 5th, which investigators believe was intentionally set. It burned through about 25 to 30 acres, the National Park Fire Department reported. 
UPS: The Hoboken Fire Department will hire four new recruits as the result of receiving a $1,177,988 SAFER grant, according to News12 New Jersey.
DOWNS: An early morning fire at Refrigerator City, on West White Horse Pike, Galloway Twp., burned for hours, and firefighters were forced to evacuate the structure for their safety, Feb. 14th. Fire broke through the roof, sending flames up into the sky, according to WPVI-TV. 
UPS: The Ship Bottom Fire Department received $441,600 in SAFER funds for recruitment and retention of firefighters.
DOWNS: A multiple alarm fire damaged multiple buildings at Grove St. & Breakenridge Terr. in Irvington, Feb. 14th. Buildings affected included a supermarket and apartment buildings, according to News12 New Jersey. The Red Cross was sent to assist residents of the apartment buildings. Occupants interviewed believe that high winds helped spread the fire, not far from the Grove Street firehouse. 
UPS: The Toms River Fire Department received $508,256 in SAFER grant money for recruitment and retention of firefighters. 
DOWNS: First responders and local residents were rallying around popular Elmwood Park police and fire Chaplain Ron Williams whose home was damaged by fire on Feb. 14th. Firefighters knocked down the fire quickly, officials said. However, many belongings to Williams and his wife, Claire, were damaged by the fire and smoke. Elmwood Park Councilwoman Tanisha Dennis has launched a GoFundMe campaign for the couple. 
UPS: Watchung recently donated a pumper, that was recently replaced with a new apparatus, to the town of La Vega, in the Dominican Republic, according to News12 New Jersey. The donation was made possible through On Angel Wings, which helps U.S. fire departments donate equipment to other areas that need it. 
DOWNS: A pet dog and cat were killed and the homeowner of a Chetwood Ct. dwelling, in Hillsborough, was hospitalized, due to a fire on Feb. 14th, officials said. The homeowner suffered non-life-threatening burns and cuts.
UPS: The N.J. Department of Environmental Protection is set to receive $995,000 from the U.S. Department of Defense to reduce wildfire risk in the areas surrounding Joint Base McGuire-Dix-Lakehurst, Warren Grove Range, Naval Weapons Station Earle and Sea Girt National Guard Training Facility, announced by Commissioner Shawn M. LaTourette, in February.
DOWNS: On the morning of Feb. 20th Wayne Rescue 5 and Company 2 answered a multi-vehicle MVA call on Route 23. All three vehicles had victims entrapped, with injuries. According to Company 5's Facebook post, this included a private ambulance. Members of Rescue 5 used their tools and extricated three victims that were turned over to the Wayne First Aid Squad.
UPS: Chris Esposito has been promoted to fire lieutenant in Summit. Esposito was previously recognized by the city as recipient of the Chief of Police Special Recognition Award for saving an elderly resident that was struck by an auto in 2018, while off duty. He rendered medical aid and applied a tourniquet to the victim until first responders arrived, according to the Summit Patch.
DOWNS: A 76-year-old man died in a trailer park fire on Roberts Rd. in Toms River, Feb. 16th. Ocean County Prosecutor Bradley Billhimer confirmed that the fire may have been caused by smoking material. The fire started in a mattress.
UPS: The Princeton Fire Department swore in six career firefighters on February 4th. They are supplemented by three full-time fire inspectors and volunteer firefighters. The new career members are Sal Baldino, Greg Griffis, George Luck III, Mark Sitek, Andrew Summers and Keith Wadswart. They are former volunteer members. The fire inspectors are Joseph Justin, Jospeh Lenarski and Robert Walker. 
DOWNS: Firefighters fought flames from the balconies of a condominium tower in Cherry Hill, Feb. 12th, according to WTXF-TV. Officials said multiple exterior balconies caught fire at the Mark 70 Condominiums due to "improperly discarded smoking materials." Firefighters were able to keep fires from spreading to the interior of the high rise, and no injuries were reported. It was believed to be an accidental fire.
UPS: In February, Madison firefighters came to the aid of a dog that had fallen through ice on a shallow pond in Drew University. Lt. Atchison and FF Boylan utilized a long pike pole to hook the dog's collar and were able to rescue the canine and reunite it with its owner, according to a borough Facebook post.  
DOWNS: A woman died in a dwelling fire on Cedar Court, in the small borough of Roosevelt, March 1st. State police said the woman living in the home was served with an eviction notice but refused to leave. The tenant threatened to blow up the house. Troopers responded to the scene, but a standoff ensued. "We're getting reports that the resident turned on the gas of the residence prior to igniting," NJSP Lt. Lawrence Peele said. The woman shared her home with dozens of cats. Many perished.
UPS: In March, the Lambertville Fire Department received two MSA Altair 5X gas meters. The equipment was funded through an Elizebethtown Gas Company Emergency Services Grant Program.
DOWNS: A Trenton firefighter was injured while operating at a 3-alarm fire that involved a Greenwood Ave. dwelling, March 2nd. Action News was told one firefighter was injured after falling through a second-floor area. 
UPS: The Asbury Park City Council approved an $18 million bid for the construction of a new firehouse, according to Tap into Asbury Park. The department has operated in its Main Street building for over 120-years.  The new structure will be built on city-owned property at 200 Memorial Drive, which is currently being used as a municipal parking lot. 
DOWNS: Heavy fire consumed a two-story dwelling on Port Elizabeth-Cumberland Rd. in Maurice River Twp., Feb. 14th, according to WPVI-TV. 
UPS: Jersey City Deputy Fire Chief Stephan Drennan was promoted to the rank of provisional Fire Chief, effective March 1st. 
DOWNS: A Jersey City man who was rescued from his Tenth Street home, on Feb. 19th, later died at Cooperman Barnabas M.C. Burn Unit, Feb. 20th. Firefighters found Scot Rienecker, 50, unconscious near the front door, according to reports. Rienecker, and a pet dog, were removed to safety. The dog died at the scene. Rienecker had voice rolls in two animated televisions series, MTV's "Downtown" (1999) and "Megas XLR" (2004-2005) on cartoon Network.