Coffee goes in your cup and on your food...
April 01, 2020 | NATIONAL
AJ FUSCO, Correspondent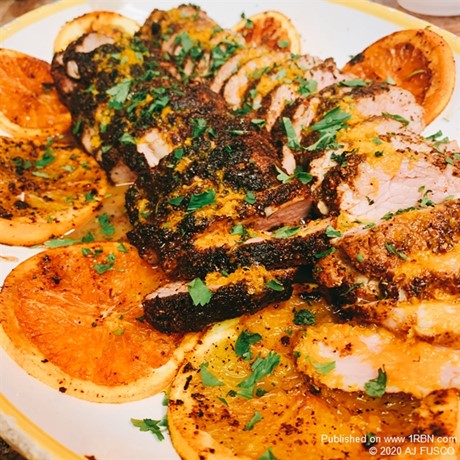 Photo by AJ FUSCOCitrus-Coffee-Chile Rubbed Pork Tenderloin with Orange Honey Sauce
This article is a direct street report from our correspondent and has not been edited by the 1st Responder newsroom.
Cooking with a narrow mind will only lead to mundane food. Limiting yourself to certain ingredients, techniques and cuisines will not allow you to progress as a cook. Approaching food with an inquisitive, curious mind allows you to get out of your comfort zone, and learn. There will undoubtedly be moments of trial and error, and of course some things just do not work. Ketchup on scallops….no thanks. But what about coffee on say, a pork tenderloin? It may be surprising to some, but coffee is an amazing spice to use in cooking.

Just think of all the flavors you get from coffee as a beverage. The roasted, dark chocolate flavor from a dark roast or even a fruity, berry flavor from a medium roast. These also carry over to a certain degree when we use coffee in cooking applications. A traditional Southern dish called Red Eye Gravy uses coffee and grease from pan-fried country ham, to make a thin sauce, which is then poured over the ham. Some folklore surrounding the dish suggests the name comes from the fact that you will be up all night from the caffeine. Some say that President Andrew Jackson requested a gravy with his ham that was as red as his cooks bloodshot eyes, due to their long night of drinking. Either way, the stuff is delicious and proof that coffee can be used in cooking applications. But the most popular use for coffee in cooking is as a rub. When combined with other spices such as salt and pepper, a beautiful crust forms. This not only adds rich, smoky flavor but it also creates texture which keeps each bite interesting.

One common tasting note of lighter roasted coffee is citrus, which made it the perfect addition to my chile-citrus rub. This rub is fantastic on pork tenderloin, but would also work on pork chops, chicken and even steak. The coffee doesn't make the dish taste like coffee, rather it adds a subtle bitter flavor that balances out the spice of the chile powder. Coffee doesn't work in every dish, but how will you ever know when it does? Don't be afraid to take risks, the reward can be delicious!

Stay safe, eat well!


Citrus-Coffee-Chile Rubbed Pork Tenderloin with Orange Honey Sauce
Serves 4

Ingredients:

2 - Pork Tenderloins
3 Oranges, *zested - one sliced thin, the other 2 halved
Fresh Cilantro, chopped for garnish
EVOO

For the Rub:
1 Clove
2 tsp. Paprika
2 tsp. Chile Powder
2 tsp. Ground Coffee
2 tsp. Salt
Orange Zest

For the Orange Honey Sauce:
Juice of 2 Oranges
1 tsp. Honey
1 Tbsp
Unsalted Butter
Salt, to taste

Procedure:

-Trim off all silverskin from the tenderloins and place in a large ziplock bag. Combine all the ingredients for the rub in a bowl, mix to combine and then add to the bag with the pork. Close the bag and massage the rub into the meat, place the bag in the fridge for at least 30 minutes or overnight.

-Preheat your oven to 425° F. Place a cast iron pan or oven safe skillet in the oven while it preheats.

-Using oven mitts, remove the pan to the stove top after the oven has preheated. Add a drizzle of EVOO to the pan over medium heat. Sear all 3 sides of the tenderloin until brown, about 2 minutes per side.

-After all sides are brown, arrange the orange slices in the pan around and on top of the pork. Place the pan in the oven and cook another 12-18 minutes or until the internal temperature reads 145°. Remove the pan from the oven and place the pork on a cutting board to rest for 5 minutes, tented with foil. After resting, slice the pork into medallions.

-While the pork cooks, make the sauce. In a small pan over medium heat, add the orange juice. Simmer until reduced by half. Add the honey and stir until dissolved. When the sauce starts to thicken, remove from the heat and swirl in the butter. Taste and adjust seasoning.

-Serve the pork on a platter with the cooked orange slices, and drizzled with the orange honey sauce. Garnish with cilantro.