New Jersey Has Lost A "Firefighting Royalty"
By Ron Jeffers, New Jersey Editor | April 01, 2021 | NEW JERSEY
Story No. 030121108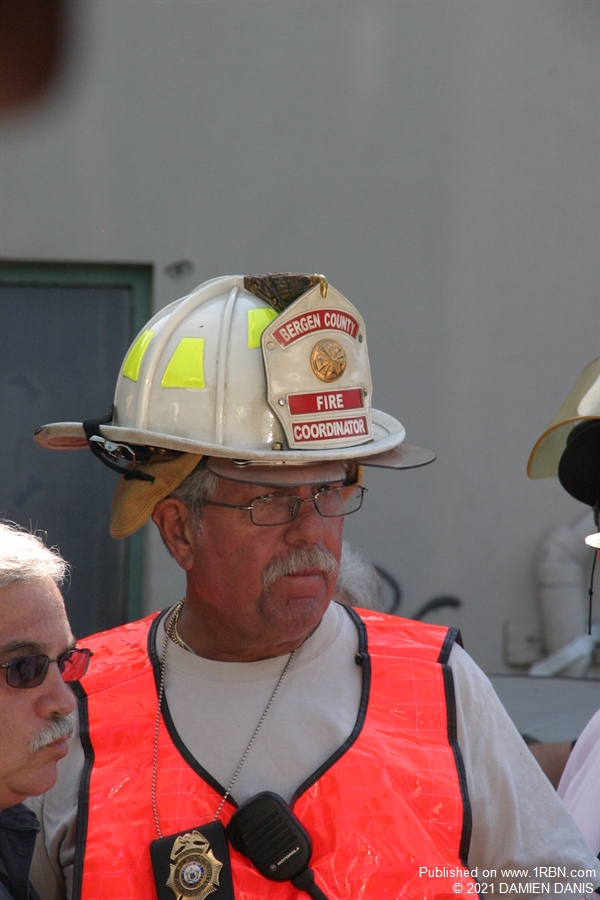 Photo by DAMIEN DANISChief Larry Rauch, wearing one of his many "hats," as Bergen County Mutual Aid Coordinator.
He was called "Firefighting Royalty," by a fellow firefighter. He was a popular guy. A great husband, father, grandfather, great grandfather, firefighter, leader and friend. Larry Rauch, 78, who held many titles, and largely well known around the state as coordinator of safety programs at the Bergen County Law and Public Safety Institute, passed away in February.

Larry served our country in the US Navy for four years. As a 50-year resident of Upper Saddle River, he served in every fire department position and held the rank of fire chief for five separate terms, making him the longest serving chief in the history of that volunteer department. In 2018, he was the oldest active fire chief in New Jersey.

While in the Navy, he was on the destroyer that scooped up John Glenn after his Project Mercury space capsule, "Friendship 7", landed east of Grand Turk in the Bahamas, in 1962. Later in life, he traveled to Israel to train firefighters from Western Galilee on handling flashover incidents.

His titles were many. This included serving as a Bergen County fire coordinator, past president of the NJ-NY Volunteer Firemen's Association, Upper Saddle River Relief Association, Exempt Association, the Northwest Bergen Mutual Aid Association, and he was a member of the NJ State Fire Chiefs Association.

He also gave his time to the Bergen County Juvenile Fire Prevention Program.

Larry was predeceased by his loving wife, Sherry, who passed away in December, 2020. They were always together, where it be at ceremonies or fire and emergency scenes. A true definition of a loving couple.

The couple retired and moved to Manchester in 2019. With the fire service forever in his blood, he joined the Whitesville Volunteer Fire Company where he was able to serve his remaining years with his son and grandson.

He was a highly respected fire chief and educator. With much respect among his many fire service friends, he was lovingly known as Larry. In the Bergen County area, if you were in a conversation and the name Larry came up, firefighters knew who you were referring to.

At his funeral, Larry was described as, "always about service to others," and he could "always be counted on."

"The Bergen County Fire Service is far better for Chief Rauch's service," said Rutherford Fire Official Paul Dansbach, on Facebook. "Larry's love for the fire service is surpassed only by his love for his family."
This article is a direct street report from our correspondent and has not been edited by the 1st Responder newsroom.