FIRE CHIEF MADE THE COVER OF A FIRE MAGAZINE AT THE AGE OF 6
April 01, 2023 | NEW JERSEY
Ron Jeffers, New Jersey Editor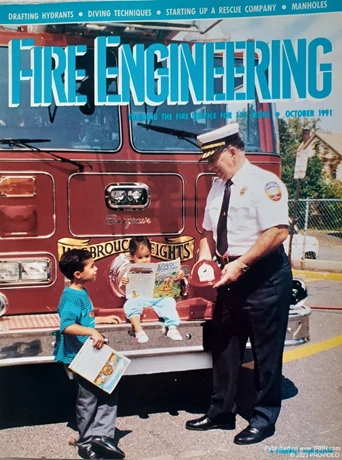 Photo by PROVIDEDSix-year-old Michael Greco and his sister Melissa were on the cover a 1991 issue of Fire Engineering magazine. Today, Michael is Chief of that volunteer department, and he is a career firefighter in Hackensack.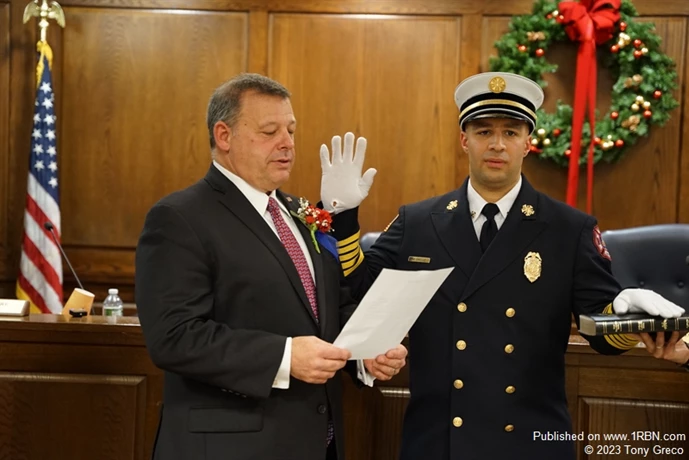 Photo by Tony GrecoMichael being sworn in as Hasbrouck Heights Chief of Department by Mayor Jack DeLorenso.
This article is a direct street report from our correspondent and has not been edited by the 1st Responder newsroom.
At the age of 6, Michael Greco and his sister Melissa, 2, appeared on the cover of the October, 1991, edition of Fire Engineering magazine. They were sitting on the front bumper of Hasbrouck Heights Truck 1 holding fire prevention literature, handed out by Assistant Chief Frank Pistilli. The kids father, Tony Greco, was a volunteer firefighter in town. Fast forward to 2023, and Mike Greco was sworn in as the volunteer chief of the H.H.F.D. In addition, he is a career firefighter in bordering Hackensack.   
The fire department has always been in Michael's blood, watching his father turnout to fire calls and taking in a few fires with his dad. Tony Greco was also well known at the time for his fire scene video work, and as member of the New Jersey Metro Fire Photographers Association. 
Mike's father was Chief of Department in 1997-98. His father said that there was one father-and-son fire response where Michael had "wide open eyes" and that "sealed the deal". 
After taking the oath of chief, Mike recalled his younger days that sold him on the fire service. He recalled that spring day in 1997 when a "routine" fire alarm was transmitted, and he took a ride with dad in the red car. Upon arrival, they observed flames venting out of the front windows of a liquor store. Fire companies arrived and quickly knocked down the flames. 
"It was from that day that I knew this is what I wanted to do for the rest of my life," he said during his speech. 
Mike joined the H.H.F.D. in 2002. He was appointed to the Hackensack Fire Department in 2010, and he is currently assigned to Ladder Co. 1. In addition, Mike works for Eckert Fire Tactics, and he has traveled around the country teaching firefighters. 
At the department's dinner, he thanked his first fire chief, Bob Thomasey.
"I learned from that man a straight forward approach to handling situations and being a man of principal, but with a twist of old school aggressive fire tactics." 
He added, "Thank you to my father, Tony Greco, who introduced me into this great institution from birth, along with my mother, Debbie Greco, who always supported the Fire Department and also was a role model as she was a New York City Fire Department EMT for over 20-years." 
In addition to adorning the cover of that 1991 magazine, Mike Greco was also on a 2005 cover of the publication. He was part of the first responders that operated at a serious bus accident on Route 17, in Hasbrouck Heights.