No one can resist the temptation of Buffalo Sauce!
By AJ Fusco, Correspondent | April 01, 2021 | NATIONAL
Story No. 022621108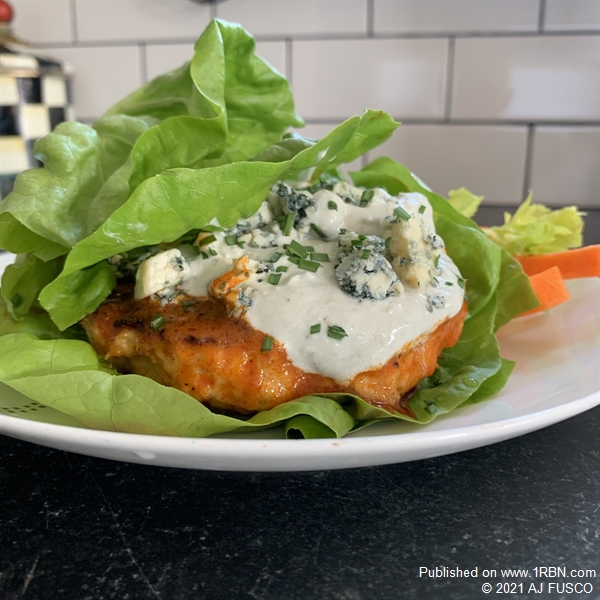 Photo by AJ FUSCOBuffalo Chicken Burgers w/ Bleu Cheese Yogurt Sauce on Lettuce "Buns"
You are sitting in your local watering hole, and a server walks by with a plate of Buffalo wings. The smell is intoxicating, and no it's not the beer you are drinking. The combination of peppers, vinegar and butter create the perfect combination of heat, savory and sour. Your mouth starts to water and you cannot resist the temptation to order a dozen…or two. I am sure we have all been there. It is, to me, one of the best examples of flavors coming together to form the perfect sauce.

The roots of Buffalo sauce and in particular, the Buffalo wing, are rooted in myth and lore. The most popular, and arguably most true, is that they were born out of necessity in 1964 at the Anchor Bar in Buffalo, NY. A place which I have yet to visit, but will, hopefully, before I kick the bucket. Now at this point you are probably assuming this is a recipe for Buffalo wings. Unfortunately it is not, but it is however a recipe for something inspired by the almighty wing. There are times when I absolutely crave those familiar flavors but would rather not go through the trouble of deep frying in my home or firehouse. The smell of frying chicken, although good, can linger around a little longer than I like. It also creates a mess if you are not careful. Oil almost always manages to find its way to the kitchen floor, stovetop and everything in between. And let's be honest, it's not the healthiest thing in the world. As you probably have figured out by now, I love taking unhealthy dishes and putting a healthier spin on them, while keeping them delicious. This is one of those recipes, Buffalo Chicken Burgers!

In this recipe I use lettuce as a bun to lower the carbs, but feel free to use a traditional bun if you so please. There is also a bleu cheese yogurt sauce which, when compared to traditional bleu cheese dressing, adds extra protein and lowers the calories. This is a great recipe for the grill now that the weather is warming up. Hope you enjoy… and remember, stay safe, eat well!

Buffalo Chicken Burgers w/Bleu Cheese Yogurt Sauce on Lettuce "Buns"

Makes 4 burgers

Ingredients:

Chicken Patties:
1 lb. Ground Chicken
1 Carrot, peeled/rough chopped
1 Celery Stalk, rough chopped
½ Yellow Onion, rough chopped
1 Egg
¼ Cup Buffalo Sauce
1 Cup Breadcrumbs

Buffalo Sauce:
1 Cup Hot Sauce
3 Tbsp. Butter, cubed

Bleu Cheese Yogurt Sauce:
1 Cup Plain Greek Yogurt
½ Cup Crumbled Bleu Cheese
1 tsp. Worcestershire
1 tsp. Garlic Powder
1 tsp. Lemon Juice
Salt/Pepper to taste

1 Head Boston Lettuce, leaves separated
Optional: Chives for garnish

Procedure:

-For the buffalo sauce: Heat hot sauce in a small saucepan over low heat. When the sauce starts to simmer, add the butter and stir until combined. Set aside to cool.

-For the bleu cheese sauce: Combine the yogurt, worcestershire, bleu cheese, garlic powder, lemon juice in a bowl. Add a pinch of salt and black pepper. Stir to combine. Taste and adjust seasoning.

-For the chicken burgers: Add the carrots, celery and onion to a food processor and buzz until minced (mince with a knife if needed). Sauté the carrot mixture in a sauté pan with a drizzle of EVOO and a pinch of salt until soft, 2-4 minutes. Set aside to cool.

-In a large bowl, combine the cooled carrot mixture, egg and ¼ cup of the cooled Buffalo sauce. Stir until combined. Add the ground chicken, and mix with your hands just until combined. Add the bread crumb and mix in gently with your hands. Do not overwork the mixture or it will toughen up the burgers. Form 4 equal sized burger patties, place on a sheet pan. IMPORTANT: refrigerate for 10-20 minutes to allow burgers to set up. 

-Heat up a cast iron pan, sauté pan or grill on medium heat. Add a drizzle of EVOO and cook burgers 4-5 minutes on one side without moving. Flip and cook an additional 4-5 minutes or until the internal temperature reads 165°F.

-Assemble burgers on lettuce "buns", drizzle with Buffalo sauce, a dollop of Bleu cheese sauce and chives.

This article is a direct street report from our correspondent and has not been edited by the 1st Responder newsroom.