Ambassador Of The Fire Service Retires
By Ron Jeffers, New Jersey Editor | April 01, 2020 | NEW JERSEY
Story No. 022020111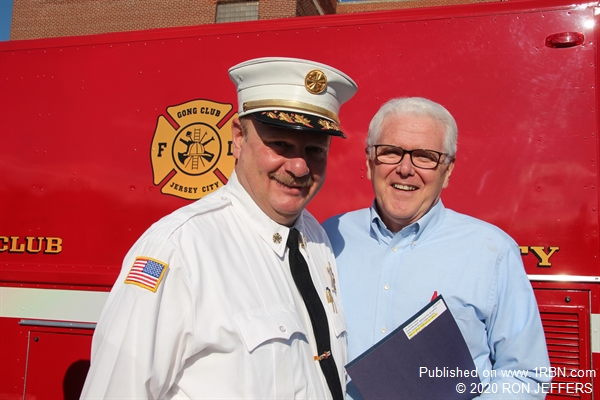 Photo by RON JEFFERSDenis Onieal, right, with Kearny Chief of Department Steve Dyl, at a New Jersey Deputy Fire Chief's Association training seminar.
Denis Onieal rose through the ranks of the Jersey City Fire Department, was co-founder of a promotional group, and served the national fire service in various capacities. Those are a few of his accomplishments. Onieal has retired from his latest position as Deputy Fire Administrator for the US Fire Administration (USFA).

Onieal joined the Jersey City Fire Department in 1971 and rose through the ranks to deputy chief and acting chief of department, leading a department of 620 uniformed members at the time. He spent his entire time "in the street," as a line officer. He would refer to his business phone number as 9-1-1.

Onieal has a Bachelor of Science Degree from Jersey City State College (1976), a Masters Degree in Public Administration from Fairleigh Dickerson University (1978), and a Doctor of Education Degree from New York University (1990).

Always stressing knowledge, he was a co-founder of Fire Edcon that prepared both firefighters and police officers for civil service promotional exams. Even on the police side, he would welcome students before lectures by police officials. He would stress the importance of education, improving one's self, and rising in the ranks. In addition, he has taught in the master and doctorate programs in education at New York University. He has also written numerous articles in the fire service field.

A new position awaited him when he retired from the fire department. Onieal served as the Superintendent of the National Fire Academy from 1995 to 2015. During that time the NFA expanded its outreach program to work more closely with state and local agencies to increase NFA training from 15,000 in 1995 to 100,000, today. All courses were revised to include college credit recommendation.

Starting on September 12th, 2001, he led the USFA's team at the World Trade Center, working behind the scenes to help the FDNY re-establish their systems of command, control and on-site communications.

In May, 2015, Onieal was appointed Deputy Fire Administrator for the US Fire Administration. He was responsible for managing USFA facilities, data and public education programs and training activities at the National Emergency Training Center.

In 2015, he was awarded the James O. Page EMS Achievement Award from the International Association of Fire Chiefs EMS section. This award honors those who demonstrate professionalism, a drive for excellence and exemplary performance and leadership. Also in 2015, the Congressional Fire Services Institute (CFSI) awarded Dr. Onieal the CFSI/Motorola Solutions Mason Lankford Fire Service Leadership Award. The award recognizes individuals who have been proactive at the local, state and federal government levels to improve and advance fire/emergency services and life safety issues.

Dr. Onieal never forgot his roots in Jersey and often returned home for local functions. He is an active member of the New Jersey Deputy Fire Chief's Association and has either attended or sent a message to the group's annual fire safety seminar, held in Kearny. He has also made time to attend functions like the Gong Club's anniversary dinner.

On the job, he never hesitated to assist family members of firefighters who made the ultimate sacrifice.

Cambridge, MA., acting Chief of Department Gerry Mahoney, a person familiar with Jersey City since a young age of buffing at the Gong Club, summed it up by saying, he is "one of the best ambassadors of the Fire Service."
This article is a direct street report from our correspondent and has not been edited by the 1st Responder newsroom.