201 and 114
March 01, 2016 | NEW YORK
Larry Woodcock, Correspondent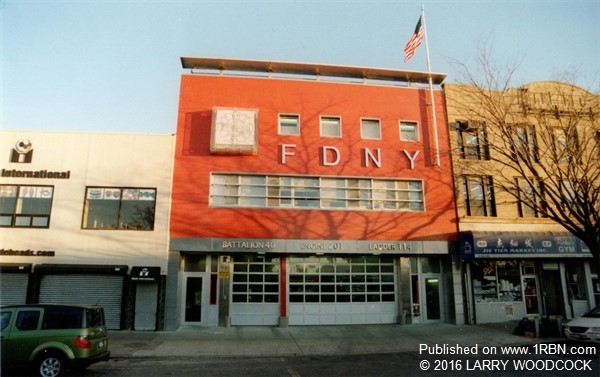 Photo by LARRY WOODCOCK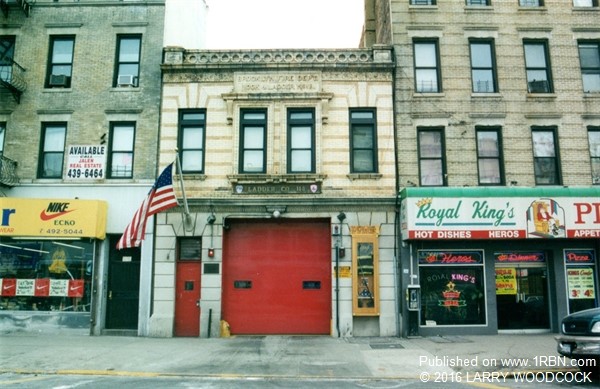 Photo by LARRY WOODCOCK114 Truck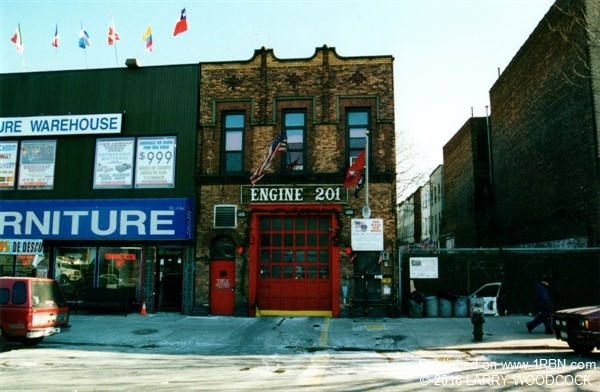 Photo by LARRY WOODCOCKEngine 201
This article is a direct street report from our correspondent and has not been edited by the 1st Responder newsroom.
Sunset Park, Brooklyn is a neighborhood in the western part of the borough, which is now home to many different nationalities.

In its heyday in the early part of the century, Sunset Park was known as one of New York Harbor's main shipping ports.

The Brooklyn Army Terminal, which was designed and built in 1919, is a large complex that consists of warehouses, offices, and docks occupying 95 acres on 2nd Avenue between 58th and 65th Streets. It was added to the U.S. Register of Historic Places in September of 1982.

It became the largest military supply base in the United States during war times, supplying its own railroad along with police and fire departments on 95 acres. After World War II, its usage dwindled down and it close in 1970.

Close to 40 million tons of military supplies and over three million soldiers passed through the terminal. The city bought the complex from the federal government in 1981 and began a renovation to lease the property to businesses.

In the early part of the 19th century, Sunset Park saw an influx of Irish, Polish, and Norwegian families, who flooded the neighborhood, which grew and is currently over 125,000.

In the 1980's a dramatic shift in cultural dominance occurred, bringing many immigrants from Puerto Rico and the Dominican Republic. Within a few years, the neighborhood became the location of Brooklyn's first Chinatown, along Eighth Avenue.

Now, the avenue is lined with businesses from restaurants to grocery stores specializing in Chinese goods.

201 Engine and 114 Truck serve this part of Brooklyn is the "Emerald Isle" and "Tally Ho." This neighborhood was originally called Gowanus, named after the canal that flows just west of here. It was also considered part of Bay Ridge until the 1960's when it started to be called Sunset Park.

114 Truck was organized on September 15, 1897 and was at 5209 5th Avenue. Back then; it was the Brooklyn Fire Department and known as Ladder 18. With the merger of the boroughs in 1898 and companies renumbered, they were officially Ladder 114 in January of 1913.

Their original quarters was 25x100 at two stories with storage areas for feed and a stable for horses. It also contained dormitories and officers' quarters. A parlor room, or day room, was added on the first floor to allow firefighters leisure time and rest without having to climb to the second floor.

Engine 201 was organized on September 15, 1869. Their original firehouse was on Fourth Avenue between 18th and 19th Streets. In August of 1891, a new firehouse was commissioned at 4th Avenue between 51st and 52nd Streets.

In the early days of both companies, their respective districts were large but not overly populated. In fact, some would question the need, but soon, large commercial factories began to appear. Then came the necessary row dwellings and apartment houses to facilitate the constant influx of immigrants, which were now employed.

As the factories closed, many commercial buildings and residential occupancies became vacant over the years and contributed to a heavy workload for both companies throughout the 80's and into the 90's. Both companies responded for over 100 years from these locations until the plans for a new firehouse to consolidate the units became a reality in 2005.

The fire department acquired a vacant lot next to 201's quarters and decided to demolish their, badly in need of repair, firehouse and build a three story 13,000 square foot station. From groundbreaking to completion, 201 and 114 and the 40th Battalion moved in, in 2110.

On a sad note 201's previous quarters and 114's old firehouse were vacated. 201's was one of the oldest active houses built in 1889 and 114's old firehouse was nostalgic with engravings of the Brooklyn Fire Department Ladder No.18 on the front façade, along with an open house watch and spiral staircase on the interior. I don't know if the city has sold off the former firehouse or still owns the building.

In the history of 201 and 114, they have a combined eight line of duty deaths and numerous medal recipients, including one of the last Gordon Bennett Medal winners from the truck.