Spring makes Jack Frost green with envy…
March 01, 2020 | NATIONAL
AJ FUSCO, Correspondent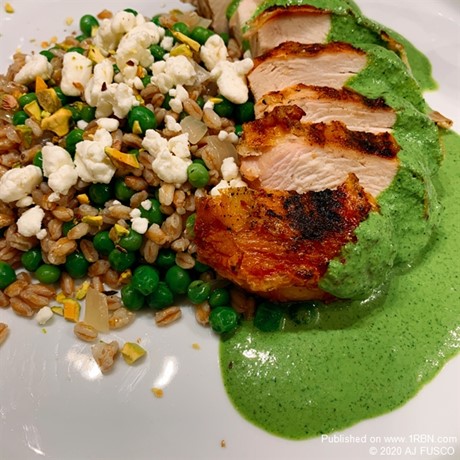 Photo by AJ FUSCO
This article is a direct street report from our correspondent and has not been edited by the 1st Responder newsroom.
But why would Jack Frost be so jealous of Spring? Oh I don't know, maybe it's because the vegetables and herbs he murdered are all coming back to life like a bunch of delicious, green zombies! Ok, maybe I took it a little too far with the zombie thing. It's just that I get really excited thinking about all the green starting to sprout up, some of the first being fresh herbs. They make a dish pop more than any other garnish and when properly used, can separate most home cooked meals from those found in restaurants. Details like the use of fresh basil as a garnish for your pasta or fresh rosemary on roasted potatoes can take your food to the next level, much more so than using the stale dried stuff that has been sitting in the back of your cabinet for 3 years.

Fun fact: I actually found Paprika in my mom's house from 1983, the year I was born!

All joking aside, fresh herbs add so much flavor and nutrients to a dish without adding extra fat or calories. But it also comes at a cost. Some recipes only call for a scant amount, which can inevitably lead to the rest eventually rotting away in the crisper. If your soft fresh herbs like parsley, basil or cilantro are starting to wilt, soak them in ice water for 20 minutes and they should perk right up. But if that doesn't work, blend them into a sauce like the aptly named Green Sauce.

My first experience with Green Sauce was at a restaurant I worked at in Manhattan, where we served it with rotisserie chicken. It's bright, tangy flavor cut through the richness of the chicken perfectly. Under the command of Chef April Bloomfield, we wasted NOTHING! It was a whole animal butcher shop/restaurant so we were very conscious about using all the scraps from the animals and vegetables. This ethos has stayed with me ever since.

In my version of Green Sauce, I use whatever herbs I have lying around. Sometimes it may be only cilantro, and others cilantro, basil and parsley. It is one of those "good on everything" recipes that pairs exceptionally well with grilled chicken. And while grilled chicken breast would certainly do just fine, why not take it up a notch and grill a whole spatchocked chicken. If you are not familiar, spatchcocking is a technique which involves removing the backbone and flattening the bird out. This allows the chicken to cook at a more even rate, meaning the legs will cook at roughly the same time as the breast. It also cooks faster than if kept whole due to the more even heat distribution. And finally my favorite reason, crispy skin! The fat is able to render out much better this way, which results in more skin getting more crisp. Now spoon some of that bright, healthy Green Sauce over top and you have one helluva meal!

I wanted to really showcase Spring in this recipe so I served the chicken with peas, as this is when they are in season. But I actually prefer the frozen kind because they are packed at the height of their freshness, consistently sweet and quite frankly, much more convenient than shelling your own. I guess just using peas, whether frozen or not, is enough validation that Spring is finally here. Till next year Jack!

Grilled Spatchcock Chicken with Green Sauce, Farro and Peas
Serves 4

Ingredients:

Chicken:
1 - 4lb. Whole Chicken, *spatchocked
2 tsp. Salt
EVOO

*Place the chicken on a cutting board, breast-side down with the legs facing towards you. Dry with paper towels. Using kitchen shears, cut along one side of the back bone staying as close to the spine as possible. Cut along the other side of the spine and remove, reserving for stock. Flip the chicken so the breasts face up. Using your palms, press down on the bird to flatten it out. If time allows, place the flattened chicken on a wire rack on a pan. Season all sides with salt and place in fridge skin-side up overnight.

Green Sauce:
4 Cups of Mixed Fresh Herbs such as Parsley, Mint, Cilantro, Marjoram, Basil
1 Garlic Clove
Juice of 1 Lemon
1 Cup Plain Greek Yogurt
1 Tbs. Capers
Pinch of Chili Flakes, to taste
1 Tbs. Salt
½ Cup EVOO

Farro:
2 Cups Pearled Farro, *pearled farro cooks faster than whole
2 Cups Frozen Peas
½ Onion, chopped
6 Cups of Water or Chicken Broth
EVOO
Salt, to taste
Juice of 1 Lemon
Optional: Crumbled Goat Cheese and Chopped Pistachios

Procedure:

Chicken:

-Turn on grill to medium, leaving the center burner(s) off. While the grill preheats for 15 minutes, take the chicken out of fridge and rub skin with EVOO.

-Place the flattened chicken skin-side down on the middle of the grill. There should be no fire directly under the chicken.

-Grill for 20-30 minutes, flip to skin side up and cook for another 20-30 minutes or until the internal temp on the thigh is 165° F.

Green Sauce:

-While the chicken cooks, place all the Green Sauce ingredients except the EVOO in a blender or food processor. Buzz the ingredients until smooth and with the motor running drizzle in the EVOO. Taste and adjust seasoning, set aside. Can be done a day in advance.

Farro with Peas:

-In a large saucepan, heat a drizzle of EVOO over low heat. Add the chopped onions and a pinch of salt. Sweat the onions until translucent without browning. Add water or chicken broth and bring to boil. Add a generous pinch of salt and the farro. Cook according to package. When the farro is almost done, add the peas.

-After the farro and peas are drained well, add back to the saucepan with lemon juice and drizzle in some more EVOO. Taste and adjust seasoning. Serve at room temperature with crumbled goat cheese and pistachio.