How do you make healthy pancakes taste good? Add bacon!
By AJ Fusco, Correspondent | March 01, 2021 | NATIONAL
Story No. 012921104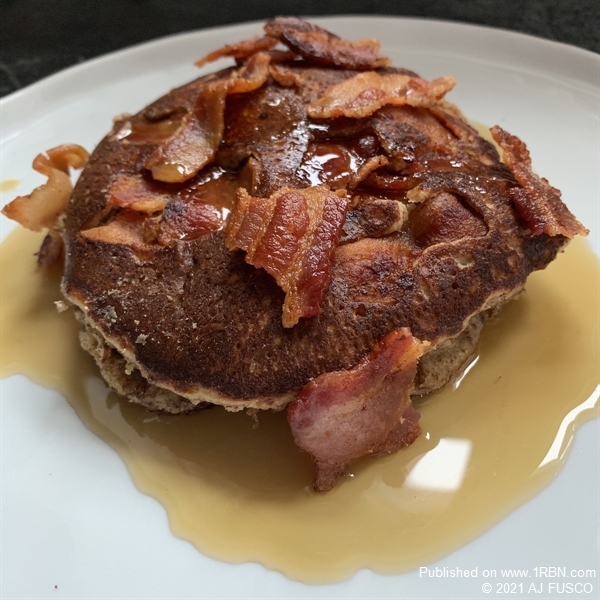 Photo by AJ FUSCOBacon-Banana-Almond Flour Pancakes
Pancakes are a firehouse breakfast staple. Often cooked on a cast iron pan or griddle that outdates even the most senior members, these flapjacks feed many for cheap. Which is probably why they are so popular for fundraising as well. In firehouses all across the country, "pancake breakfasts" help raise funds for departments in need. They also appeal to us on a more personal note as well. Sunday morning with the family, cup of joe and a stack of pancakes evoke memories of a simpler time. Or maybe it was the trip to the local IHOP you remember most. The point is, food has a way of engraining itself into our memories and more often than not it is the food we grew up eating. My dad loves a good pancake and now more than ever, enjoys cooking them for my daughter. And believe it or not, this food has been around a lot longer than you and I. Some evidence dates it back to the Stone Age! And in more "recent" times, Thomas Jefferson was a huge fan of the flapjack, even sending a recipe back to his hometown from the White House.

So now that we have established the fact that pancakes are not only delicious and hold a sentimental place in our hearts, lets also admit now that they are definitely not the healthiest of foods for us to eat on a regular basis. But how on earth can we make this somewhat healthy AND delicious at the same time?

Well first let's start with the actual pancake itself. Instead of using your standard All-Purpose flour, this recipe uses almond flour, which is great for the gluten-free and gluten-intolerant folks out there. We also use bananas, not just for flavor, but to add moisture and sweetness as well since almond flour tends to be a little "drier" than conventional flours. And whenever we need to make something taste better, what do we add? BACON!!! If you haven't tried pancakes topped with real maple syrup and bacon, you are seriously missing out! There is no better combination of flavors than sweet and savory.

Stay safe, eat well!

Bacon-Banana-Almond Flour Pancakes

Makes approximately 8 - 6" Pancakes

Ingredients:
4 Ripe Bananas
4 Eggs
1 Cup Almond Flour
1 tsp Baking Powder
¼ Cup Maple Syrup
Pinch of Salt
4 Slices of Cooked Bacon, crumbled
Cooking Spray or Butter for pan

Procedure:

-Separate the egg yolk from the whites by carefully cracking them in to a large bowl. Using your hands gently scoop out the yolks and place in a medium bowl.

-Using a whisk, whip the egg whites until fluffy, set aside.

-Combine the maple syrup and bananas in the same bowl as the egg yolk. Mash bananas and stir to incorporate. Add the almond flour, baking powder and salt to the bowl. Stir to combine thoroughly.

-Carefully fold in the egg whites to the batter with a rubber spatula.

-Ladle the batter into a greased preheated non-stick pan, cast iron or griddle over medium heat. Sprinkle each pancake with some crumbled bacon, reserving some for garnish. Cook pancakes untouched until the bottom starts to brown and you see bubbles forming, about 2-3 minutes. Very carefully flip and cook for another 2-3 minutes or until fully cooked through. 

-Garnish with more crumbled bacon!

(Note: These pancakes are very tender and delicate compared to traditional so they may need a little extra cooking time and gentle handling!)
This article is a direct street report from our correspondent and has not been edited by the 1st Responder newsroom.