Engine 277 and Truck 112
February 01, 2016 | NEW YORK
Larry Woodcock, Correspondent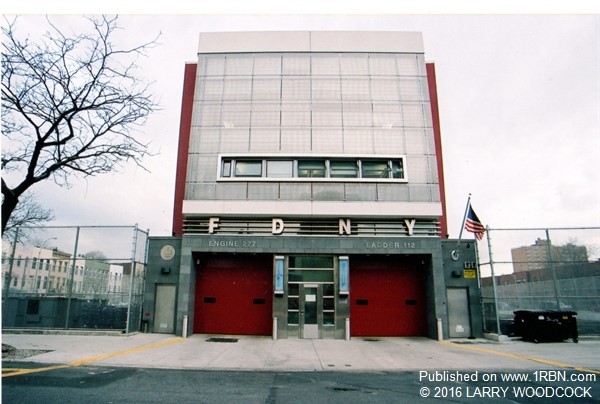 Photo by LARRY WOODCOCK
This article is a direct street report from our correspondent and has not been edited by the 1st Responder newsroom.
Anyone who has heard of Bushwick, Brooklyn knows it's history as a neighborhood with a rough reputation. From riots to buildings on fire and crime, it has been a slow, but steady climb out of the depths of despair to normalcy and through that time the "House of Pain" has been the one constant in a century of change.

Home to 277 Engine and 112 Truck, previously two separate companies, 112's quarters on Madison Street was closed to make room for a new school. And despite opposition, it was decided that the truck would move in with 277 on Knickerbocker Avenue, a single bay firehouse.

In September of 1973, 112 moved in and the saga began. At first, it was called the "Ant Farm" due to it's small quarters. When the rigs pulled out, all of the men got in and resembled swarming ants.

But later, it was coined the "House of Pain" due to the fact that the rigs had to be parked piggyback style and depending on which company got a run, the chauffer had to move the rig so the other could get out. After a short time, the competition of racing back to quarters bonded the companies and made it an even tighter-fitting firehouse. The inconvenience brought the house together even more.

What started, as farmland in the 1800's, became a bustling neighborhood when the elevated railways on Myrtle Avenue and Broadway made it possible to commute to Manhattan and other parts of Brooklyn. Tenements and wood frames were built and Bushwick became known as "Brewers Row" for the fourteen breweries that opened and operated here.

In July of 1977, one of the city's biggest and most famous fires was fought here. A group of kids started a fire in an abandoned knitting factory located at Knickerbocker and Bleecker Streets. On arrival of the first units, heavy fire was seen on multiple floors with temperatures in the high 90's.

The battle was already lost. Citizens to keep cool were using open hydrants; there was little pressure to keep the fire from spreading from building to building. At one point, the paint on 124 Truck blistered and the truck had to be moved. Several others were also moved during the firefight.

23 buildings were damaged and destroyed as the fire went to ten alarms with units from Queens and Manhattan operating at the scene. 65 families were left homeless and over 100 people out of work. The fire devastated an already depleted neighborhood that had suffered from the burning down of its Central District on Broadway three days prior during the city-wide blackout that lead to looting and rioting.

But out of the ashes changes were made and during the mid 1990's changes came, after years of "rock bottom'. Warehouses were converted to loft apartments and brownstones refurbished, which attracted young professionals and artists. This along with the rise in real estate and sky-high prices in Manhattan and other parts of Brooklyn made the neighborhood more desirable.

In the mid 1990's, the firehouse, after going through numerous repairs, the city decided to tear down the old firehouse and put up a new one. This was not before years of delays and rumors of even of closing Engine 277 for good. One of the delays was getting approval from the Board of Education due to the fact that the firehouse was on school property.

In December of 2007 after a five-year relocation, the companies moved back into their new firehouse. Suddenly, the firehouse that was dubbed the worst firehouse on the job for anyone detailed there, now was the envy of many.

277 Engine was organized on March 20, 1913 and located at 582 Knickerbocker Avenue until moving into their new firehouse at the same location. Ladder 112 was organized as Ladder 12 in the Brooklyn Fire Department on November 20,1893. They were changed over to Ladder 112 on January 1, 1913 have been at this location.

Both companies have a combined four line of duty deaths with numerous medal recipients. In one hundred and twenty two years, the "House of Pain" has enjoyed a stellar reputation among Brooklyn companies and has represented and will carry on the tradition of this department for years to come. A hello to Fabio Valencia, who has spent his entire career in 277, a good friend and a good man.