February, 2022, UPS, page 2
February 01, 2022 | NEW JERSEY
Ron Jeffers, New Jersey Editor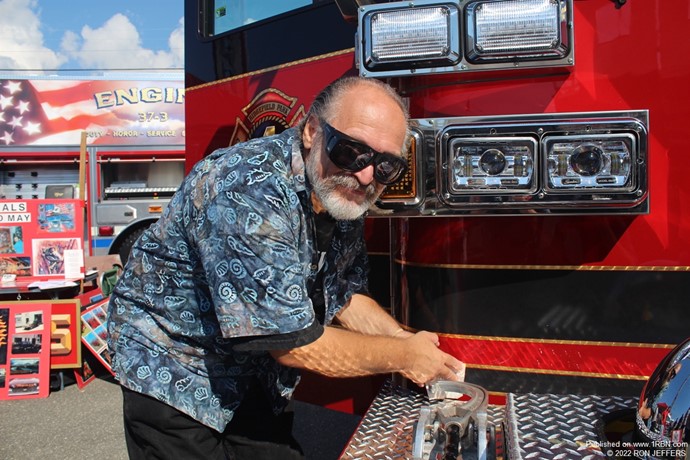 Photo by RON JEFFERSEd May, of Ed May's Pin Striping, is celebrating his 50th year in the business.
This article is a direct street report from our correspondent and has not been edited by the 1st Responder newsroom.
DOWNS: As many as four victims were pulled from a burning Eastern Avenue dwelling in Somerville, Dec. 10th, but officials confirmed that a child died in the overnight fire. First responders arrived to find a woman, man and a 9-year-old girl, suffering from burns and cuts. Officials said they jumped from second-floor windows to escape. Firefighters were told that a second child was still trapped in a second-floor rear bedroom. Despite their efforts, they were unsuccessful in gaining entry due to the fire, extreme heat and heavy smoke conditions. Eventually, firefighters were able to gain access to the second-floor to attempt a rescue, but they found the girl unresponsive.

UPS: A Jackson family who lost their home and many pets on Nov. 22nd received a visit, on Dec. 11th, from the K9 Valor Christmas Mission, Mr. & Mrs. Claus and the same firefighters who fought the fire, with their sirens blasting, at the family's temporary apartment nearby. The firefighters brought the family gifts with the hope to change their fortune during the holiday season, according to News12 Staff.

DOWNS: While Chatham Borough firefighters were operating at the scene of an MVA, they received a call for an "explosion" on River Road, Dec. 7th. They arrived to find a fully-involved structure and the roof had already collapsed, according to Chief Jeff Fricke. The chief said the explosions could have been from torches, propane tanks or the like, as the building housed plumbing supplies.

UPS: Following their 2022 election meeting at West Milford's Macopin Fire Co. 4, members presented the Pink Heals Foundation with a $1,500 donation. This was the proceeds from Company 4's cancer shirt sales.

DOWNS: A fire in a multi-unit home on Glen Avenue in Phillipsburg displaced 22 people, in December.

UPS: The Ridgefield Park F.D. congratulates one of their own. Third generation Firefighter A.J. Scheideler has been appointed to the Anne Arundel County, Md., Fire Department and assigned to Station 20.

DOWNS: A 64-year-old Jersey City man who was seriously injured in an apartment fire on Dec. 8th died from his injuries on Dec. 13th. Leon Howard was found in his Berry Gardens apartment and taken to the JCMC for treatment, officials said.

UPS: David Klugel has been promoted to deputy fire chief in South Orange.

DOWNS: Trenton firefighters battled a fire in an end row house on Roebling Ave., Dec. 10th. Firefighters worked to prevent the fire from extending to adjacent homes, according to MidJersey.News.

UPS: On December 13th, Hackensack firefighters delivered gifts that were purchased for over 100 children that are part of the Youth Consultation Services, located in the city. They range in age from one to 18-years-old, and most have no parents, or they have been taken away from their parents, according to the HFD Facebook page.

DOWNS: An elderly couple escaped flames spreading through their Washington Ave. 2 ½ story home in Hawthorne, Dec. 15th, and their dog was rescued, according to the Daily Voice. The floors collapsed, requiring heavy equipment to help firefighters extinguish hidden pockets of fire.

UPS: Recently, Anthony Amoroso received his Life Membership award for having served 25-years as an executive and line officer of Bound Brook Relief Fire Company 4. Amoroso is also President of Absolute Fire Protection, Inc., and he has also served as a volunteer firefighter for 35-years in South Bound Brook.

DOWNS: A used charcoal, that was tossed into a garbage pail, ignited a garage fire on Greenwoods Rd. in Old Tappan and extended to the home, Dec. 21st. Officials learned that the residents used a charcoal grill the night before to cook dinner. The coals were later placed in a plastic bag and put into a garbage pail in the attached garage. A Tesla was destroyed in the fire.

UPS: Perth Amboy firefighters used their professionalism rescuing an injured person behind the Sayre Avenue apartments on Dec. 16th. Due to injuries and uneven terrain, the victim was packaged in a stokes basket and safely raised with a rope system utilizing Truck 2's platform as a high angle point, according to a Facebook post. Once at street level, the patient was turned over to EMS and transported to a local hospital.

DOWNS: A young woman was killed in a fire that involved the Santo Domingo Invita restaurant on Passaic St., in Passaic, Dec. 22nd. The fire was reported in the rear of the restaurant and quickly spread to the roof of the 1.5 story structure, officials said.

UPS: Recently promoted to the rank of fire captain in Perth Amboy were Thomas Macri and Eric Lewis.

DOWNS: Atlantic City Firefighter Anthony Carfagno, 58, lost his battle with COVID-19 on Dec.21st. He was assigned to Engine Co. 3, Second Platoon, and served the city for 23-years.

UPS: John Judge has been promoted to fire chief in Ridgewood.

DOWNS: A fire heavily damaged three Harrison Ave. dwellings in Passaic, Dec. 26th. A resident of one dwelling sustained a fractured ankle after jumping from the second-floor, and an elderly woman was taken to a local hospital after suffering shortness of breath, Battalion Chief Adam Alberti said. Several firefighters also received "minor" injuries. The Red Cross was providing assistance for 20 people from 6 families.

UPS: New firefighters in Hanover Township are Nicholas DiGiacomo and Kyle Colin.

DOWNS: An apparent electrical fire left 174 units of a Regent Street apartment, in Jersey City, without power on Dec, 28th. The fire reportedly burned the main electrical feeder in the building, according to a city spokeswoman. The residents were unable to return to their apartments.

UPS: On December 14th the North Wildwood Fire Department was officially notified that, after extensive evaluation by the Insurance Services Office (ISO), the NWFD received a Class 2 rating. According to their Facebook page, only 26 other New Jersey fire departments have this rating. The public protection classification (PPC) score is rated on a scale from 1 to 10. The lower the PPC, the better it is for the community. Insurance companies will use this information to underwrite their policies providing residents with better insurance premiums.

DOWNS: Two pet cats and a dog died in a Lunn Ave. dwelling fire in Bergenfield on Dec. 23rd, Fire Chief Edward Kneisler III said. A firefighter was treated for a minor arm injury at a local hospital and the residents were evaluated by the volunteer ambulance corps and checked out okay, according to the chief.

UPS: Southard and area firefighters used ropes, straps and sheets of plywood to help rescue a horse that had fallen into a stream behind Echo Lake and couldn't get out, on Jan. 2nd. Units from Freewood Acres Fire Co. 1, Squankum Fire Co. 1 and the Howell Twp. O.E.M. assisted, officials said. A veterinarian was on location supervising the removal of the horse from the mud.

DOWNS: Firefighters found the body of a man inside a mobile home on Plainfield Ave., in Edison, as the result of a fire on Dec. 30th.

UPS: Recently, the Jersey City Fire Foundation thanked the Port Libertey Homeowners Association, the Wawa foundation and the Firefighters Charitable Foundation for their donation of the Arizona Vortex Kit for Rescue Co. 1.

DOWNS: An early morning fire involved stores at the Green Hill Plaza on Parsippany Rd., Parsippany, Jan. 4th.

UPS: Firefighter/EMT Matthew Koch has been hired as a full-time member of the Pine Hill Fire Department.

DOWNS: Approximately 30 people were displaced due to a 4-alarm fire that raced through Warren Street dwellings in Paterson, Jan. 9th. News 12 New Jersey was told that firefighters saved a man who was trapped inside one of the burning structures. He was being treated for smoke inhalation at a local hospital.

UPS: On January 9th, Lacey Township police and several fire companies, including the Forked River and Lanoka Harbor units, were sent to a dwelling fire on Holly Place. A 52-year-old disabled woman was located on the floor in the kitchen area, according to reports. Firefighters brought her out to safety along with Lacey police officers who had forced open the back door. She was taken to a local hospital and treated for smoke inhalation. Two police officers were also brought to the hospital for smoke inhalation.

DOWNS: Investigators determined that a Hackettstown man had fallen asleep while smoking a cigarette and his mattress caught fire in his Sharp St. home, Jan. 4th. The fire displaced several occupants.

UPS: As a result of the fatal Bronx fire, the Paterson F.D. is increasing its inspections inside residential buildings. Fire officials plan to visit all of the city's high-rise, mid-rise and multi-level buildings to double-check that all safety systems are working.

DOWNS: Two Tatum St. homes in West Deptford Twp. were destroyed by fire, Jan. 13th, and one occupant was killed, officials said. The fire in homes, located off Route45, left four people injured, including a baby. They were transported to area hospitals for treatment.

UPS: Newly promoted battalion chiefs in Jersey City are Andy Azize Sr., Bela Vaszlauk, Dwane Taylor and Roberto Robalino.

DOWNS: A fire in a three-story OMD on State St., Perth Amboy, displaced seven families, Jan. 11th. Firefighters located a fire in a first-floor apartment and stretched hose lines to contain the flames. Rescues were made from the floors above via tower ladder, according to a Facebook report. Three residents were treated for smoke inhalation, with one transported to a local hospital.

UPS: Promoted to the rank of fire captain in Jersey City, on Jan. 13th, were Raymond Gracia, Collin Caesar, Daniel Pellegrino and Omell Estrade.

DOWNS: A 95-year-old woman died as the result of a dwelling fire in the Country View Village development in White Twp., Jan. 11th. State police said the woman was located by firefighters, and during the transport to the hospital she was pronounced dead.

UPS: Ed May is well known in New Jersey for his excellent pin striping and gold leaf talents. His work has included many projects from fire apparatus to a rocking chair, and even a grave marker. He recently announced that he has started his 50th year in the business.