An Italian-American classic with a healthy twist!
February 01, 2021 | NATIONAL
AJ Fusco, Correspondent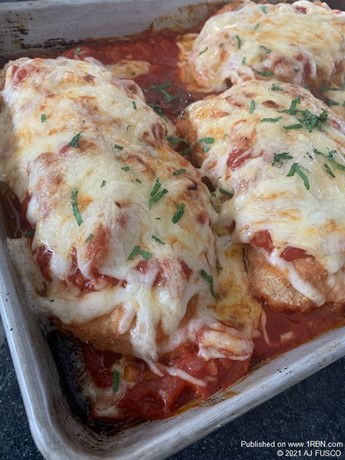 Photo by AJ FUSCOBaked Chicken Cutlet Parm
This article is a direct street report from our correspondent and has not been edited by the 1st Responder newsroom.
Walk into any red sauce joint or pizzeria and you are sure to find Chicken Parm on the menu. This classic Italian-American creation, also known as Chicken Parmigiana, has its roots back in Italy where it was first made with eggplant. When Italian immigrants came to America, they brought their recipes but adjusted them to use the now cheaper meats such as veal, pork, beef and chicken. There are many theories as to why it is called Parmigiana, when in fact it is almost always made with mozzarella, but this is not an article long enough to dive into Italian food history.

What we do know is what makes a dish Chicken Parm. Breaded chicken cutlets are pan fried in olive oil until golden brown, covered in tomato sauce and then finished with mozzarella which melts and bubbles until brown in some spots. This is what I grew up eating on many Thursday nights at my grandmother's house, right next to my bowl of ziti and meatballs, another Italian-American invention. I love chicken parm so much, I would often order it the next day when we went out to eat at the local Italian restaurants. In its classic iteration, it is just chicken, sauce and cheese, but many chefs and home cooks have put their own spin on it by turning them into "grilled cheese" or stuffing peppers with them. But for me, the classic approach is the best….but, unfortunately it's not always the best for your waistline.

When I wanted to rethink and reimagine this dish to make it healthier, the first thing that came to mind was the traditional method of frying the cutlets. In the healthier version, we bake them instead which still allows us to get a crispy exterior without the extra fat and calories. Pre-baking the breadcrumbs also helps us get some color on them before they coat the chicken. And speaking of breadcrumbs, using the Japanese Panko variety also gives us more texture than traditional fine breadcrumbs. And while the traditional method for breading chicken is flour, egg and breadcrumbs, I wanted to change that up as well. So instead of eggs, this recipe uses plain Greek yogurt, which acts as a binder but also lowers the calories slightly and adds some protein.

This recipe certainly does not beat the traditional chicken parm you are used to ordering, but if you need a healthier recipe to put into the rotation, this one is definitely worth giving a shot. All the familiar flavors without most of the guilt. Stay safe, eat well!

Baked Chicken Cutlet Parm
Serves 4

Ingredients:

4 Boneless/Skinless Chicken Breasts
1 C Flour
1 C Plain Greek Yogurt
2 C Plain Panko Breadcrumbs
1 Tsp. Dried Oregano
28 oz. Whole Peeled Tomatoes, crushed by hand
2 Garlic Cloves, diced
½ Onion, diced
½ lb. Low-Moisture Whole Milk Mozzarella
1 Bunch Fresh Basil, chiffonade (sliced thin)
EVOO
Salt and Pepper, to taste

Procedure:

-Preheat oven to 375°

-Place breadcrumbs on a sheet pan, toast for a few minutes until light golden brown. Remove, place in a bowl. Season with a pinch of salt, pepper and oregano. Set aside.

-Slice chicken breast in half, creating two thin cutlets. Repeat with remaining breasts and set aside. In a large bowl place flour, season with salt, pepper and oregano, set aside. In another large bowl, put in yogurt and a pinch of salt, set aside.  

-Place a wire rack in the sheet pan previously used for breadcrumbs.

-Dredge the chicken in flour, shaking off excess, followed by the yogurt. Wipe off excess yogurt and place in breadcrumb mixture. Firmly press breadcrumbs into cutlet and place on sheet pan with the wire rack. Place chicken in the oven and cook for 15-20 minutes, flipping halfway through, or until internal temperature reaches 160°F.

-While the chicken bakes, heat EVOO in a large saucepan over medium heat. Add the onion with a pinch of salt and saute until translucent. Add garlic and sauté until golden brown. Carefully add the crushed tomatoes, bring to a simmer and continue to cook while the chicken bakes. Stir frequently so it does not burn. Taste and adjust seasoning. 

-When the chicken is cooked, remove from sheet pan along with rack. Ladle some tomato sauce onto bottom of sheet pan, add the chicken and top with more sauce. Top each piece with cheese and place under broiler or back in oven until the cheese melts. Garnish with fresh basil.