Cucina Povera
February 01, 2020 | NATIONAL
AJ FUSCO, Correspondent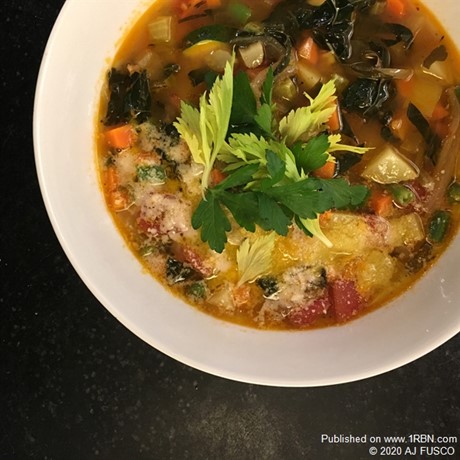 Photo by AJ FUSCO
This article is a direct street report from our correspondent and has not been edited by the 1st Responder newsroom.
Cucina Povera translates from Italian to English as "poor cooking". It is a term used to describe the food and recipes of rural Italian cooking centuries ago. This "style" of cooking was not one of intentions, but more of necessities. These times were very trying and with meat being so scarce, many of the recipes that come from this period are very heavy on vegetables. There was also no waste, as evident in the recipe for biscotti, where the Tuscans "twice-cooked" the biscuits to make them last longer. Or in Ribolitta, a thick bread soup which is "re-boiled" to further extend its use.

Cucina Povera can be looked at from a philosophical point rather than specific recipes. Using what you have, rather than seeking out ingredients, is one philosophy of this era. The Italian peasants either used whatever vegetables they had on hand, or found ways to repurpose what they had already cooked. It is absolutely one of my favorite ways to approach cooking, especially for the firehouse.

We all know cooking at the firehouse is one ripe with budget constraints and opinions. Using the Cucina Povera approach allows us to keep costs low by using ingredients we may have on hand already, rather than having to go out and shop for an entire meal. I almost always take a look in the fridge before heading out to the supermarket, a reconnaissance mission of sorts. There is almost always a half onion not used, or maybe a bag of carrots on their way out. Leftover fresh herbs, which I highly recommend for their flavor over dried, are going to be inevitably left in the crisper waiting to die a slow, wilting death. So rather than plan a meal based off what I want to cook, I like to base it off of what is available to use. And no dish is designed better for this application than soup!

Minestrone soup is a dish from the Cucina Povera era, and is still popular many years later after it originated. For good reason too! It is packed with vitamins, nutrients, protein and flavor! There are many recipes out there for it, but use what you've got on hand. Any vegetables will work, just keep in mind cooking times vary for the types you use. In this recipe I also blend some of the beans with the stock, which when added back to the soup, adds body. If you prefer a more liquid soup, skip this step. There is also no meat in this recipe, but if you must, the addition of crumbled sausage would be delicious!

Minestrone Soup

Serves 6

Ingredients:

1 Yellow Onion, chopped
3 Cloves of Garlic, chopped
3 Carrots, peeled and rough chopped
3 Celery Stalks, rough chopped
3 Yukon Gold Potatoes, cubed
5 Stalks Kale, leaves torn and stems chopped
Handful Fresh Green Beans, ends removed and cut into 1" pieces
2 Zucchini, chopped
1 Sprig of Fresh Rosemary
1 Bay Leaf
1 T Tomato Paste
28 oz. Can of Diced Tomatoes (No Salt Added if possible)
48 oz. Low Sodium Chicken Broth
19 oz. Can of Cannellini Beans
Extra Virgin Olive Oil
Chili Flakes
Salt to taste

Procedure:

-Heat a large Dutch oven or pot over medium heat. Add enough oil to just coat the bottom of the pot. When the oil starts to shimmer, add the onions, bay leaf and rosemary. Season with a pinch of salt and chili flake. When the onions are translucent add the garlic, carrots, celery and kale. Stirring often, cook until the vegetables are light golden brown. Add the tomato paste and stir for about a minute.

-Stir in the diced tomatoes and cook until most of the liquid has evaporated. Add the chicken broth and bring to a boil, then lower to a simmer. Add the potatoes, half of the beans, zucchini and green beans. Continue cooking until the potatoes are soft, about 20 minutes.

-While the soup is cooking, take a ladle of soup broth and put in a blender with the remaining half of the beans. Let cool for a couple minutes. Carefully, blend the beans and add the bean purée to the soup.

-Taste and season before serving. Garnish with celery leaves, parmesan cheese and a drizzle of olive oil.