A Visit to Burlington County
By John Malecky, Senior Columnist | February 01, 2020 | NEW JERSEY
Story No. 020520103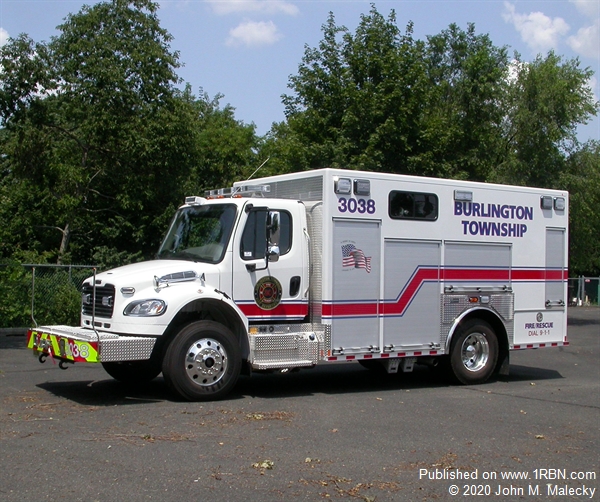 Photo by John M. MaleckyRelief FC in Burlington Township Unit 3038, 2018 Freightliner M2, 106/Marion Body with 15 kw generator, air cascade system and 10-ton winch.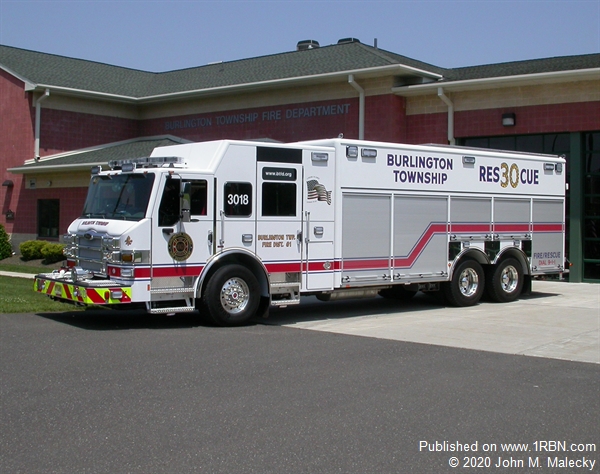 Photo by John M. MaleckyIndependent FC, Burlington Township R-3018, 2016 Pierce Velocity 500/500 with 35 kw generator and five-ton winch. It was sold by Fire & Safety Services.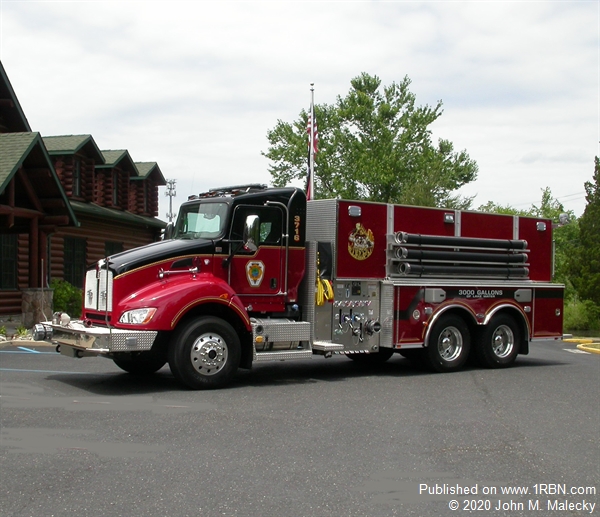 Photo by John M. MaleckyMedford Lakes T-3716, 2018 Kenworth T-370/E-ONE, 1000/3000 with 10-inch dump valve.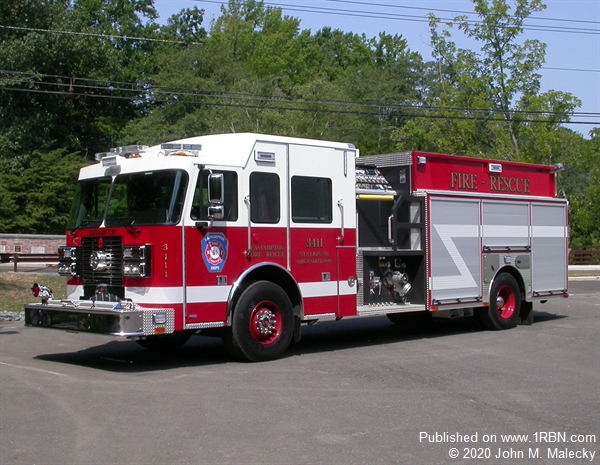 Photo by John M. MaleckyThe Easthampton FC, E-3411, 2019 Sutphen Monarch 2000/1000/25 A/25 B and 6-kw generator. It was sold by Blaze Emergency Equipment.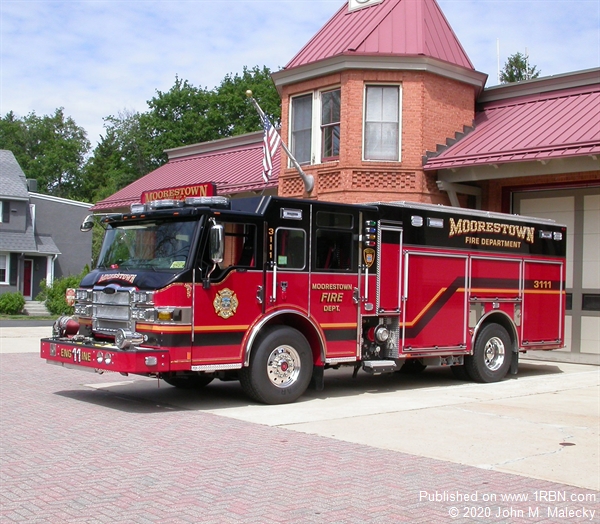 Photo by John M. MaleckyMoorestown E-11, 2019 Pierce Impel PUC 1500/1000 and 8 kw generator. It was sold by Fire & Safety Services.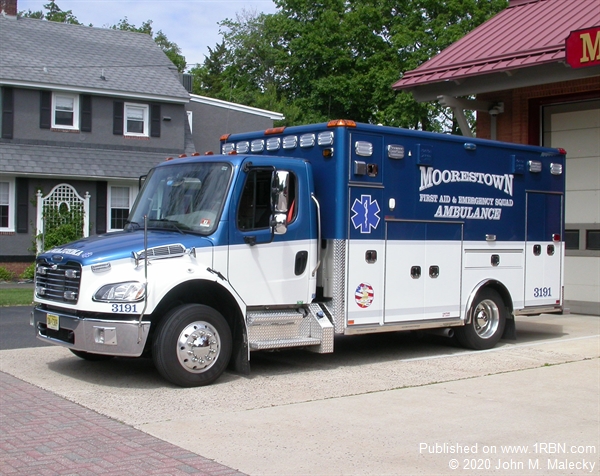 Photo by John M. MaleckyMoorestown First Aid & Emergency Squad A-3191, 2018 Freightliner M2/Horton Model 623F. It was sold by VCI Emergency Vehicle Specialists.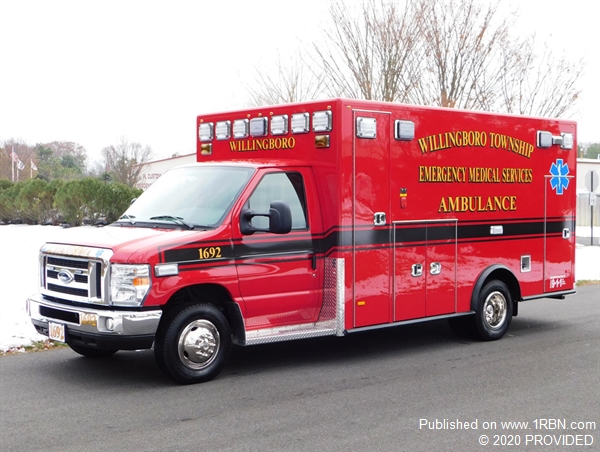 Photo by PROVIDEDWillingboro EMS A-1692, 2019 Ford E-450/P. L. Custom Medallion. It was sold by New Jersey Emergency Vehicles.
APPARATUS OF THE MONTH

By John M. Malecky March, 2020

A VISIT TO BURLINGTON COUNTY

Author's Note: In the last column two mistakes were printed. One which stated that Cape May Court Hose was in Lower Township when it is actually in Middle Township. The other was that the Tri Boro FAS was in Ocean City when it should have said Ocean County. This particular Tri Boro squad is in Seaside Park.

Once or twice a year I visit Burlington County to update myself on new apparatus and ambulance deliveries. One of our readers, a friend of mine, is employed by Burlington County and collects new units after they are in service. He is a great asset to me for this column. Burlington County, as you may know, is the largest county in area in our state, stretching from the Delaware River on the west, clear across to the Atlantic Ocean on the east. This month's selection is not all of what I have from the county, but all I could fit for this issue. Others will be featured in future columns as time goes by. One of the changes in the county is in Burlington Township where a white paint scheme was adopted for all new apparatus. There are two here. So the blue shade of Beverly Road apparatus is now a thing of the past, as well as that of the relief Fire Company which was white and red. Also featured is a pumper/tanker from Medford Lake with lettering above the tandem rear wheels stating that the 3,000-gallons in the tank is of lake water. A Sutphen pumper in Eastampton Township has a top-mount/side-mount pump panel. It is a Sutphen design that has been catching on with some of their more recent deliveries, Moorestown Engine 11 is a new Pierce PUC pumper and in the same station is a fairly new Freightliner/Horton medium duty ambulance. The crew took a "Faces" photo which was featured in a past issue. The last vehicle featured is a P.L. Custom Type III ambulance for the Willingboro EMS, submitted by New Jersey Emergency Vehicles. Each month when they send in their report they attach at least one delivery and I am using it here to acknowledge their kindness.

In dealer news, Fire & Safety Services has made the following Pierce deliveries: to Evesham (Burlington County), a Velocity combination walk-in/non-walk-in heavy duty rescue; to Washington Fire District 1 (Warren County), a Freightliner 3,000-gallon tanker; to North Brunswick FC 1 (Middlesex County), a Saber pumper and to Fairfield Township (Essex County), an Arrow XT PUC rescue pumper. Pierce orders include for Freehold Township Fire District 1 a Velocity 100-foot mid-mount tower; for Tinton Falls Fire District 1 an Impel pumper (both Monmouth County); for Bristol-Meyers Squibb (Middlesex County) an Enforcer PUC pumper; for Cedar Grove (Essex County) an Enforcer PUC pumper; for the Rio Grande FC in Middle Township (Cape May County) an Enforcer PUC pumper; for Readington Township (Hunterdon County) a Velocity 100-foot mid-mount tower; for Washington Township an Enforcer top-mount pumper and for Franklin Lakes an Enforcer pumper (both Bergen County); for the City of Vineland (Cumberland County) an Enforcer 107-foot tandem axle Ascendant ladder and for Springfield (Union County) a Velocity PUC pumper.

The EMS division of First Priority Group delivered to Old Bridge (Middlesex County), a Demers TSE Ford Transit Type II ambulance and to On Time Ambulance in Roselle (Union County), two First Priority Renaissance Remounts on Ford E-450 chassis. They have received orders for two Braun Chief XL ambulances, one on a Ford F-450 chassis for Old Tappan (Bergen County), and one on a Ford E-450 chassis for Roxbury (Morris County).

Defender Emergency Products has delivered to Valley Medical Transport in Pine Brook (Morris County), a Medix transit Type II ambulance on a Ford 250 MR Transit chassis. Specs include a 3.7L, Ti-VCT gas engine, all aluminum interior, high capacity updraft HVAC and a Ferno Stat-Trac cot mount.

Blaze Emergency Equipment reports that they will be performing all service work for First Priority Emergency Vehicles (KME rep.).

Absolute Fire Protection has delivered to Lanoka Harbor in Lacey Township (Ocean County), an E-ONE Typhoon stainless steel pumper. Specs include an MFD chassis, Waterous CSU 2000-GPM pump with top-mount panel, 1000-gallon water tank, Akron foam eductor and 30-gallon Class "B" foam tank. They have delivered to West Orange (Essex County), a Wheeled Coach Type III ambulance on a Ford E-350 chassis and have received an order from Parsippany Township Fire District 1, Mounty Tabor (Morris County) for an E-ONE Typhoon low hose bed pumper with a Waterous pump and CAFS.

As we bring this column to a close we received word that the REV Group has purchased the Spartan ER Fire Apparatus manufacturer from Spartan Motors for $55 million cash. REV also owns E-ONE, KME and Ferrara. By the time of our next column you should have additional information from other sources.
This article is a direct street report from our correspondent and has not been edited by the 1st Responder newsroom.