Congratulations to FF Matthew Markey on His Retirement
By CHERRY HILL FD, Correspondent | August 12, 2019 | NEW JERSEY
Story No. 081219120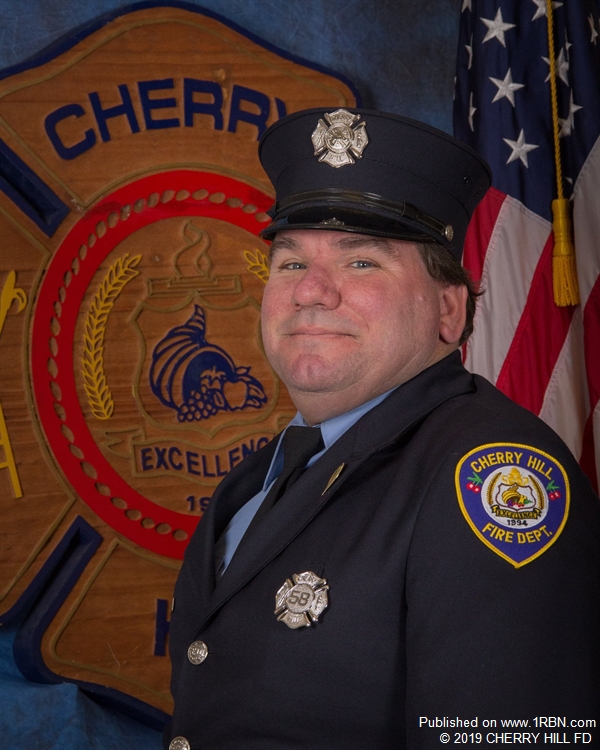 Photo by CHERRY HILL FD
Please join us in congratulating Firefighter Matt Markey on his retirement from active service with the Cherry Hill Fire Department, effective August 1, 2019. Prior to his full time hiring, Matt served as a firefighter and fire officer for Cherry Hill Fire District #5.

Hired in August of 1995, Matt's first assignment brought him to Station 5 on the 'A' Platoon. During his first few years and after transferring to 'C' Platoon in January of 2002, he was instrumental in the setup of the department's initial SCBA shop located at Station 5. In May of 2006, FF Markey was transferred to Engine 22A where he served for 2 years before transferring to the 'C' Platoon at that company.

January of 2012 brought Matt across town to Ladder 44 where he was assigned to the 'A' Platoon. Shortly thereafter, he earned a Departmental Individual EMS Award for efforts in the successful resuscitation of a cardiac arrest patient. In 2013, he was transferred back west to Ladder 24C. In December of 2016 he returned to Engine 22, this time serving on the 'B' Platoon. In April, Matt was transferred back to the same assignment and platoon where he had first started 24 years ago, Squrt 51A.

FF Markey developed a reputation through his career as a proficient and aggressive firefighter and nozzleman. He was specifically recognized for this in 1998 by then Chief of Department Gerald F. Grover for his actions taken at a significant fire in November of that year. Along with his reputation as a firefighter, Matt assisted in numerous departmental initiatives where his skills as a licensed electrician were proven invaluable with his numerous contributions. Further sharing these skills and knowledge, he developed and delivered a departmental training program which provided an overview of the rise in solar energy panels and how to safely operate at emergencies involving them.

Regularly demonstrating a sense of pride in his job, and known for his quick wit and sense of humor, FF Markey has also been the recipient of many department accolades.

On behalf of the entire department and the Board of Fire Commissioners, we wish FF Matthew Markey success in his future endeavors and thank him for his service.
This article is a direct street report from our correspondent and has not been edited by the 1st Responder newsroom.