Second Top-Mount/Side-Mount Pump in Manchester
By John Malecky, Senior Columnist | June 01, 2019 | NEW JERSEY
Story No. 051619103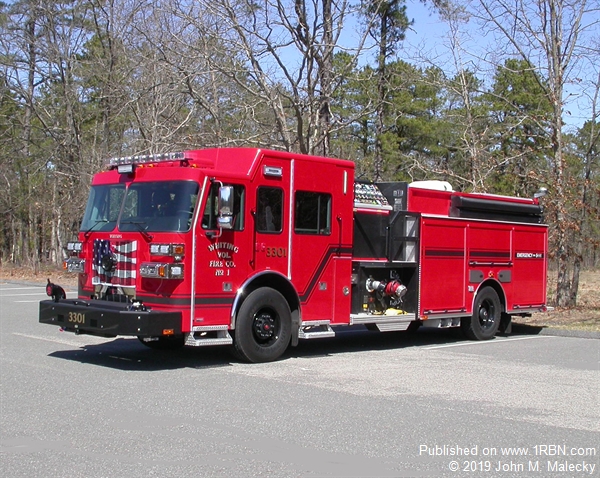 Photo by John M. MaleckyWhiting FC E-3301, 2019 Sutphen Monarch 2000/1000/50 with 10 kw generator. It has a top-mount/side-mount pump panel. It was sold by Blaze Emergency Equipment.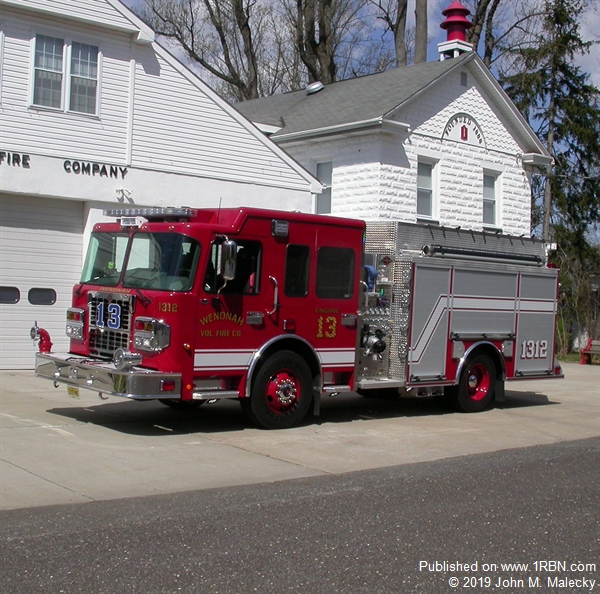 Photo by John M. MaleckyWenonah Boro E-1312, 2018 Spartan ER Metro Star, 1500/750 with 6 kw generator. It was sold by Campbell Supply Co., LLC.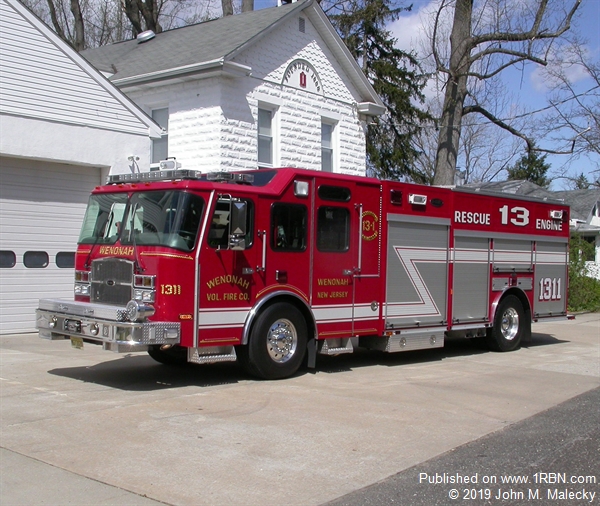 Photo by John M. MaleckyWenonah Boro RE-1311, 2006 E-ONE Typhoon rescue pumper. It has a 1500-GPM pump, 750-gallon water tank, 20 kw generator and 6000-pound winch.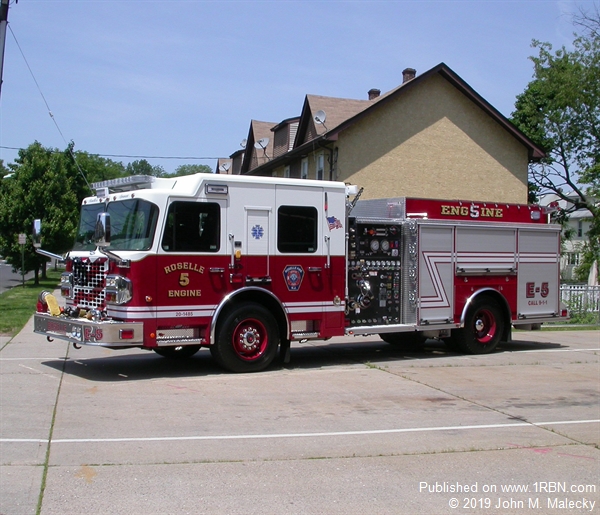 Photo by John M. MaleckyRoselle E-5, 2018 Spartan ER Gladiator 1500/500/40 with 6 kw generator. It was sold by Campbell Supply Co., LLC.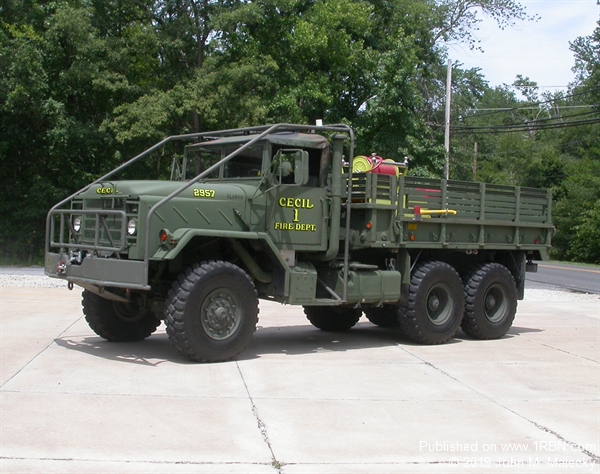 Photo by John M. MaleckyCecil FC Brush 2957, 1991 BMI with 250-GPM pump, 300-gallon water tank and 7-ton winch.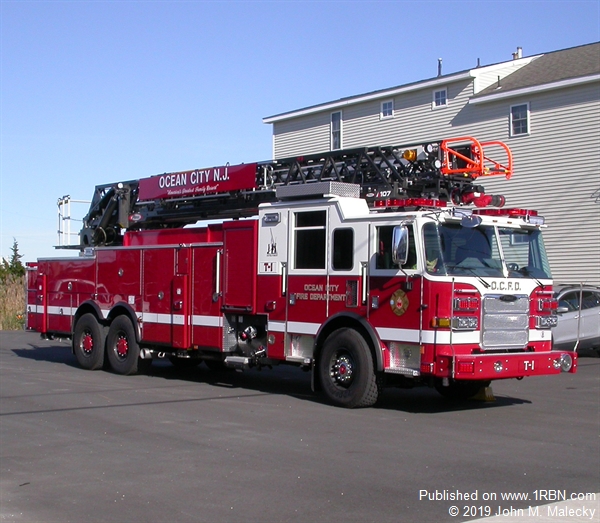 Photo by John M. MaleckyOcean City L-1, 2018 Pierce Arrow XT PUC with 107-foot Ascendant aerial. It has a 1500-GPM pump, 450-gallon water tank, plus TAK-3 and T-3 systems. It was sold by Fire & Safety Services.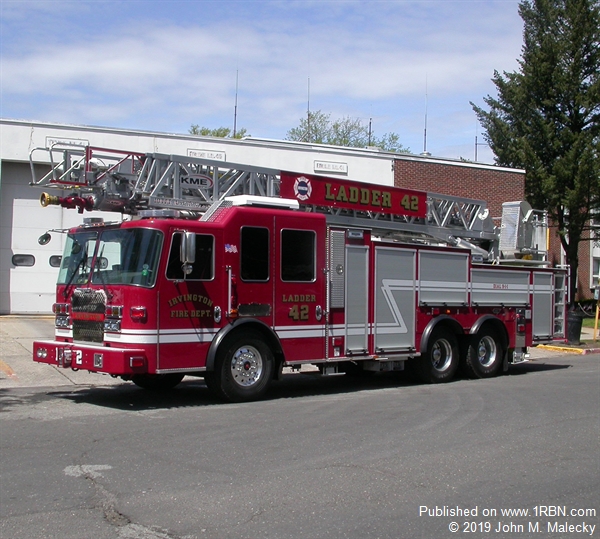 Photo by John M. MaleckyIrvington L-2, 2018 KME Predator 103-foot aerial. It has a 6 kw generator and was sold by First Priority Emergency Vehicles.
APPARATUS OF THE MONTH

By John M. Malecky June, 2019


SECOND TOP MOUNT/SIDE MOUNT PUMP IN MANCHESTER

In Ocean County, the Whiting Fire Company in Manchester Township placed into service a Sutphen pumper with a top-mount/side-mount pump panel. It is the second one in the township, the first being another Sutphen in Ridgeway. The photo is not as clear with this new pumper because the area is painted black. The engineer stands elevated but faces to one side of the vehicle instead of towards the hose bed like standard top-mounts. Cliffwood in Aberdeen Township has an older Sutphen pumper with this style pump panel arrangement. Manchester actually looked at the Cliffwood engine prior to ordering their pumpers. This style pump panel is also available on other make pumpers.

The first time I saw this arrangement was at the New York State Chiefs Conference when it was in the Catskill Mountains in New York many years ago, and it was an older FWD pumper that had it as part of a rebuild.

Other apparatus featured this month is a new Spartan ER pumper for Wenonah in Camden County and an extended bodied E-ONE rescue pumper, which essentially makes up the borough's firefighting force. Another Spartan ER is Engine 1 in Roselle (Union County), which has the same specs as their Engine 5. Cecil Fire Company's brush truck is featured (Gloucester County), along with Ocean City's 107-foot Pierce Ascendant aerial. This truck has no generator, which seems to be the case with many new apparatus. One Essex County apparatus is featured this month also. It is Irvington's KME Ladder 2.

In dealer news, New Jersey Emergency Vehicles has delivered the first of two crew carriers for the Urban Search and Rescue Team. It is mounted on a Freightliner M2, 106 chassis and has a 16-foot three-inch rescue style walk-in body. Photos will be forthcoming.

Fire & Safety Services reports the following Pierce deliveries: an Enforcer rescue pumper to the Liberty Corner FC in Bernards Township (Somerset County), an Enforcer heavy duty rescue with non-walk-in body to Woodland Park (Passaic County), and an Enforcer pumper to the Independent FC in East Brunswick Township (Middlesex County). On order is an Impel PUC pumper for the Cinnaminson FD in Burlington County.

The apparatus division of First Priority Emergency Vehicles has delivered to the West Atlantic City FC in Egg Harbor Township (Atlantic County) a 79-foot KME rear-mount ladder. It has a Predator Panther MFD chassis, Waterous CX 1500-GPM pump, 500-gallon poly water tank, 3/16 inch aluminum body with roll-up doors, a "straight shot" hose bed, Harrison 6 kw generator, 117-feet of ground ladders and steel aerial with pre-piped waterway. Mantua Township Fire District (Gloucester County) has ordered a KME custom rescue pumper. Specs include a Severe Service LFD chassis with 10-inch raised roof, 16, 500-pound electric front-mounted winch, Hale Qmax, 2000-GPM pump with side-mount panel, 750-gallon poly water tank, stainless steel 179-inch Flex body with low hose bed, full height/full depth compartments, roof top compartments, ROM roll-up doors, Harrison 20 kw hydraulic/PTO generator with Will Burt Night Scan light tower.

Absolute Fire Protection has received an order from Kinnelon (Morris County) for an E-ONE wetside 2000-gallon tanker on a Peterbilt 567 chassis. The Whitesville FC in Jackson Township (Ocean County) ordered an E-ONE HP-75 ladder, and Kendall Park FC in South Brunswick (Middlesex County) ordered an E-ONE Cyclone pumper with low hose bed.

Defender Emergency Products Fire Truck Division has received an order from Atlantic City (Atlantic County) for a Rosenbauer 100-foot, mid-mount Cobra tower ladder. It will be on a Commander chassis and have a Rosenbauer 3/16 inch body construct with hot dipped galvanized frame, 60-inch cab with 11-inch raised roof, full length cab entry doors and triple frame Cummins X15, 500 hp diesel engine. Other features will include a Max Force extended front bumper with rescue tools, transverse compartments, Smart Aerial Technology with wireless radio remote control, 8 kw Smaert Power hydraulic generator, twin Akron 2000-GPM monitors and a Whelen LED lighting package. The Ambulance Division received an order from the New Jersey Sports and Exhibition Authority for a Medix RP-90ES, Type III on a Ford E-350 chassis. It will have an ASA electronic camera system and a Whelen LED lighting package.
This article is a direct street report from our correspondent and has not been edited by the 1st Responder newsroom.