Wrights Corners Fire Company Celebrates 80 Years of Service
By STEPHEN WALLACE, Senior Correspondent | January 12, 2020 | NEW YORK
Story No. 011220103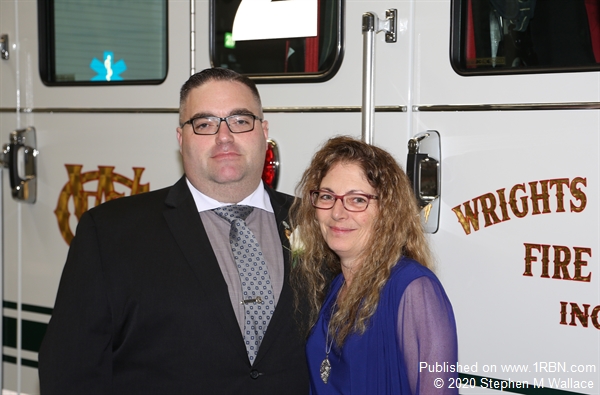 Photo by Stephen M Wallace Fire Chief Jonathan McKnight and Auxiliary President and sister Sherrie Campbell whose Mom and Grandmother were President of the Auxiliary and whose Uncles were both past Chiefs and President of the Wrights Corners Fire Company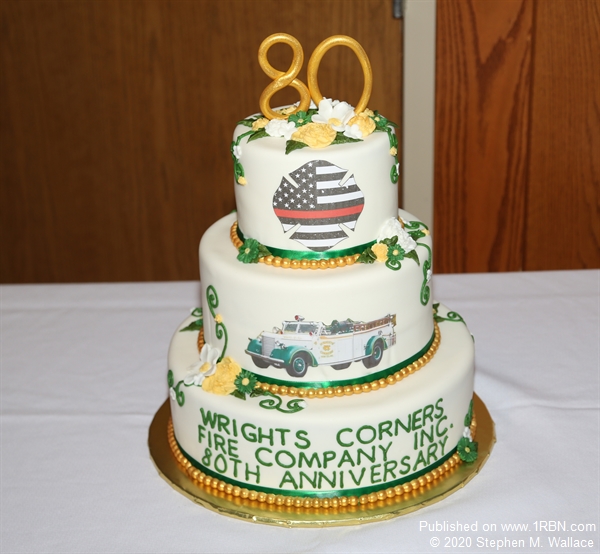 Photo by Stephen M. WallaceThe cake was almost too beautiful to cut up!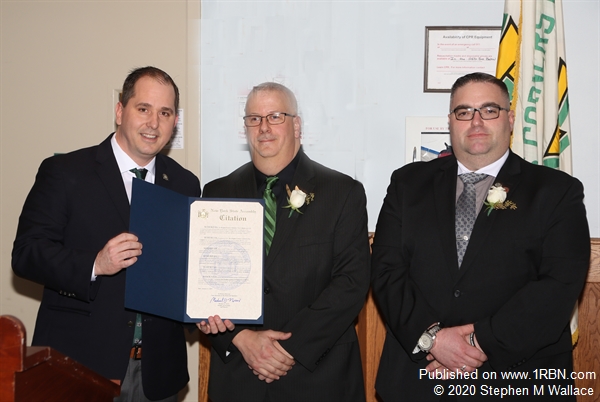 Photo by Stephen M WallaceNYS Assembly member Michael Norris a strong supporter of the Volunteers honored both 55 years of service by John Lobczowski Sr and also presented the President and Chief an award for 80 years of Wrights Corners service to the community, before he headed out for three more installation dinners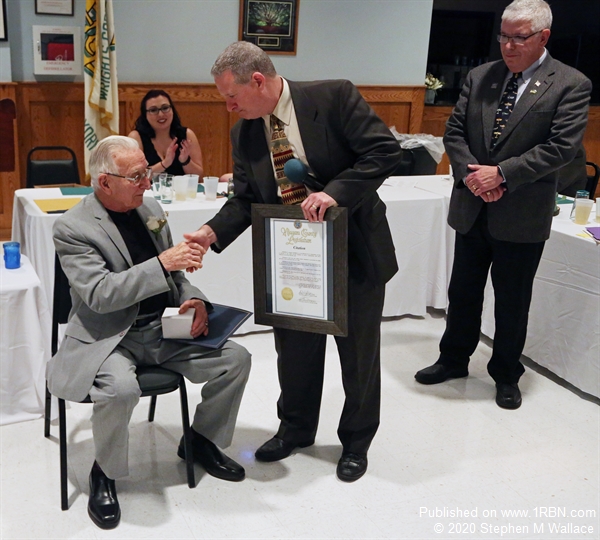 Photo by Stephen M WallaceLegislature of Syracuse presents a proclamation for 55 years of service to John Lobczowski, Sr.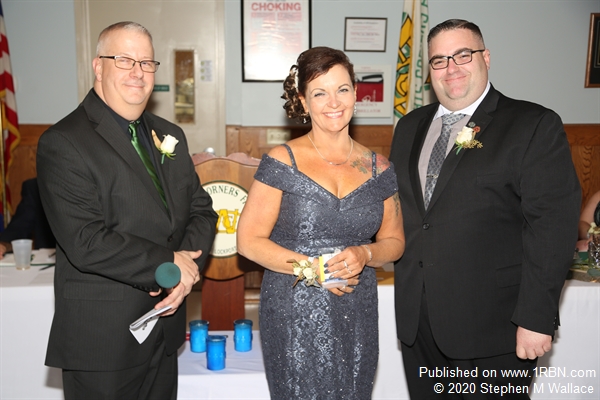 Photo by Stephen M WallacePresident Daniel Handrich and Fire Chief Jonathan McKnight present Kelly Coyle her 15 years of service award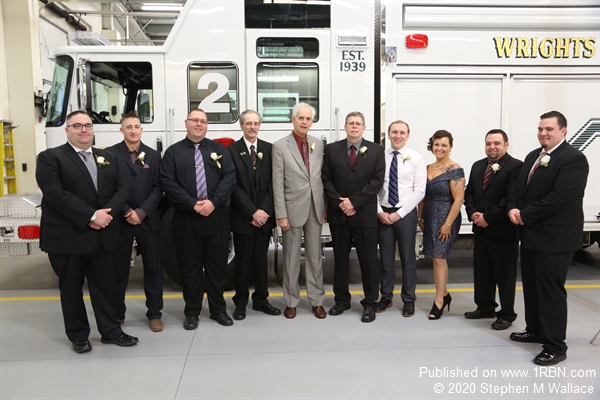 Photo by Stephen M WallaceChief J. McKnight 1st asst R. Dickinson, 2nd K. Austin, 3rd T. Jufer, Chaplin J. Birdwell, Master Mechanic J. Lee, Parade Marshal M.J. Norwood, EMS Lt. Kelly Coyle, Fire Police Captain J. Magiafesto, and EMS Captain Z. Wodo.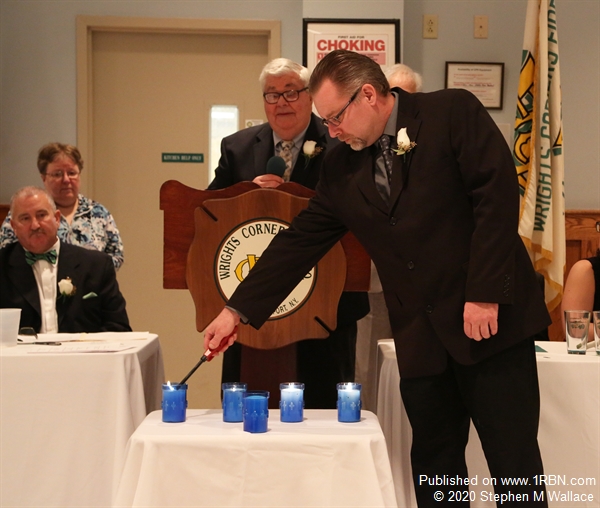 Photo by Stephen M WallaceRemembering those that answered the final call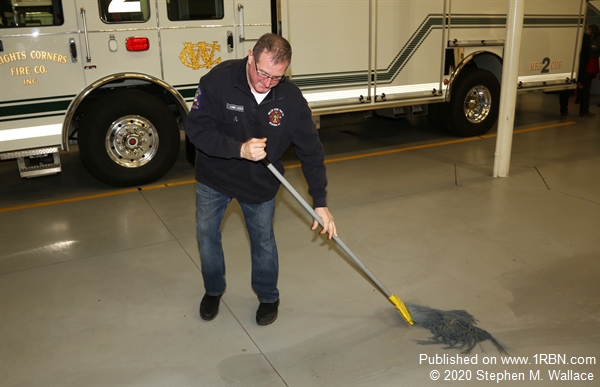 Photo by Stephen M. WallaceAs always Wrights Corners thanks Miller Hose for handling the stand by during this wonderful event. However, Miller hose refuses to put a working red fire engine in a bay that is dirty from Wrights Corners White Trucks. Swab the deck and then we pull in the Big Red Working Fire Engine
Lockport, NY - Wrights Corners Fire Company celebrated it's 80th Anniversary at the annual Installation of Officers on Saturday, January 11th.

It was a very special celebration, that would include a 55-year service award to John Lobczowski, Sr., who was greeted with a standing ovation. NYS Assemblyman Michael Norris, a strong voice for the volunteers of New York, was there to present John with a special award, along with other noble politicians from Senator Ortts' office, the Town of Newfane Supervisor Timothy Horanburg presented a special thank you to John.

Town of Lockport Supervisor Mark Crocker invited John to the next meeting to be recognized by all on local TV. Niagara County Legislature for Syracuse was there representing the county and presented a proclamation to John for his service. Town Clerk for the Town of Lockport, Judith Newbold, swore in all the officers and Fire Police.

This year's officers are as follows: Fire Chief-Jonathon McKnight; 1st Assistant-Ryan Dickinson; 2nd-Kevin Austin; 3rd-Tracy Jufer; EMS Captain-Zachary Wodo; EMS Lt.-Kelly Coyle; Master Mechanic-Jeffery Lee; Fire Police Captain-Joseph Mangiafesto; Parade Marshal-Michael J. Norwood; President-Daniel Handrich; Vice President-Michael J. Norwood; Treasurer-Michael L. Norwood; Recording Secretary-Joseph Mangiafesto; Corresponding Secretary-Lauren Hunter; Head Trustee-Larry Stanton Sr.; Trustee 2-year-Matthew Hnat; Trustee 3-year-Christopher Brueckner; Chaplain-Jack Bridwell; Sergeant at Arms-Robert Brueckner.

For the Ladies Auxiliary: President-Sherrie Campbell; VP-Tanya Steinhardt; Treasurer-Cindy Horner; Recording Secretary-Sara Borland; Corresponding Secretary-Kathy Nizialek; 3rd year Director-Susan Nizialek; 2nd year Director-Sharon Drew; and 1st Year Director-Susan Stegner.

The Installation committee of Michael J. Norwood, Kyle LaRuffa, Lauren Hunter, Edward Eifert, Joseph Mangiafesto, Sherrie Campbell, Christine Sattleberg, Roxanne Davis and Zachary Wodo made sure there was nothing but the finest of foods, plenty of cold drinks, and quality sounds provided by Beamin' Sounds for this festival.

The years of service awards were given out starting with the honoring of two new members, Ryan Hnat and Mark Hare. Five years of service was given to Ryan Little; 10 years to Lauren Hunter and Susan Stegner; 15 years of service and leading the charge for fundraisers to Kelly Coyle; 25 years to Kyle LaRuffa and Michael L. Norwood; and of course the highlight of the evening, 55 years of service to John Lobczowski.

Chief Jonathan "JJ" McKnight gave the Chief's report, and also talked about the importance of bringing in new members. This was extremely special, as life member and exempt Chaplin Wayne Jagow gave a "From the Heart" talk to the old timers, the exempt, the guys who may show up for early morning coffee, encouraging everyone to listen to their stories, hear how it was done and what they had to go through, and always remember their second hand Buffalo Street department water truck becoming the first water tanker in Niagara County Volunteer Fire service, and that it's what paved the way to the quarter-million-dollar heavy rescues and pumpers of today's fire hall.
This article is a direct street report from our correspondent and has not been edited by the 1st Responder newsroom.