Polk County Fire Rescue Battalion Chief Earns Medal of Valor Award
By POLK COUNTY FIRE RESCUE, Correspondent | February 10, 2020 | FLORIDA
Story No. 021020110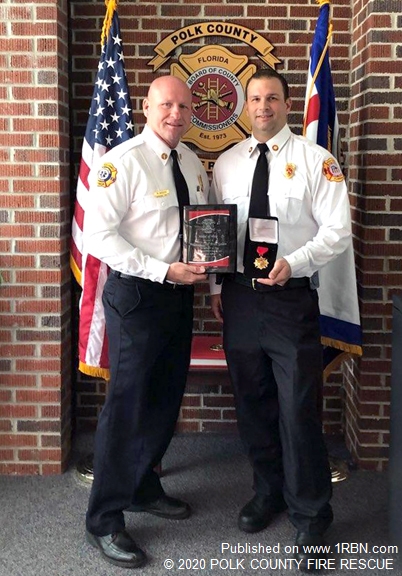 Photo by POLK COUNTY FIRE RESCUEBC Brian Gold and Fire Chief Robert Weech with award.
Photo by POLK COUNTY FIRE RESCUE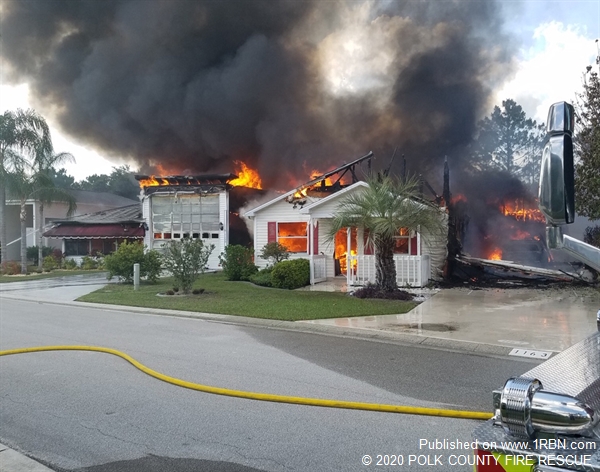 Photo by POLK COUNTY FIRE RESCUE
Bartow, FL - As 2019 came to a close Polk County Fire Rescue (PCFR) held its annual awards ceremony and holiday banquet in which Battalion Chief Brian Golden was awarded the Medal of Valor for his actions during a second-alarm fire in Polk City, Florida.

Just prior to 5:00 P.M., PCFR Battalion Chief Brian Golden was traveling west on State Road 33 when he noticed smoke and flames emanating from the roof of the residence. He immediately entered the neighborhood. Upon arrival on scene, Golden found a home involved with heavy smoke and flames showing, and two adults attempting to exit the structure.

He exited the vehicle and proceeded to evacuate the two individuals to safety before heading back to check the neighboring homes for any additional residents. While conducting his search, he contacted dispatch and alerted them to the ongoing structure fire. Approaching the neighboring home to the east, Golden found a resident and instructed him to immediately exit the home. He then proceeded to escorted this individual to the safety area, as this home was now also showing flames.

At 5:01 P.M., PCFR units were dispatched to the scene. The battalion chief then began inquiring about possible residents being located in the neighboring home to the west of the structure of origin. He was informed that it was unoccupied at the current time, and that the residents were out of town.

Upon arrival at 5:09 P.M., PCFR Squad 7 immediately began to place water on the fire. They were quickly followed by PCFR Engine 39. At 5:13 P.M., due to the number of structures now involved, the fire was upgraded to a two-alarm fire and additional units from PCFR and the Auburndale Fire Department were dispatched to the scene.

A total of 21 fire rescue units were dispatched to the scene throughout the duration of the fire, while the Polk County Sheriff's Office and Florida Fish and Wildlife Commission officers aided with scene security. A family cat was also able to be saved by the crews on scene.

Dispatch was notified that the fire was under control at 6:23 P.M. All three structures were a total loss, with a fourth structure receiving minor damage due to the heat that was emitted from the blaze.

Thanks to the battalion chief's quick and decisive actions on this day, no residents or pets were injured during the ordeal. For this he was nominated by his peers to receive the 2019 Medal of Valor Award.

"Chief Golden's overall day to day work ethic and pace is how the Firefighting Industry grew to such a high degree of respect," said Polk County Fire Rescue Fire Chief Robert Weech. "He truly is an example for others to follow. The fact that he was faced with a very tough real life scenario and his actions were flawless and life-saving do not surprise me. I am both very happy and proud to be able to award Chief Golden the Medal of Valor for his actions."
This article is a direct street report from our correspondent and has not been edited by the 1st Responder newsroom.