Independence Day Tradition Continues in Ridgefield Park
By RON JEFFERS, New Jersey Editor | July 04, 2019 | NEW JERSEY
Story No. 070819114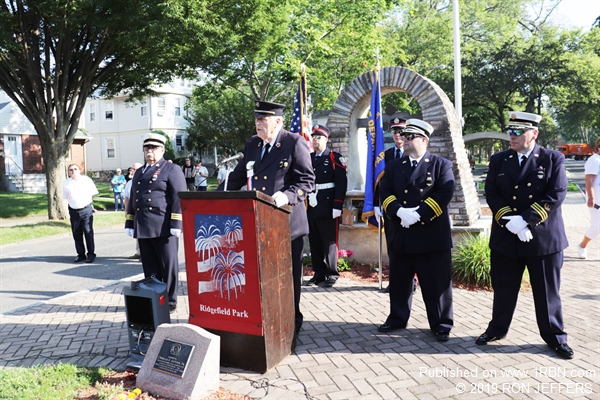 Photo by RON JEFFERS(L to R): Ridgefield Park Assistant Chief John Malool, Fire Commissioner George Fosdick, Chief John Antola, Jr., and Assistant Chief Rodney Wagner welcome all to the traditional ceremony.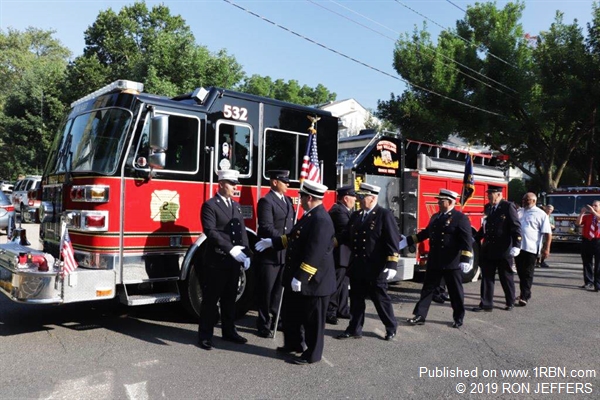 Photo by RON JEFFERSCurrent and previous chiefs and officials participate in the traditional greetings of members of all six fire companies.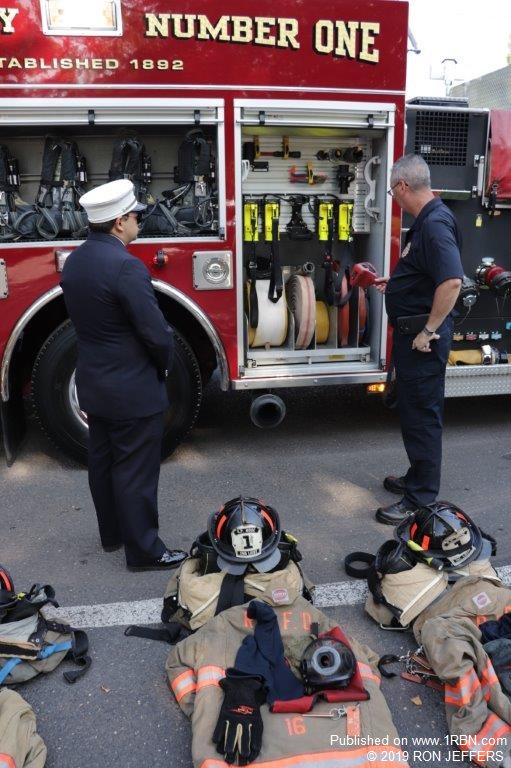 Photo by RON JEFFERSInspector Rich Bartlett, right, conducts apparatus and equipment inspection on Engine 1.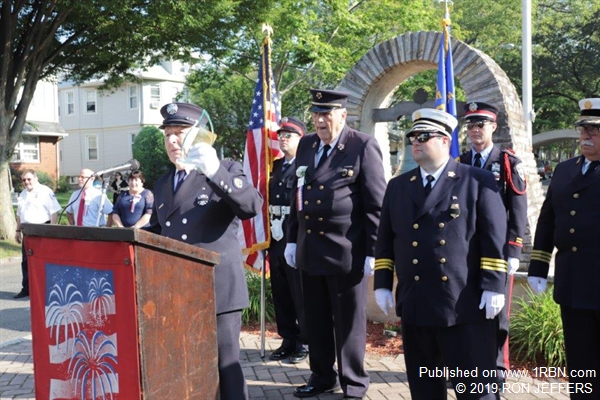 Photo by RON JEFFERSService awards were presented to many veteran members who have volunteered to serve their community.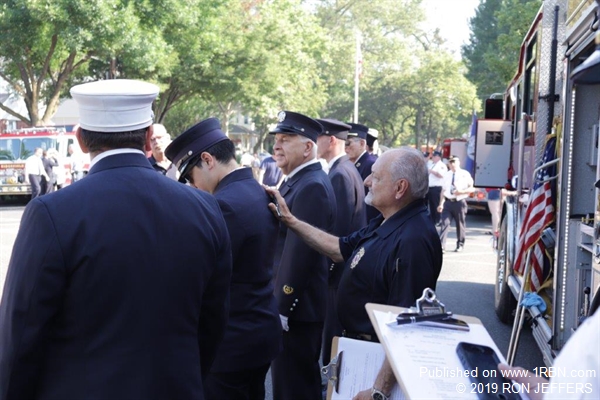 Photo by RON JEFFERSInspector Ed Pomponio held his usual tough uniform inspection from haircuts, to belt buckles, to black socks and shoes.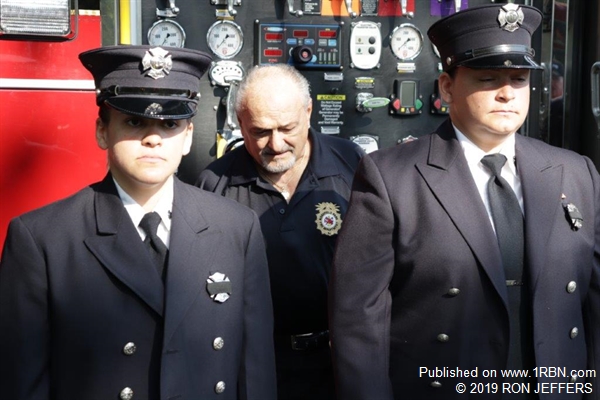 Photo by RON JEFFERS
Ridgefield Park, NJ - On a warm and humid July 4th morning, village firefighters donned their blue uniforms for the fire department's annual inspection and awards ceremony. Local officials, family and friends gathered at the Memorial Bell on Euclid Avenue.

Chief of Department John Antola, Jr. welcomed all as the traditional event commenced at 8:00 A.M. sharp. Assistant Chiefs Rodney Wagner and John Malool were also present. The chief gave a status report on the department, which included the number of alarms answered and improvements. The department now possesses a boat, which on its first run a few days earlier, assisted in the rescue of a man in the Hackensack River.

"We are critical of ourselves, and continue to improve ourselves," he said. The chief also mentioned the department's cancer awareness; and, sanitary wipes are now on board each rig for members to use to remove toxins. In addition, a second protective hood has been provided for each firefighter.

Firefighters received recognition, which included service awards. This included: 55-years, George Fosdick and Jospeh Alberque; 50-years, Carl Vettloff; 45-years, John Antola, Sr., John Tumon and John Malool; and 40-years, Richard Solimine.

Fire Commissioner and Mayor George Fosdick said that this was his 39th time standing at the podium.

"It is my honor to associate with so many good people, and fire people," he said. "This nation was built on volunteers-to serve others. You carry on a tradition of those who came before you, and you must not fail."

He added that setting a personal higher standard is the secret of success. Set new goals.

After the awards were presented, inspectors began their detailed inspection of apparatus, equipment and uniforms. When that was complete, a breakfast break for all, and then the parade along Main Street. The day was complete when trophies were awarded to the winning companies that were inspected. Truck Co. 2 took home the Commissioner's trophy for first place in the apparatus inspection.
This article is a direct street report from our correspondent and has not been edited by the 1st Responder newsroom.